5 Worst College Football Recruiting Classes from the BCS Conferences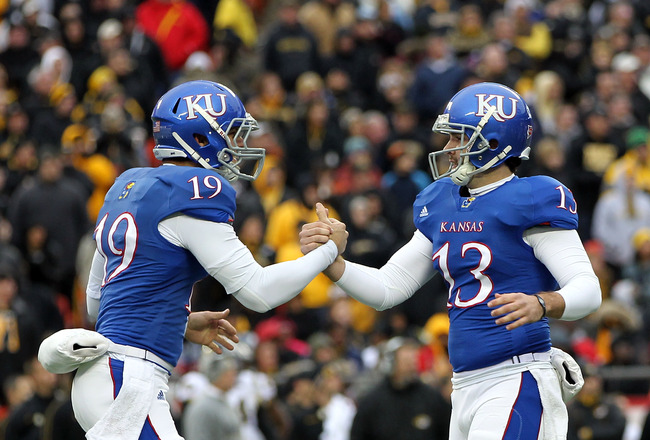 Jamie Squire/Getty Images
College football recruiting is underway, and the majority of the teams are loading up with talent and adding depth to positions that are needed. And then there are some teams that are struggling for whatever reason to land top talent.
It could be because of a coaching change, conference realignment or just the simple fact that nobody wants to play there and the players are receiving better offers.
When it's a program from a BCS conference, you would expect that team to have at least a decent recruiting class. But when those teams are struggling to keep up with schools in the MAC or even the Sun Belt, we have a problem.
To date, here are the five worst recruiting classes in BCS conferences.
5. Illinois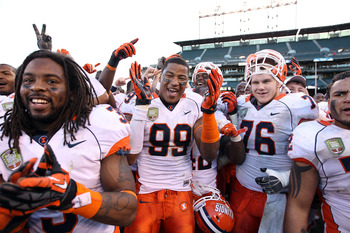 Ezra Shaw/Getty Images
5 stars: Zero
4 stars: Zero
3 stars: Nine
I really don't know where to begin as this class isn't exactly up to par. The Fighting Illini have two decent linebackers in T.J. Neal and Mason Monheim, but after that it all goes downhill. This class consists of five wide receivers. The best out of the group is Jason Robertson who has the potential to be a solid option. Other than that there's really not a whole lot to brag about.
Makes you wonder if things would be a little bit better if Ron Zook was still in charge.
4. Boston College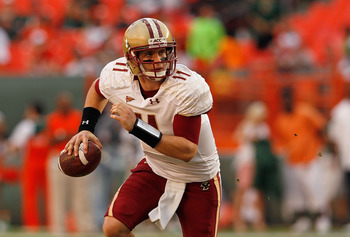 Mike Ehrmann/Getty Images
5 stars: Zero
4 stars: Zero
3 stars: Nine
This class is very similar to Illinois, except it has even less to brag about. The best player out of this class is middle linebacker Mike Strizak who also had offers from schools such as Oregon, Arizona and Michigan State. Realizing who he will be playing with, he may want to change his commitment as soon as possible.
This class includes a total of four linebackers, three offensive linemen and two wide receivers.
3. Iowa State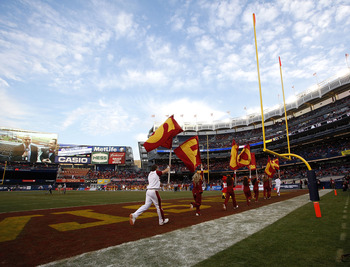 Jeff Zelevansky/Getty Images
5 stars: Zero

4 stars: Zero

3 stars: Six
Iowa State doesn't have much to talk about with this class, but it does have a possible solid quarterback that has gone under the radar. His name is Grant Rohach and he has great size at 6'2", 185 pounds and a strong arm. Going up against the defense of the Big 12, he may have a bright future ahead of him.
Overall the top-rated player in this bunch is offensive guard Duaron Williams.
2. Kansas State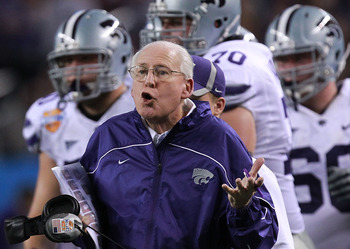 Ronald Martinez/Getty Images
5 stars: Zero

4 stars: Zero

3 stars: Five
When you see the type of recruiting classes this team puts together and the job Bill Snyder did last season with the Wildcats, one can only wonder how in the world he didn't win coach of the year. Kansas State doesn't just have one of the worst classes in a BCS conference, it has one of the worst in the entire country.
With only 13 commitments, there's no question Snyder and the Wildcats have their work cut out for them heading into next season.

1. Kansas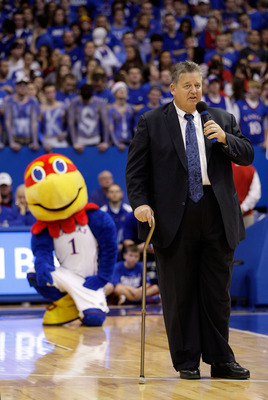 Jamie Squire/Getty Images
5 stars: Zero

4 stars: Zero

3 stars: Four
With Charlie Weis taking over as the head coach, you'd think this class would be a little bit better. The Jayhawks only have 11 commitments and almost all of them are not worth taking about. They did land a solid tight end in Jordan Smith and two okay defensive players in H.B. Rosser and Tyler Holmes. Other than that, forget about it.
What Kansas has done though, is pickup two former 5-star quarterbacks by transfers in Jake Heaps and Dayne Crist. If those quarterbacks can perform well next year, it may help out this program in the future.

Randy Chambers is a B/R Featured Columnist that covers College Football and the NFL. You can contact him @Randy_Chambers or Randy.Chambers7@yahoo.com
Keep Reading