ACC Football: Best Non-Conference Games for 2012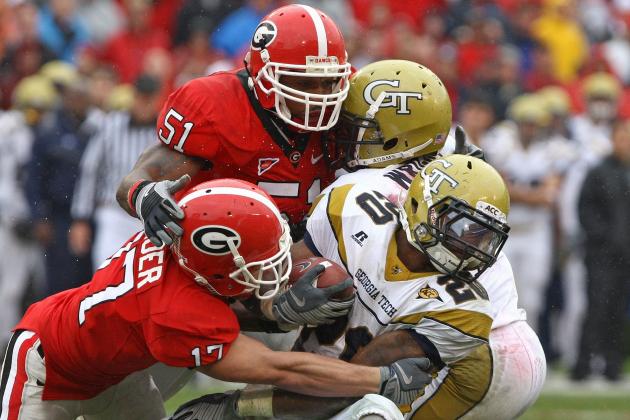 Mike Zarrilli/Getty Images
"Clean Old Fashioned Hate"
Bowl season always gives us a chance to take in tons of excellent non-conference match-ups in college football, but from time to time the regular season brings about a pretty good slate of meetings as well. Keep September 8th open on your schedule because it will be a huge non-conference day for the Atlantic Coast Conference. If the conference wants to redeem itself from the past few seasons of lackluster performances at a national level, then this single day could be make or break. Let's take a quick team-by-team look at a few of the better out-of-conference match-ups for the 2012 season in the ACC.
Begin Slideshow

»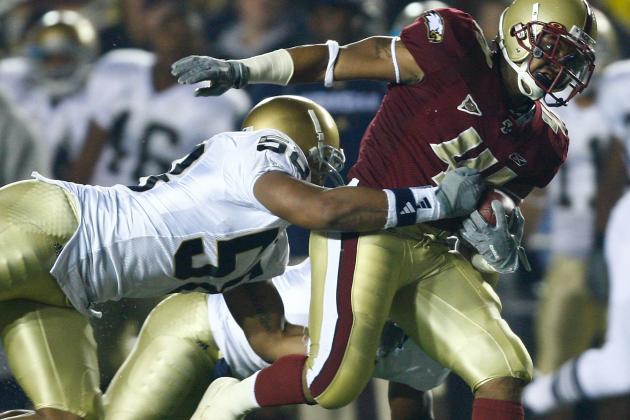 Jim Rogash/Getty Images
ND @ BC
11/10/2012 - Notre Dame @ Boston College
A classic match-up of natural (Catholic) rivals that usually provides a good level of entertainment, regardless of team records. This year the game is at Chestnut Hill and the Eagles would like a win as they continue to rebuild. I would guess the Pope has his money on the Irish, but only time will tell.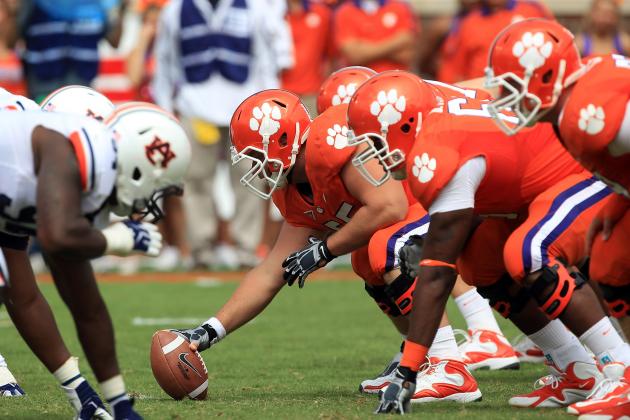 Streeter Lecka/Getty Images
Tigers vs. Tigers
09/01/2012 - Clemson vs. Auburn (Chick-Fil-A Kickoff Classic, Atlanta, GA)
The Chick-Fil-A Kickoff game has provided us with a pre-season bowl of sorts and most have been highly entertaining so far. Though Clemson and Auburn have played several times in recent years, this game never seems to lose its luster, and under the roof of the Georgia Dome to kickoff the 2012 season, the atmosphere will be electric as usual.
11/29/2012 - South Carolina @ Clemson
I realize this game happens every year and probably needs no mention, but this year both teams look to build upon recent success. If either team is going to have another truly successful season they will have to find a way to win this annual battle for complete satisfaction.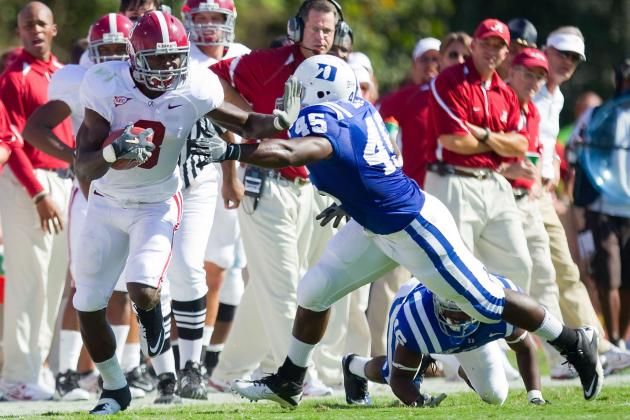 Brian A. Westerholt/Getty Images

09/08/2012 - Duke @ Stanford
Duke always seems to take on an impressive non-conference schedule, and not just by Blue Devil standards. Last season Stanford came into Durham and cleaned house, but with Andrew Luck heading to the next level maybe the Dukies will have a shot to pull off a big win for the program. I'm not in a hurry to call Vegas and lay down any cash on it, but we'll see.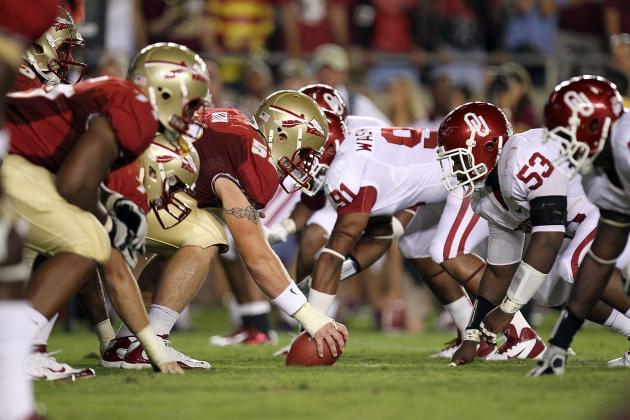 Ronald Martinez/Getty Images

[09/08/2012 - West Virginia @ FSU]
11/24/2012 - FSU @ Florida
Does anything really need to be said about this game? It's a must win in the state of Florida and neither team can realistically win a national title without coming away from this one with a victory. Not that either squad will be undefeated coming in, but you get the point.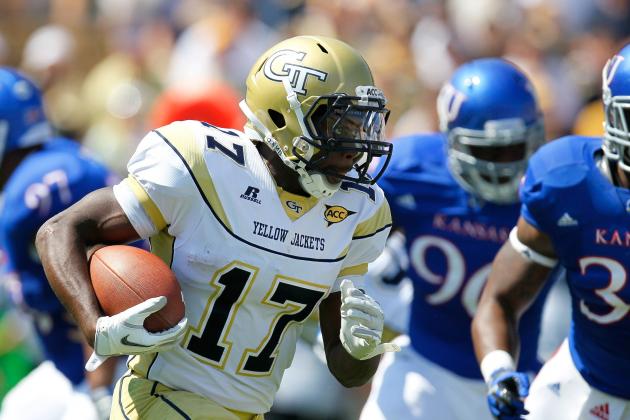 Kevin C. Cox/Getty Images
700,000 yards
TBA - BYU @ Georgia Tech
This one is definitely an interesting match-up. Tech has a ton of returning starters on both sides of the ball and will likely have a tough battle for starters on offense in camp. Neither team came off a fantastic season, but both programs have been better than average lately. If the Ramblin' Wreck come out like they did against the Kansas Jayhawks last season, then it could get ugly. BYU will be looking for a big win on the road and Bobby Dodd Stadium should be good and loud for this one.
11/24/2012 - Georgia Tech @ Georgia
"Clean Old Fashioned Hate" has usually gone the way of the Bulldogs over the past decade and Tech is starving for a win. A game that almost always provides a ton of entertainment, this season's match-up in Athens will surely have the usual hateful level of competition. Paul Johnson and the Jackets need this one bad, if only to salvage a little pride.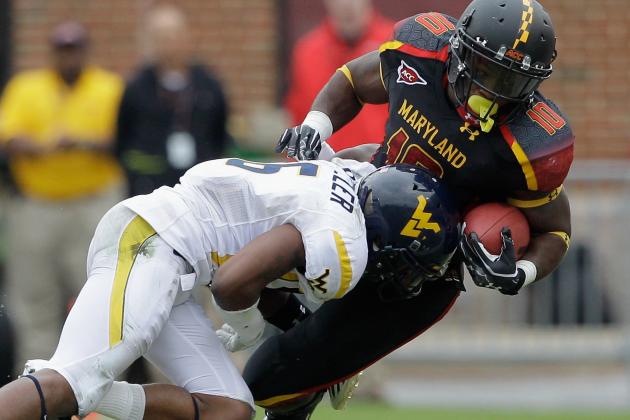 Rob Carr/Getty Images

09/15/2012 - Connecticut @ Maryland
Luckily this one is at home for Randy Edsall, which takes away a bit of the awkwardness. Let's be honest, Maryland is coming off a just plain terrible season. Every single game is incredibly important for the coach, the players and the program as a whole this coming season. Edsall's former team comes calling this season and a win would silence a lot of critics. It's never a good sign when the team you left is better than the team you coach now. We'll see if that is the case.
TBA - West Virginia @ Maryland
A win over Orange Bowl champion West Virginia would do a lot for pride as well as area recruiting. The Terps gave the Mountaineers all they could handle last year, but came up just short and went tumbling from there. Randy Edsall doesn't want to be the next Turner Gill and he'll need at least a couple of these non-conference games to save some face and turn his career around quickly.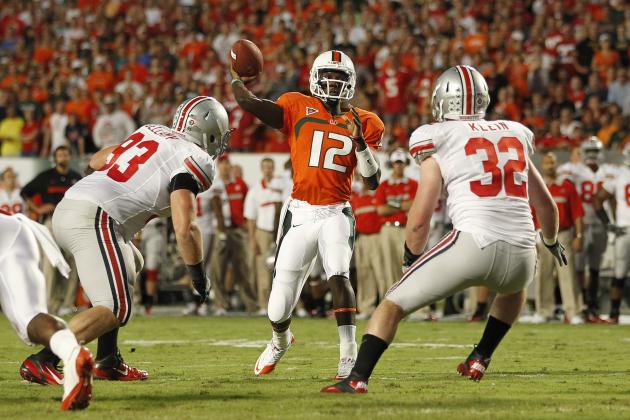 Joel Auerbach/Getty Images

09/08/2012 - Miami @ Kansas State
Last season Miami beat an Ohio State team that turned out to be not so good, then lost to a KSU squad that turned out to be a huge surprise. The Canes will go on the road early to seek revenge and a win would be huge for Miami. After sitting out of a bowl somewhat voluntarily this past season, even though they were eligible, the deprived players under Al Golden should be hungry for a comeback year.
10/06/2012 - Miami vs. Notre Dame (Soldier Field, Chicago)
This storied rivalry once shaped the national title picture yearly, but it's been a while. The 1980's get farther and farther away, and these two programs slip deeper and deeper into mediocrity. The national media has patiently waited with baited breath to shotgun the Irish and Canes back into darling status, but one disappointing season after another makes it difficult to do so. This game will be fun to watch and Soldier Field should have an awesome atmosphere. This may end up being one of the best non-conference match-ups of the year, and certainly the most important for both schools.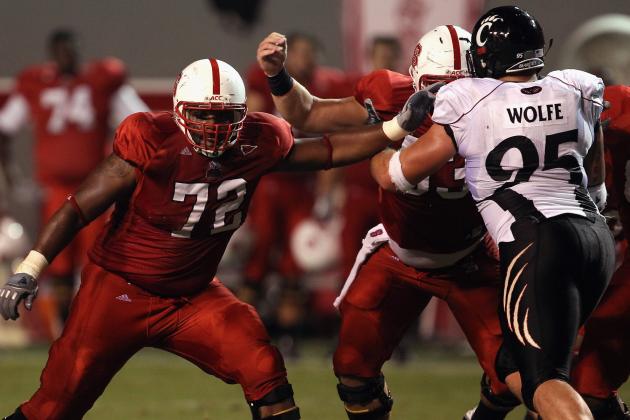 Streeter Lecka/Getty Images

08/30/2012 - North Carolina State vs. Tennessee (Chick-Fil-A Kickoff Classic, Atlanta)
NC State will have a chance to prove itself early this season when it quite literally kicks off the college football season in Atlanta for the first Thursday night game put on by the Chick-Fil-A Kickoff. This year there will be two games in the Classic and the Wolfpack get a shot at a Tennessee team with a ton to prove. The Vols are hungry to rebound and Coach Derek Dooley needs this one bad to possibly save his job in Knoxville. 2012 starts fast for these teams and both begin with their feet in the fire. Who wants it more?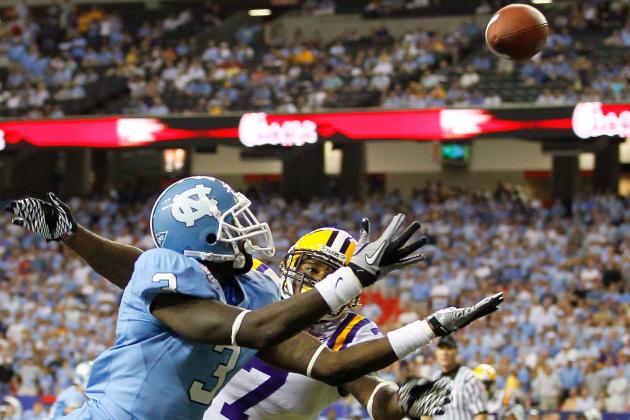 Kevin C. Cox/Getty Images

09/15/2012 - North Carolina @ Louisville
Not counting the bowl, the Tar Heels swept their non-conference schedule in 2011 including wins over Rutgers and Louisville. The Cardinals will get a shot at redemption, and this time it's at home. This would be a huge road victory for the Heels, as the NCAA still looms large in the background. New head coach Larry Fedora will be tested early and this game should tell a lot.
09/22/2012 - East Carolina @ North Carolina
This season they will once again face in-state foe East Carolina, which is a much more important game regionally than the national audience may realize. There is a lot more hatred and animosity between these two programs than meets the eye. The Pirates would love to win and the Tar Heels would hate to lose.
Kevin C. Cox/Getty Images

09/08/2012 - Penn State @ Virginia
Virginia had an impressive season, just missing the ACC title game in 2011. The year ended on a sour note, however when frustrated Auburn handed the Cavaliers a demoralizing defeat. A frazzled Penn State program takes the relatively short trip to Charlottesville and both teams could use a win in this one. A very interesting match-up indeed.
09/22/2012 - Virginia @ TCU
TCU has become a national contender while UVA is trying desperately to re-establish itself even within its own conference. This will be a tough game for the Cavaliers, but if they can build upon the success they saw last season, perhaps this could be a defining win going forward.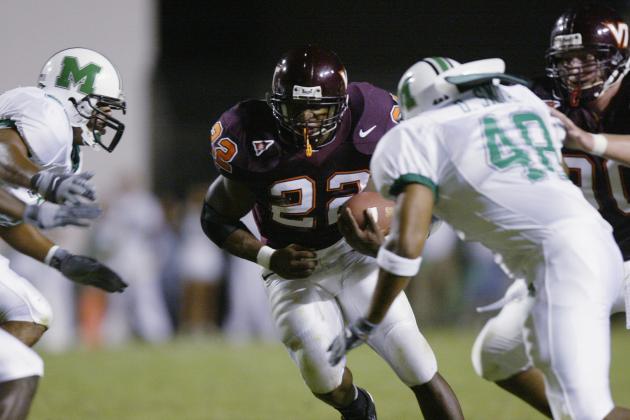 Craig Jones/Getty Images

09/15/2012 - Virginia Tech @ Pittsburgh
This may be a preview of a future natural rivalry. These schools are separated by only a few mountain tops and winding roads and will be conference foes in the near future once Pitt officially begins ACC play. Pitt starts 2012 with its 3rd coach in a little over a calendar with Paul Chryst. The Panthers will have a decision to make: Fall into obscurity, or pull itself up by the boot straps and push around the Big East while it still has a chance. Virginia Tech will come with heat and Frank Beamer almost always has a good game plan no matter the foe.
09/29/2012 - Virginia Tech vs. Cincinnati (Fed Ex Field, Landover, MD)
This 2009 Orange Bowl rematch should be an interesting one. Neither team finished the 2011 season fully satisfied, but both will have a big stage, quite literally, to show off its stuff. This game will likely get a pretty good TV time slot.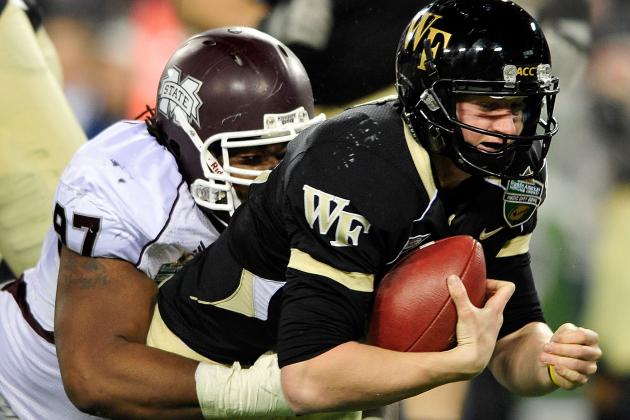 Grant Halverson/Getty Images

11/17/2012 - Wake Forest @ Notre Dame
The Demon Deacons had a dismal 2011 non-conference showing, only managing to beat 1-AA Gardner-Webb. Last year's game against the Irish was at home and Wake came up short in a close game. The Deacs made a bowl, but were not able to pull out yet another close one against Mississippi State. A win against Notre Dame would be huge for the Deacs.
11/24/2012 - Vanderbilt @ Wake Forest
This non-conference rivalry is quickly becoming one of my personal favorites. With both programs lingering dangerously close to bowl eligibility each year, there is usually a ton riding on this match-up. The IQ's may be much more impressive than the rankings when Vanderbilt and Wake play, but the game is always entertaining and these teams are both easy to root for.