Boston Red Sox Sign Cody Ross: What Can They Expect from Platoon Players?
January 24, 2012

Ezra Shaw/Getty Images
Outfielder Cody Ross agreed to a one-year, $3-million contract with the Boston Red Sox Monday, rounding out the third projected platoon in the Sox's everyday lineup for 2012.
Ross will share right field with erstwhile Oakland Athletic Ryan Sweeney, while Mike Aviles and Nick Punto will divide shortstop duties along some uneven lines and Kelly Shoppach will spell Jarrod Saltalamacchia behind the plate.
On its face, this gambit by new Red Sox GM Ben Cherington is an inspired one. It seems to signal the long-anticipated (by statistically savvy fans and analysts, anyway) return of the quality platoon, and could be the first step toward optimizing the somewhat top-heavy roster the Sox have right now.
Ross, Sweeney, Aviles, Punto, Saltalamacchia and Shoppach bring an array of skills to the table, and because Cherington was able to hire his own manager in his inaugural year (it's Bobby Valentine, lest you hadn't heard), the organization need not wonder whether the field staff will properly execute the front office's master plan.
But what can the Sox really expect from Ross and Sweeney? From Aviles and Punto? How much will Shoppach really play? Here are breakdowns of each potentially productive pairing.
Right Field: Cody Ross and Ryan Sweeney
Of note right off the bat here: No one loses defensively with this platoon.
Sweeney is better, sure, but Ross more than holds his own as a corner outfielder. He had more value five years ago, when he could roam center field adequately, but he remains a solid right-field glove, somewhat in the mold of a pre-injury J.D. Drew.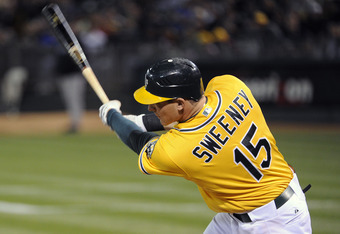 Thearon W. Henderson/Getty Images
For Sweeney, his defensive skills have been his ticket to the big leagues.
He runs only well enough, but gets tremendous reads on the ball. In 2009, Baseball Info Solutions rated him 14 runs better than the average right fielder. That's a cumulative total, accumulated despite his having played a modest 600 innings there that season. Sweeney will be just 27 in 2012, so his defensive skills do not figure to abandon him in the immediate future.
All the questions here, then, are on offense. They are legitimate. Presumably, this will play as a relatively straightforward platoon: Ross (a right-handed batter) will face virtually all left-handed pitchers, while Sweeney (a lefty at the plate) will take on righties. 
That leaves some room for optimism. Ross owns a .952 career OPS against southpaws (135 wRC+, for lovers of better numbers). Sweeney is not quite so impressive against right-handers, but after accounting for having called Oakland home his entire career, he is slightly above average against them.
Moreover, the move to Boston suits each player's offensive skill set.
Ross is a pull hitter through and through. His career OPS when getting around on the ball is 1.147, or 101 percent better than an average player. He also has a penchant for fly balls (48.4 percent of all batted balls last season, 42.7 percent career). At Fenway Park, that profile should help him turn a fair number of would-be fly outs into doubles.
Playing in Oakland Coliseum really killed Ryan Sweeney's game. A solid contact hitter with a 14-percent career strikeout rate, Sweeney succeeds when balls he puts in play become hits, and he fails when they do not.
In Oakland, the park factor for batting average on balls in play causes a 15-percent drop. Sweeney's career BABIP is ,323, but given his supernal line-drive rate and his known skill set, it's possible his BABIP skill (even at age 27) is as high as .350, and it should be at least .340.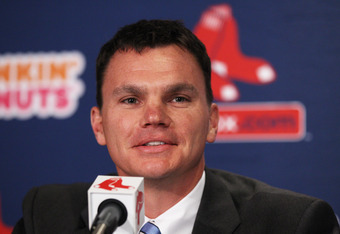 Elsa/Getty Images
What, then, can be expected of each player?
Last season, Red Sox batters took the plate 681 times from the seventh spot in the order. That's an excellent estimate of the amount of playing time the two will split. Given the league-average distribution of left- and right-handed pitchers faced, and assuming full health, Sweeney would be in line for 393 plate appearances, and Ross for 288.
A few adjustments demand to be made. Sweeney is exceptionally weak against left-handed pitching (.594 career OPS), so opponents will call upon left-handed specialists a fair amount late in games. Ross will get those pinch-hitting opportunities, so make it 375 turns at bat for Sweeney, and 306 for Ross.
Alas, it's not so simple. Sweeney and Ross both have chronic histories of hamstring and calf strains, and Sweeney lost the second half of 2010 to surgery to decompress his patellar tendon. Both men will miss between 10 and 25 games even as platoon partners, so take 50 of Ross' plate appearances and give them to Darnell McDonald. Then take 70 of Sweeney's and put them on (also injury-prone) prospect outfielder Ryan Kalish. 
Now comes the hard part. We know these four players will play 99 percent of all innings in right field for the Red Sox in 2012. Here is the breakdown:
| | | |
| --- | --- | --- |
| PLAYER | PA | AGE |
| Ryan Sweeney | 305 | 27 |
| Cody Ross | 256 | 31 |
| Ryan Kalish | 70 | 24 |
| Darnell McDonald | 50 | 33 |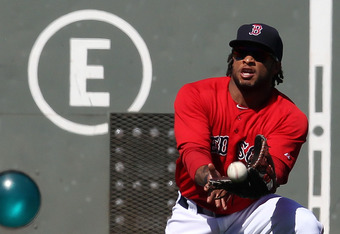 Jim Rogash/Getty Images
Given those opportunities, though, how will each perform?
I'll skip the math I used to project their numbers, and simply provide them:
| | | | | | |
| --- | --- | --- | --- | --- | --- |
| PLAYER | AVG | OBP | SLG | wRC+ | DRS |
| Sweeney | .289 | .356 | .383 | 105 | 4 |
| Ross | .269 | .326 | .401 | 100 | 0 |
| Kalish | .296 | .367 | .426 | 116 | 3 |
| McDonald | .250 | .300 | .339 | 81 | 0 |
Obviously, if Kalish hits like that, he's going to force his way into playing time that could throw all these numbers out of whack. Given that he may not even be fully healthy until midseason, though, there is no sense in adjusting the projections in advance.
This is what the Sox should expect from right field, and the seventh slot in their batting order, in 2012. The aggregate contribution is 2.3 wins, or just about average. That's not bad at all, for a $5-million hodgepodge.
Shortstop: Mike Aviles and Nick Punto
This is a strange platoon in a sense, because Punto is not some righty-mashing on-base machine from the left side of the plate. When Mike Aviles plays, the Red Sox are going to get offense from the shortstop position and the bottom of the lineup. When Punto plays, it will be all about defense.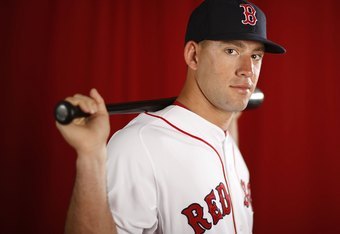 Gregory Shamus/Getty Images
Aviles bats right-handed and boasts an .814 career OPS (114 wRC+) against southpaw pitching. He emphasizes power over on-base skills in his game, with an extraordinarily stingy 4.2-percent career walk rate.
He is so good at making contact, though, that he sometimes offsets that hyper-aggression.
Punto, on the other hand, is as patient a player as can be, in every facet. He is smooth, not athletic or agile or twitchy, at shortstop. He fields well because he positions himself well and moves confidently. 
That carries over to his offensive game. Punto had 166 plate appearances for the St. Louis Cardinals in 2011. Of players with 150 or more turns at bat that year (there were 405 of them), Punto swung at the smallest percentage of pitches outside the strike zone. He was 12th in that group with swinging strikes on only 3.4 percent of the pitches he saw.
At the top of the latter list sat Marco Scutaro, whom the Sox traded away in deference to payroll concerns, and whose absence created the need for this new arrangement. It's fair to wonder, though, whether the Red Sox believed they were buying a version of Scutaro on the cheap when they inked Punto in December.
Marco Scutaro had his first above-average offensive season at age 33. Until then, he was merely a light-hitting defense-first middle infielder with a knack for putting bat to ball. When, in 2009, he learned to control the strike zone despite a lack of power, he blossomed spectacularly.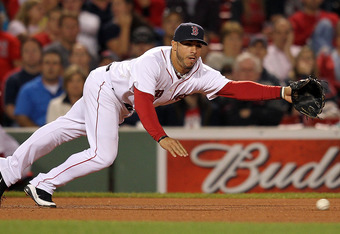 Jim Rogash/Getty Images
Nick Punto was 33 in 2011, and had (albeit in an admittedly tiny sample) his first above-average season at the plate. By making better contact than ever before and commanding the strike zone, Punto posted a .388 OBP for St. Louis.
That's not to say Punto's career will take off the same way Scutaro's has. Punto lacks any power with which to keep pitchers honest, still strikes out more than Scutaro and has trouble staying healthy. As a part-time piece, though, Punto is no slouch. He is, as they say, half the player Scutaro is, but that's okay.
The other half of Scutaro will be Aviles. The power certainly fits. In fact, if Aviles were to draw a few more walks, the whole profile would. Alas, he likely will not suddenly (at age 31) develop plate discipline he has never demonstrated before, but Aviles still has his uses.
Though he isn't thought of as such, Aviles really isn't a bad shortstop. He's no Nick Punto, but by virtue of being bigger and stronger of arm, he is able to make almost as many plays, only in uglier fashion.
He should provide average defensive value in addition to smacking a fistful of pitches into the Monster seats, when southpaws drift too far north on him.
The Sox shortstops will share the ninth slot in the batting order, from which Boston batters took 641 hacks in 2011. Aviles is better than Punto by roughly seven percent even against right-handed pitching, so don't expect a straight platoon, despite Punto's superior defensive skills.
Punto would get 370 plate appearances under that normative arrangement, and Aviles would get 271. Instead, make it 321-320 in favor of Aviles. That's before any other accounting takes place.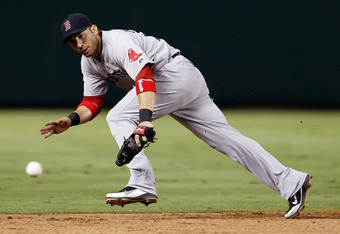 Tom Pennington/Getty Images
Punto is also a massive injury risk. He constantly runs into railings, fastballs or any of a dozen other obstacles. He has dealt with strains of the oblique, forearm, hamstring (three times) and groin, all since the start of 2010, during which window he also had surgery to repair a sports hernia.
Cut Punto's projected playing time in half due to injury, and you get 160 strides to the plate, just a shade south of what he had in St. Louis last season.
Aviles had one major injury, undergoing Tommy John surgery in 2009, but he has been steady and durable since. It's not unreasonable to give 100 of the vacated opportunities to him, leaving a modest 60 (probably sometime in September) for still-green glove-first prospect Jose Iglesias.
A full projection:
| | | | | | | | |
| --- | --- | --- | --- | --- | --- | --- | --- |
| PLAYER | PA | AGE | AVG | OBP | SLG | wRC+ | DRS |
| Mike Aviles | 421 | 31 | .270 | .299 | .420 | 98 | -3 |
| Nick Punto | 160 | 34 | .251 | .347 | .323 | 88 | 4 |
| Jose Iglesias | 60 | 22 | .250 | .278 | .250 | 59 | 2 |
This group has a higher ceiling than the one in right field, by my calculation. They should be worth about three wins in total, an above-average total creatively cobbled together at a position where division rival Tampa Bay is taking a virtual zero.
Ezra Shaw/Getty Images
Catcher: Jarrod Saltalamacchia and Kelly Shoppach
The Red Sox chased Jarrod Saltalamacchia like Ahab chased the whale, pursuing him across three offseasons before finally acquiring him in 2010. They have to be pleased with the progress he made for them in 2011, as he provided nearly league-average offense at a premium position, all at age 26.
Still, there are holes in the man's game. Saltalamacchia bats from both sides of the plate, but do not let that fool you—he is not a switch-hitter.
Against right-handed pitching, he is a confident and an authoritative left-handed slugger. He had a .786 OPS (107 wRC+) against righties in 2011, but that figured dropped all the way to .635 (65 wRC+) when he turned around and batted right-handed against southpaws.
Enter Kelly Shoppach, who has but one skill in life: He beats sweet-and-sour sin out of left-handed pitching. For his career, he's 44 percent better than the average batter against left-handed pitchers, and 26 percent worse than average against right-handed ones. He posted OPS number of .432 and .431 the last two seasons when facing righties, but he should never have to do that in Boston.
A perfect platoon division of the 657 plate appearances the Sox got from their No. 8 hitters in 2011 would give Saltalamacchia 379 and Shoppach 278. Realistically, both will get hurt for some stretch—that's catching. Ryan Lavarnway projects for 130 plate appearances per my projections, 73 stolen from Shoppach, 57 from Saltalamacchia.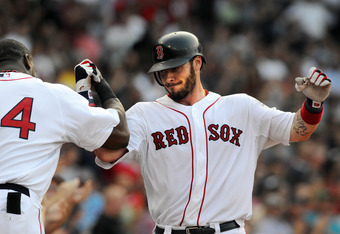 Darren McCollester/Getty Images
Here's the table for this grouping:
| | | | | | | | |
| --- | --- | --- | --- | --- | --- | --- | --- |
| PLAYER | PA | AGE | AVG | OBP | SLG | wRC+ | DRS |
| Jarrod Saltalamacchia | 322 | 27 | .249 | .307 | .412 | 101 | 2 |
| Kelly Shoppach | 205 | 32 | .232 | .306 | .348 | 87 | 1 |
| Ryan Lavarnway | 130 | 24 | .291 | .364 | .437 | 113 | -2 |
This group should be even stronger than the one at shortstop, posting a projected 3.6 wins above replacement. Again, this surpasses the Rays' expected contribution at the same position, albeit at the cost of extra roster spots.
The Net Effect
The total cost to the Red Sox for the 10 players listed in this article will be about $14 million. For that, these projections suggest they will get about nine wins of value, a very good return.
More important than the efficiency of the plan is its logistical viability. By crafting his roster this way, Cherington has given away perhaps two wins that could have been had for $10 million more, but should be able to wring three wins from those $10 million whenever he signs one of Roy Oswalt and Edwin Jackson.
He can do that, now, without trading any of the salary anchors of this team, the productive (and even elite) players who make up its core. A platoon arrangement like this one would not make Adam Jones, J.J. Hardy, Nick Markakis and Matt Wieters a sufficient core group, but for Jacoby Ellsbury, Adrian Gonzalez, Dustin Pedroia, David Ortiz, Kevin Youkilis and Carl Crawford, little extra support was ever necessary. The Sox should more than have the bottom part of the order covered.
Platoons can work, and need not be the result of desperation or deficiency. The Boston Red Sox are about to prove that.
Matt Trueblood is a father, a husband, a Bleacher Report featured columnist on MLB, and a Loyola University graduate with a Bachelor of Arts degree in journalism. Information from Baseball Prospectus, FanGraphs, Stat Corner and MLBDepthCharts.com was used in this article.