Syracuse Basketball: Is Orange Guard Dion Waiters Really an Elite Player?
January 25, 2012

Chris Chambers/Getty Images
During the Syracuse Orange's domination of the early stretch of the season, Dion Waiters emerged as a key contributor for the team and caught the attention of fans and media nationwide.
The sophomore's active perimeter defense and playmaking abilities help give Jim Boeheim one of the most fearsome backcourts in the country. By mid-December, Waiters was hailed as the best bench player in the nation and a rising star.
In a recent article on ESPN.com, college basketball analyst Jay Bilas referred to Waiters as "one of the truly elite players in the country."
Is Waiters a great talent? Yes.
Is Waiters Syracuse's best player? Quite possibly.
Is Waiters an elite star? No.
To his credit, Waiters has improved dramatically from last season, and without him the Orange wouldn't be as threatening. But the talk about him being elite is a stretch.
Waiters was putting up solid numbers during the Orange's 20-game winning streak, but people seemed to forget that he was beating weaker and athletically inferior foes on many occasions.
The Orange might have a good RPI, but the first half of its season didn't feature many road challenges or Sweet Sixteen-caliber opponents.
Against formidable backcourts, he is inconsistent offensively. Things sometimes get ugly when he tries to take over the offense, because he's not the best facilitator and he ends up forcing shots.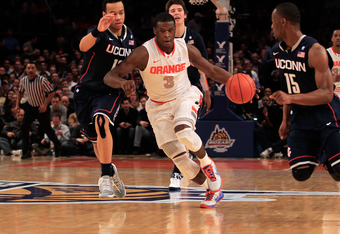 Chris Trotman/Getty Images
If Waiters wants to be a truly elite player, he can't afford to have outings like his 1-for-8 shooting night against Florida or 4-for-14 night against Notre Dame.
When he's not in tune with the Orange offense, it is painfully clear that he doesn't have the best shot selection or a sense of quality possessions. His impact on the team fluctuates throughout each game and throughout the season.
I'm not saying that he doesn't have a chance to be a national star or an elite performer. I'm just exercising caution and holding off on crowning him king of college basketball until March comes around.
Truly elite players make a powerful, efficient impact with the minutes they're given. Waiters makes a positive impact, but he doesn't have a "Most Valuable Player" quality that forces Jim Boeheim to keep him on the floor. Part of that is due to Syracuse's extensive roster, but it's also because Waiters is far from indispensable.
So who are some elite players? Thomas Robinson of Kansas, Doug McDermott of Creighton, Jared Sullinger of Ohio State and Tu Holloway of Xavier. They have a consistently profound impact on their teams.
Syracuse will face its toughest Big East test during the final seven games of the season. That string of games includes a home game against Georgetown, a home-and-home against Connecticut and a home-and-home against Louisville. 
If Waiters stands out during that stretch and leads Syracuse to an impressive postseason run, then I'll be willing to reconsider.