UFC Summer 2012: A Very Early Breakdown of Overeem vs. Dos Santos
January 24, 2012

On Dec. 30, 2011, the world witnessed the post-fight retirement of Brock Lesnar.
He was beaten and he was beaten soundly.
The former WWE and UFC heavyweight champion was reduced to a crumpled mass curled up and wincing in the Octagon as Alistair "Demolition Man" Overeem swarmed him with a barrage of right-hand haymaker punches. Ding dong, the king was dead. Brock Lesnar's MMA career was no more.
Overeem has had a habit lately of making knockouts look really effortless. The former Dream, Strikeforce and K-1 World Grand Prix champion has been on a tear in the past four years since moving up to heavyweight and putting on a small child worth of muscle.
In 2010 he had arguably one of the best years in recent combat sports history when he demolished Brett Rogers to defend his Strikeforce heavyweight title, clubbed his way to the K-1 championship and then finished off the year by knocking tough prospect Todd Duffee out in 19 seconds to win the interim Dream heavyweight title.
It was shocking to see Lesnar beaten so easily. Overeem seemed to make easy work of him. There is, however, a very large and determined Brazilian problem in his future.
Current UFC heavyweight champion Junior Dos Santos is unlike any other heavyweight on the planet right now and that includes Alistair Overeem. He took out a previously unbeaten Cain Velasquez in 64 seconds and he is yet to be presented with anyone who can challenge him. Can Overeem do what no other man has done is the UFC?
I will analyze each fighter individually, focusing on their strengths and weaknesses, and then I will do my best to predict an unpredictable outcome.
Alistair Overeem
Alistair Overeem is a decorated Dutch kickboxer and submission ace with Herculean strength. Physically, he is an absolute beast. The way he broke Brock Lesnar down piece by piece just as he promised was shocking at the very least. It's not shocking he won, it's shocking he did it so easily when so many experts picked Overeem to lose.
Overeem has been a world champion. Out of his 36 mixed martial arts victories, the Reem has only went to the cards twice, notching 15 knockouts and 19 submissions. He is very dangerous in the cage. But, then again, so is the man he is facing.
Overeem has been knocked out a few times and he has been beat up in the past; however, it was four and a half years ago that he was knocked out in MMA and he has fought quite a few hard-handed men at heavyweight and none of them have been able to do it. Maybe his chin grew up with his muscles? Is it possible to recover your ability to take a punch? I'm not a doctor or a scientist.
What I do know is Overeem does not have a gas tank to fight past Round 3 against a pace JDS will set for this fight. Overeem will get tired in the second half of a five-round fight and that will make him much easier to finish him with strikes.
The thing is, no one can seem to stop his powerful strikes. Can Junior Dos Santos be the man to end the impressive streak the Reem is on?
Junior Dos Santos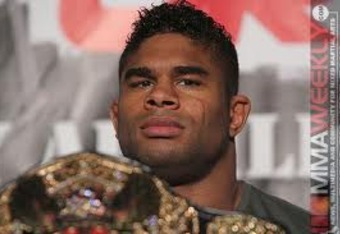 Junior Dos Santos is a Brazilian Jiu-Jitsu black belt who just so happens to punch like a jackhammer. He is not exactly a man you would want to meet in a cage. As a matter of fact, he is probably the last you would ever want to see. He terminates his opponents. If he is an artist, his fists are his brushes.
Dos Santos fights in a style that reminds me of Chuck "The Iceman" Liddell. He uses his good ground skills to keep his opponents upright so he can knock them down with his power punches. If he were any other fighter I would complain that he needs to use kicks, but when you can knock out Cain Velasquez in a minute, there is very little criticism to impart.
Overeem is very dangerous early, but then again, so is "Cigano." Dos Santos could win this fight early as well, but his advantage lies after Round 2 when his pace will stay steady and Overeem's will wane considerably.
Can Dos Santos bring his UFC winning streak to nine wins in a row?
The Breakdown
Overeem is always a threat early in a fight. He has heavy hands, elbows, knees and kicks. That is his only advantage. He has a variety of weapons Junior Dos Santos does not have. Junior has a great ground game, but he has been submitting people. Overeem has more submission wins than knockouts.
The bottom line is that it won't matter. Overeem has a good chance early, but the champion will weather an early storm and bide his time, waiting for his opening. He will soften up Overeem until the Reem starts to fade, then he will take him out. It is possible Overeem will be the UFC champion before his career ends, but it will not be in 2012.
The Winner
Junior Dos Santos wins by knockout late in Round 2.