Detroit Red Wings: 12 Trade Rumors and Speculations as the Deadline Nears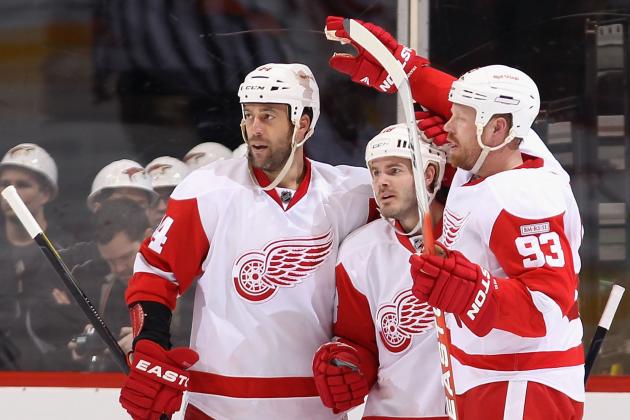 Christian Petersen/Getty Images

The NHL is just over a month away from its trade deadline of February 27th. As we near that date, talks and rumors about potential trades really start to heat up.
Both of the conference races are extremely tight this year. That might make for a late start to trades as teams will not know if they should make a move to rebuild, or if they still have a chance to make a run at the playoffs.
As of now, only the Columbus Blue Jackets and Edmonton Oilers are really out of contention. Everyone else is sitting around that 10-point mark. If teams such as the Anaheim Ducks, Buffalo Sabres and Carolina Hurricanes are still sitting that far off the pace a month from now, then they will join the sellers list.
The Detroit Red Wings have spent most of the season battling at the top of the Western Conference and Central Division.
They have a very strong team and a solid record, but they are in a tight battle with the Chicago Blackhawks and St Louis Blues. One loss can drop them from the top seed to the fifth seed. With their amazing home record of 19-2-1, they really need to push for home ice in the playoffs.
For playoff contenders, they are among the leaders in available cap space. This means that they can make a bigger deal if they want and not have to be as concerned with the dollars.
They have roughly $5.7 million of wiggle room under the cap. Now some of that has been earmarked to re-sign Brad Stuart who is an unrestricted free agent after the season.
The Red Wings need help on the power play and penalty kill. Their power play, while not bad, has dropped to 12th in the league. Their penalty kill is ranked 22nd in the league. In a trade they could either be looking for a top-six scorer or a grit type of player to help on the penalty-kill unit.
Who might they give up?
There are several talented players in the minors that other teams would love to have. While the Red Wings would not want to part with most of them, Brandon Smith may be the only true untouchable in the minors.
It is hard to see General Manager Ken Holland trading any key figure on the rotation, but one that may draw some interest is Jiri Hudler.
He is having a comeback year and should be near career-best totals by the end of the season. It is a contract year for him and he will likely want a raise from the $2.875 million that he is making this year.
Going into this season that was a hugely overpaid contract. If the Red Wings decide that they do not want to give him a raise, then it might be wise to trade him now while the market for him is still good.
The Red Wings do not normally go the rent-a-player route; that is, trading for a player who is in the last year of his contract.
But in such a tight race and with the idea that you need to always win now, they may take a chance.
With that said, what trades are being rumored, and what speculation has fans dreaming of those players wearing the winged wheel?
Begin Slideshow

»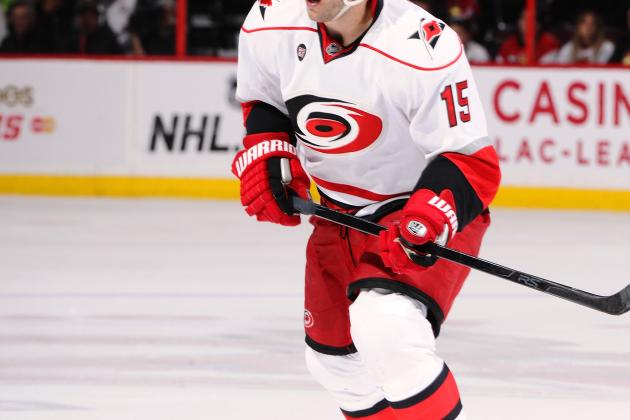 Phillip MacCallum/Getty Images

Tuomo Ruutu would fit great on the Red Wings.
He is a physical player who can also score and currently leads the Carolina Hurricanes in goals. What is impressive is his plus/minus. While he is at the break-even point, he is on a team that is minus-30 on the season. Few players on the team have a plus rating, let alone any that log the minutes that he does.
The Hurricanes are last in the Eastern Conference but are holding at 10 points outside of the playoff chase. It appears that they may be looking to retool for the future, as they recently completed trades with the New Jersey Devils and Florida Panthers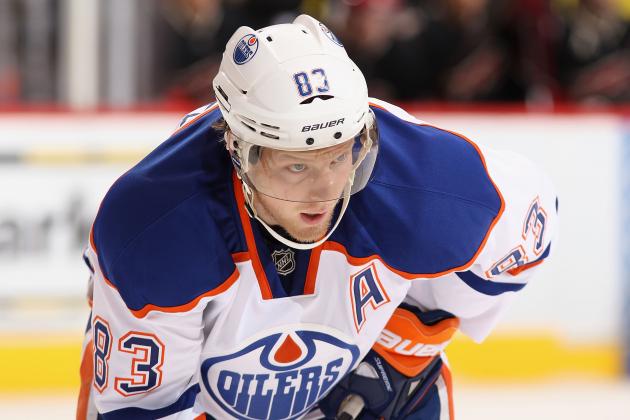 Christian Petersen/Getty Images

The Edmonton Oilers are just plain bad, and only Columbus is having a worse season. They may be looking to shed some players in their ongoing, never-ending quest to rebuild.
Red Wings fans will remember Hemsky from his goals that helped upset them in the first round of the 2006 playoffs. He is a solid scorer on a bad team. Injuries slowed him the past two seasons, but he was good for 20 goals prior to that.
He is having a bad year so far with only four goals and 17 points. The Red Wings will need to determine if he has fully recovered from shoulder injuries, or if this is just the funk of playing on a bad team.
Would a change of scenery boost the skilled player? At $4.1 million, his salary easily fits under the team cap.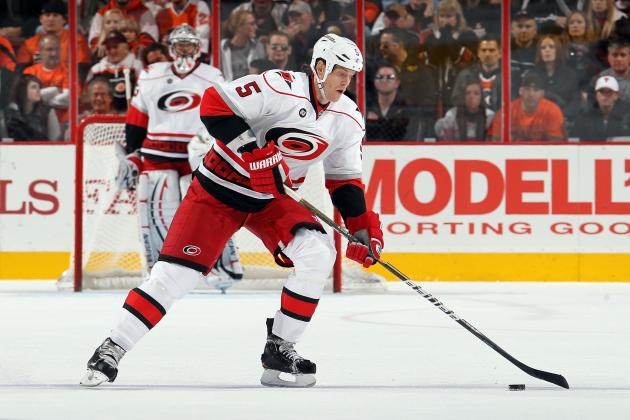 Jim McIsaac/Getty Images

Another Carolina Hurricane might be available; the Detroit News has pointed out that Allen could be on the Red Wings' radar as well.
Allen is a physical force and is not afraid to drop down and block pucks. In stops in Vancouver, Florida and Carolina, he has proven to be a solid defenseman who does very well on the penalty kill.
While the Red Wings' top four defenders are set, adding Allen to their third pairing—either with Jonathan Ericsson or in a trade for him—as well as utilizing him on the penalty kill could greatly help the team.
He has had a few knee injuries over his career and has missed large chunks of games in several seasons. He appears healed up now and could be an additional physical presence for the Red Wings.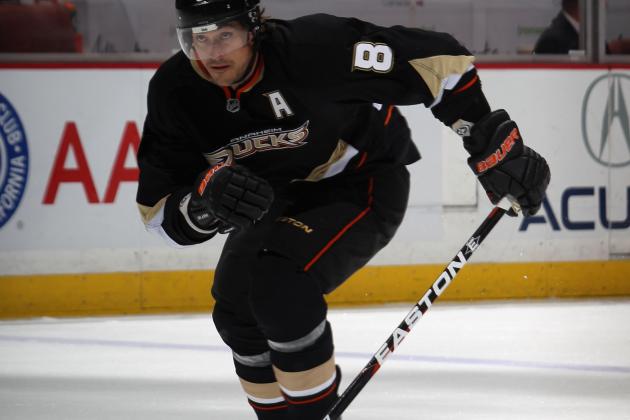 Bruce Bennett/Getty Images

The Ottawa Sun has reported that the Red Wings have already inquired about Selanne. He is 41 years old and owns a no-trade clause in his contract, so he would need to approve any move.
With the Ducks going nowhere this season, Selanne might welcome a move to a contender. Even at 41 Selanne can still score. He Has 15 goals and 45 points in 47 games.
Ducks General Manager Bob Murray does not appear ready to make such a big move and still thinks his team has a chance at the playoffs. They are 11 points behind the eighth spot.
Goalie Jonas Hiller has bounced back from a rough start to the season and the team has been playing better lately, so they may still be able to climb back into the race.
The Ducks' asking price could be a sticking point. Selanne is expected to retire after the season, so the Red Wings would only be renting a player.
Unlike other possible rental players who they would have a chance at re-signing in the offseason, if Selanne does retire it is a short-term deal.
The Red Wings will not want to give up much in order to get him. Would the Ducks accept mid-level prospects or draft picks?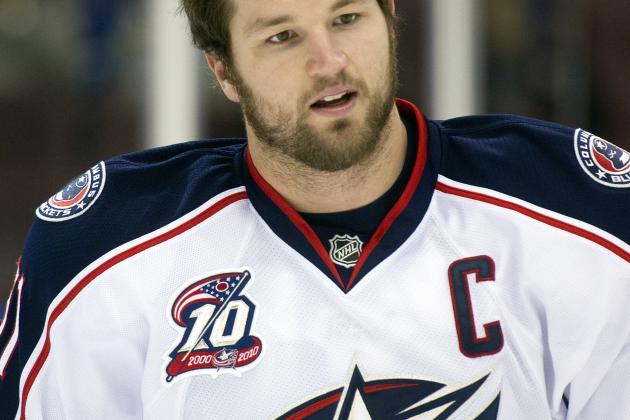 Rich Lam/Getty Images

The Columbus Blue Jackets made some offseason moves with the hope of fighting for a playoff spot; Instead they are dead last in the league.
Rick Nash has been the face of the franchise. Nash only makes the list due to recent comments he made and how many Red Wing fans will be chomping at the bit in hopes of Nash coming to Detroit.
He owns a no-trade clause but seems open to waiving it. He would be a terrific dream player for the Red Wings to land.
The only way the Blue Jackets would trade him would be for a ton of prospects, though, and even then it is doubtful the Blue Jackets would move him within the division.
One other sticking point would be Nash's salary.
He is due $7.6 million next year and would eat up any open cap space that the team has. Any trade would also need to move a player or players making at least $2 million, and likely closer to $3 million.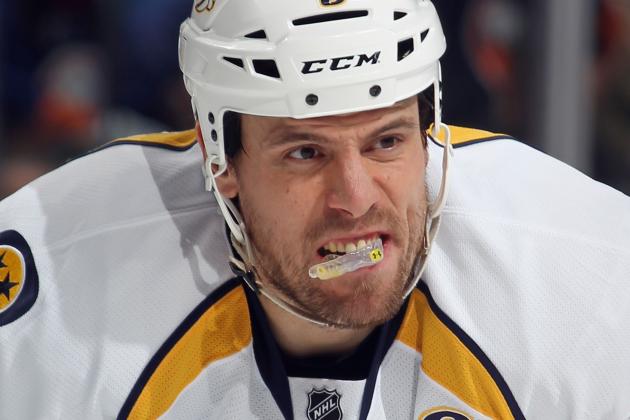 Bruce Bennett/Getty Images

I had to include this slide to appease all of the dreamers. Many in Detroit wake up with goose bumps thinking of Shea Weber and Nick Lidstrom patrolling the blue line together. They hope for Weber to fill Lidstrom's shoes once he retires.
It is not going to happen, at least not in a trade.
There are only two ways to get Weber; the most likely avenue is in free agency, where he will be a restricted free agent following the season.
The other, and much less likely option, is a trade. It would not be a run-of-the-mill trade, though. The Nashville Predators are highly unlikely to trade within their division and especially to Detroit.
In order to even get them thinking about such a move, a combination of current players and top prospects would need to be traded. Are Wings fans ready to part with Brandon Smith AND Valtteri Filppula plus others? It would take at least that much for such a move to happen.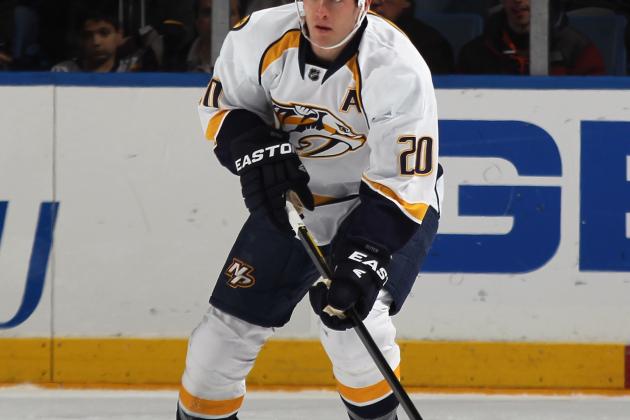 Bruce Bennett/Getty Images

The Nashville Predators are in a tough spot. They often have a payroll near the bottom of the league. They will go into this offseason with 10 players hitting some level of free agency.
While several players will be allowed to move on, they do have some tough decisions to make with the possibility of losing Shea Weber, Colin Wilson, Sergei Kostitsyn, Jordin Tootoo and Ryan Suter.
Those players currently account for 33 percent of the team's salary. As each like some type of raise if will greatly squeeze the Predators' salary structure.
While it is again unlikely that Nashville would make a trade with Detroit, Ryan Suter appears to be an option. He would fill in great on defense and while he would not come cheap, the fee would not be as steep as it would be for Weber.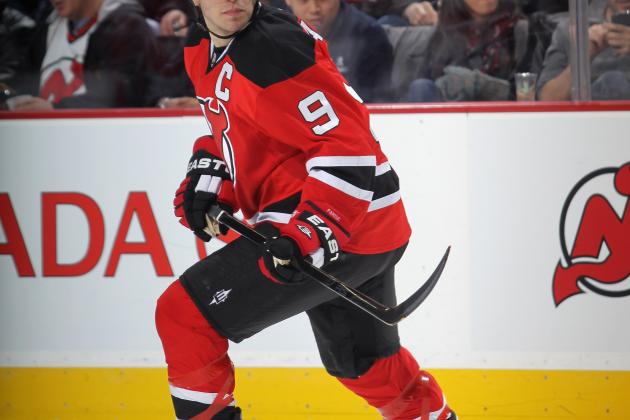 Bruce Bennett/Getty Images

Zach Parise will be a free agent after the season, so he would fall under the rent-a-player model. Although for a player of his skill and ability, it may be worth the gamble of being able to re-sign him in the offseason just to have him for a playoff run.
It is not often a player of his caliber becomes available in his prime.
The Red Wings may want Parise and could give him a lot of money; they also really don't want him joining the up-and-coming Blues.
Injuries limited him to 13 games last season. Prior to that, he had averaged 36 goals over the previous four seasons. The last two of those seasons he was over a point-per-game-player. Beyond the Blues, there would be several teams hoping to be in on any Parise trade talks, which will up the cost.
New Jersey has claimed that they do not want to trade their talented star, but financial issues may force their hand.
Do they want to risk losing him for nothing just for the hope of re-signing him in the offseason? That would be a pretty big gamble for the team.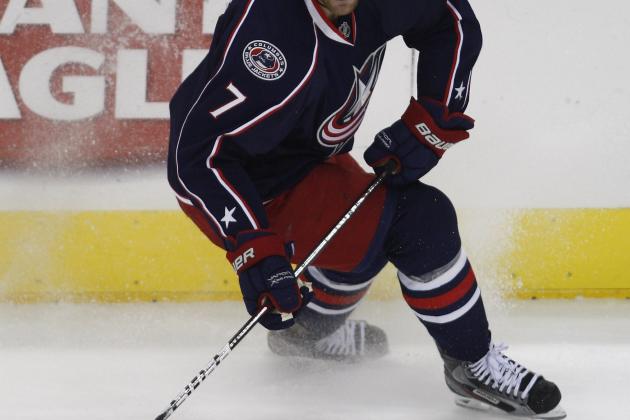 John Grieshop/Getty Images

The Blue Jackets thought they had made the move of the offseason when the traded for Jeff Carter.
He was barely into an 11-year deal he had signed with the Philadelphia Flyers and was stunned by the move. He did report to Columbus but it was obvious he was not happy.
He has been hit by injuries and started the season very slowly. He only has 10 goals so far and appears nowhere close to reaching the 38 goals he has averaged the past three seasons.
He has been a non-factor in scoring in most games. Of his 10 goals, three came in one game. He also had a four-game streak where he scored one goal in each game. The two-goal outbreaks also came within seven games of each other.
So outside of those seven games, he only has three goals in his other 23 games.
While it is purely speculative at this point, one can't help but wonder if the Blue Jackets would chalk this up to a failed experiment and trade Carter for more players for the future.
There were grumblings that he requested a trade earlier in the season, but he and team officials denied any such talk.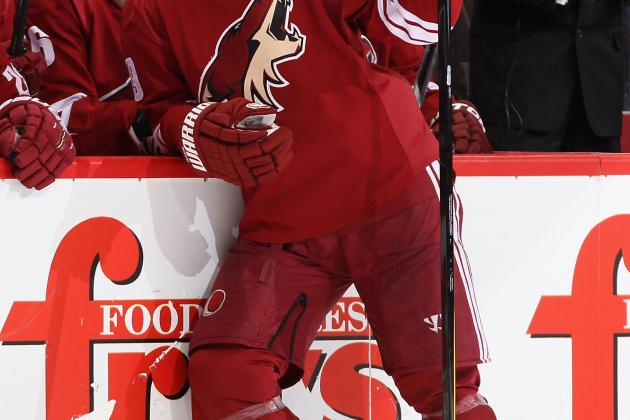 Christian Petersen/Getty Images

There is speculation everywhere that the Phoenix Coyotes would be willing to trade long-time team captain Shane Doan.
While Phoenix has claimed it has no interest in trading Doan, there always seems to be speculation that he will be moved.
The Red Wings would love to add a gritty scorer like Doan. He is a free agent after the season and does hold a no-trade clause. One would think that the 35-year-old would at least entertain offers to be moved to a contender.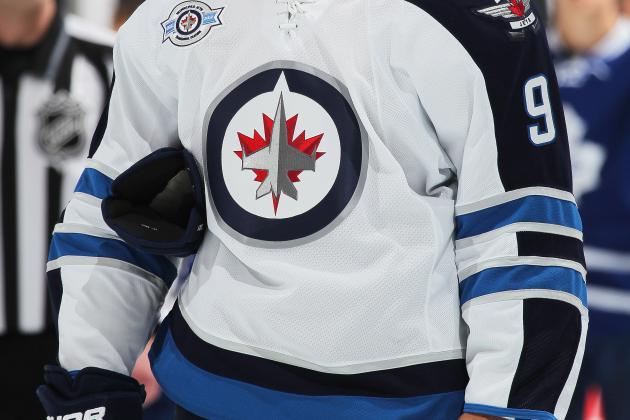 Claus Andersen/Getty Images

Admittedly an off-the-wall addition to the list, but recent events out of Winnipeg have people wondering if Kane has worn out his welcome.
A young player with loads of talent, he could be the face of the Jets for years to come. He is 20 years old and has a knack for scoring. He is still learning how to see the entire ice and play with teammates, but his upside is huge.
You would think a city that finally has a hockey team back would adore such a player, but Kane just seems to rub people the wrong way. He has battled talk that he requested a trade, walked out on restaurant bills and that his current concussion was from a bar incident and not hockey-related.
With questions of maturity and discipline, would Kane be traded for a mix of veterans and young players? There is no doubt many teams would be eager to add him. The veterans on the Red Wings would be great to mentor the young player.
II would be a shock if Winnipeg did decide to move him but if these issues continue to occur, then expect the rumors to grow louder as the trade deadline grows nearer.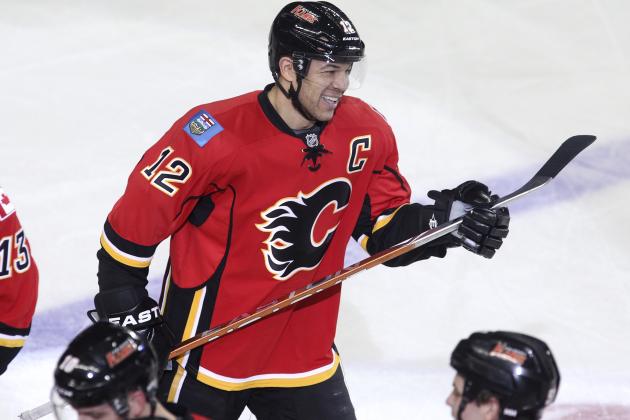 Mike Ridewood/Getty Images

At this point I believe there is some type of law that requires there to be a Jarome Iginla rumor page on any such trade news.
He has been mentioned on the trade rumor sheets for a couple of seasons now, and is appearing there again this year. He would eat up all of the cap space that Detroit has saved up, plus they would need to move a regular roster player in order to match his $7 million cap hit.
While the consistent and high-scoring player would look great in Detroit, it just is not going to happen.
PJ Sapienza is a featured columnist for the Detroit Red Wings and a writer of many other sports. He is also taking part in a Polar Plunge for Special Olympics ( http://www.firstgiving.com/fundraiser/pj-sapienza/brightonplunge2012 ) and would greatly appreciate your support. You can also follow him on Twitter.