Cleveland Cavaliers: The Idea of Actually Rooting to Lose
January 24, 2012

Kevin C. Cox/Getty Images
Let's be honest—it's awkward.
A week ago the Cavaliers were sitting at 6-6 and in the "if the playoffs started today" scenario they were in.
Conventional wisdom says that after a year that was as bad as the 2010-11 Cleveland Cavaliers were, getting into the playoffs would be great.
Unfortunately, the NBA isn't the NFL. If you're rebuilding a team in the NBA, you need a couple of years in a row to pick at the top of the draft and get the kind of elite talent that you can build around.
Also unfortunately for the Cavs, the 2011 NBA Draft was one of the weakest ever at the top. Kyrie Irving is great and Tristan Thompson could be a nice player, but you need a lot more than that.
So what I'm trying to say is that if we want the Cavs to get back to where they were during the LeBron era—competing for championships every year—then we're going to need to have another high-draft pick this season (and maybe next season too).
In fact, I think that this was the ultimate downfall of the LeBron era Cavs. They got too good too fast and never had another high-lottery pick after LeBron. He was actually too good (to stink) and then not good enough (to win a championship).
Now, after that great 6-6 start the Cavs have played three real crappers in a row; including getting run out of the gym by the Bulls and Hawks, that were both playing without one of their best players (and in the case of Chicago, MVP Derek Rose).
And although in the "playoffs starting today" scenario, the Cavs are still in it as the eighth seed. I don't think the playoffs are something we should be worried—er—getting excited about.
And that's where it is. That's the awkward part.
Do you or should you, as a Cavs' fan root for the team to lose?
Because rooting for them to lose this year is actually rooting for them to win in the long run. It makes sense—don't worry.
Are you happy when the Cavs lose?
Because as WKNR's Kenny Rhoda says: "It's just another ping pong ball in the hopper!" This isn't technically true. There are actually a set number of balls and your odds are just figured on the number of various combinations you receive—but I digress.
For me? I am incapable of rooting for the Cavs to lose any game. I don't care if it's the Bulls, Heat, Pistons, Raptors or Warriors. If the Cavs are playing them, then I want to win.
I hate losing. I'm a Cleveland fan, and I've had plenty of losing.
The difference is that with the Cavs this year I get over the losing a lot quicker because in the end I know that losing is actually a good thing.
Now I could never or would never tell the Cavs' players that. I don't want them to play to lose, that's not fun to watch—basically it is all I want right now.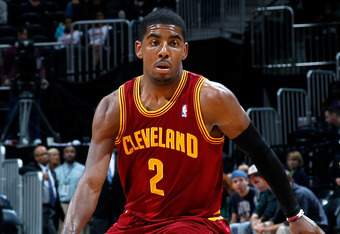 Kevin C. Cox/Getty Images
The other difference is of course, due to the fact that I live in Wisconsin I don't get to go to any of the games. So for me to root from my couch has absolutely no affect on the game anyways.
If you're a "root to lose" guy, that's fine. It's just not me.
I just hope that you don't openly root against the Cavs while at home games because that would be weird.
In summary, the Cavs losing, while not a fun thing, is actually a good thing.
And getting rid of Antawn Jamison and Anthony Parker may help facilitate that—just saying.
You can follow Benjamin Flack on Twitter @ClevelandFlack.