Syracuse Basketball: Ranking the 5 Orange Alums in the NBA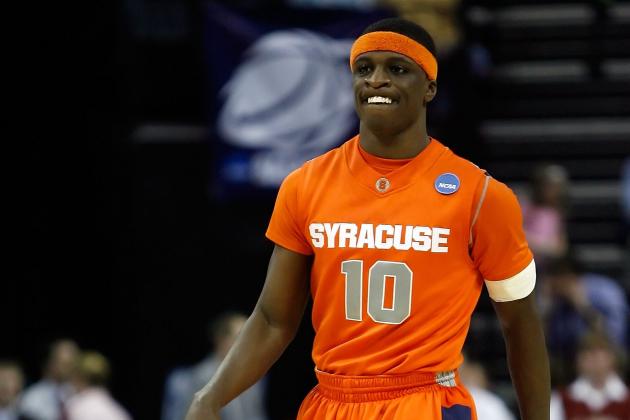 Joe Murphy/Getty Images

On Saturday night, the Syracuse University men's basketball team lost for the first time this season, 67-58, at Notre Dame.

Despite being the No. 1-ranked team in the country for weeks, Syracuse was still overshadowed by schools such as Kentucky and Ohio State.
One of the reasons for this is due to Kentucky's many NBA lottery prospects. Kentucky has sent numerous players to the NBA over the past few years, including PG John Wall and PF/C DeMarcus Cousins.
Things are looking no different this year for John Calipari's Wildcats, as G Darius Miller and Forwards Terrence Jones and Anthony Davis are potential NBA lottery picks in this upcoming draft.
However, Syracuse does have five recent graduates of its own that were fortunate enough to be drafted.
Here is a ranking of former Syracuse standouts who currently reside in the NBA ranks.
Begin Slideshow

»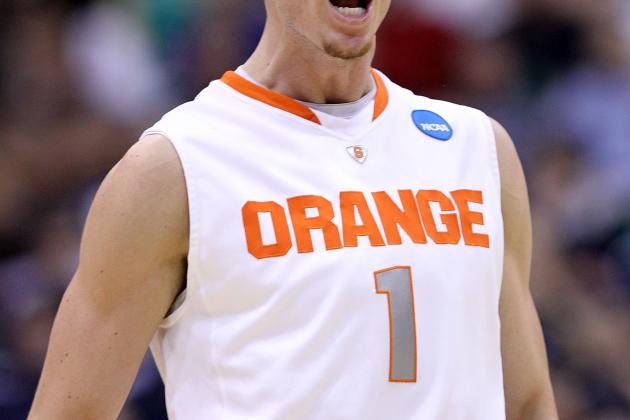 Jed Jacobsohn/Getty Images

Canadian guard Andy Rautins was a member of the Orange from 2005-10. After a quiet freshman season under Jim Boeheim, Rautins blossomed and became a fixture at shooting guard for the Orange. In Rautins' final season, he averaged 12.1 points and nearly five assists, earning a place on the All-Big East second team.
Unfortunately, Rautins' professional career has not gone so smoothly. After being drafted by the Knicks with the 38th-overall pick of the 2010 NBA Draft, Rautins was used sparingly and was eventually traded to the Mavericks, who quickly released him.
Rautins is now playing in Spain and hopefully will return to the NBA someday.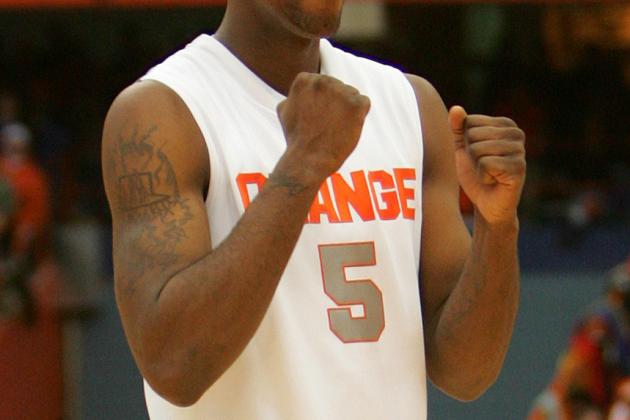 Marc Squire/Getty Images

Donte Greene only played one year at Syracuse, but it was a memorable one. In his only season with the Orange, Greene averaged an astonishing 17.7 and 7.2 rebounds, becoming the first freshman since Carmelo Anthony to lead the Orange in scoring.
He has spent the past three seasons with the Kings, averaging 6.3 points for a young Sacramento team.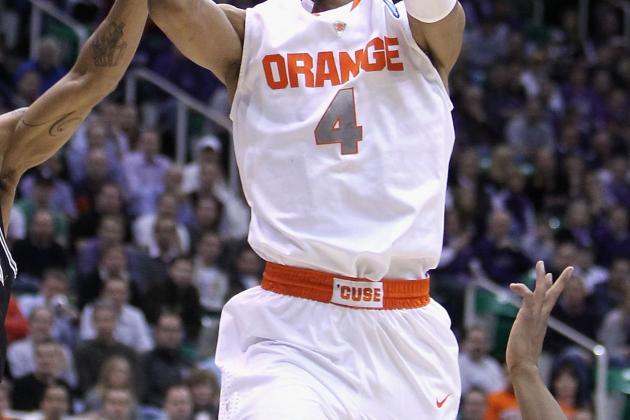 Christian Petersen/Getty Images

Wes Johnson also played a single season for the Orange (Johnson transferred from Iowa State). In the 2009-10 season, Johnson's lone year in Syracuse, he averaged 16 points and 8.4 rebounds and was named Big East Player of the Year as well as AP First-Team All-American.
Johnson was selected fourth overall by the Minnesota Timberwolves in the 2010 draft and had a productive rookie season, playing 79 games and averaging nine points, three rebounds and nearly two assists per game.
A bright future is ahead for Johnson.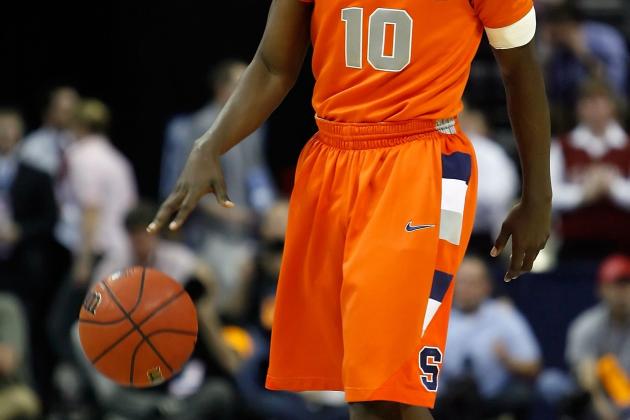 Joe Murphy/Getty Images

Jonny Flynn was Syracuse's point guard for two seasons and was very successful. In his freshman season of 2007-08, he scored 28 points in his debut and was a co-winner of the Big East Freshman of the Year award after averaging 15.7 points and 5.3 assists per game.
Flynn also had many great games his sophomore season as well—none more famous than Syracuse's six-overtime win against UConn in the Big East Tournament. Flynn scored 34 points in that game and was on the court for an astounding 67 minutes. He ended up winning Big East Tournament MVP.
Flynn decided to enter the 2009 NBA Draft and was selected sixth overall by the Minnesota Timberwolves. Flynn had a successful rookie season, averaging 13.5 points per game.
During the 2011 NBA Draft, Flynn was traded to the Houston Rockets, where he can hopefully build on the success he achieved as a rookie.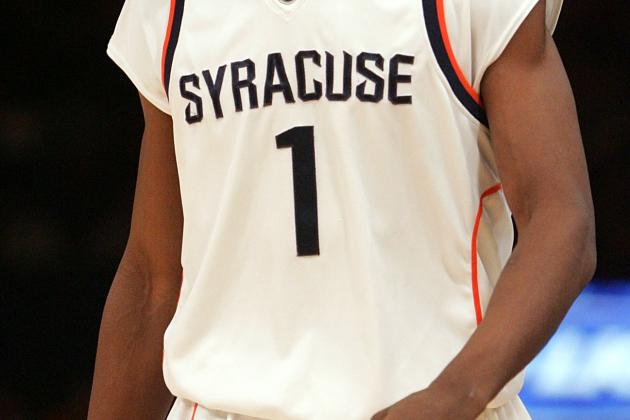 Jim McIsaac/Getty Images

Hakim Warrick played four years for the Orange and was an important part of their 2003 national-championship season.
After an NIT berth the previous season, Warrick and the guy on the next slide led the way, with Warrick averaging 14 points and 6.5 rebounds in his sophomore campaign.
Warrick is best known for his game against Kansas in the 2003 national championship. With a chance to put away the game, Warrick missed two free throws, but then made up for it by blocking Michael Lee's potential game-tying three-pointer to give Syracuse coach Jim Boeheim his first national championship (and his only one so far).
After two more years at Syracuse, Warrick entered the 2005 NBA Draft and was selected by the Memphis Grizzlies with the 19th-overall pick.
Warrick has been a solid offensive player thus far in his NBA career, averaging at least eight points per game in five of his six NBA seasons (with Memphis, Milwaukee, Chicago and Phoenix). In 2010, he signed a contract that will keep him in Phoenix for four seasons.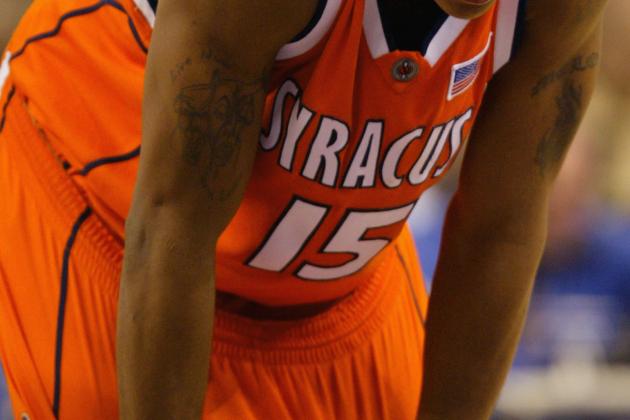 Craig Jones/Getty Images

Carmelo Anthony is easily the best Syracuse alum in the NBA right now. In Anthony's lone season in Syracuse, he averaged 22.1 points and 10 rebounds. He led Syracuse to their first-ever national championship and was named Most Outstanding Player of the Final Four, with 20 points and 10 rebounds in the championship game against Kansas.
He then entered the famous 2003 NBA Draft and was selected third overall by the Denver Nuggets. While in Denver, Anthony became a regular in the NBA All-Star Game and was regarded as one of the top players in the NBA.
After seven seasons in Denver (2003-10), Anthony was traded to the New York Knicks at his request. Anthony teamed up with Knicks PF Amar'e Stoudemire and helped the Knicks clinch their first playoff berth since 2004.
While Anthony's Knicks may be struggling (to put it mildly) at the moment, he should be an elite player in the NBA for many more years to come.