2012 NFL Free Agency: Ranking the 3 Best Players at Each Position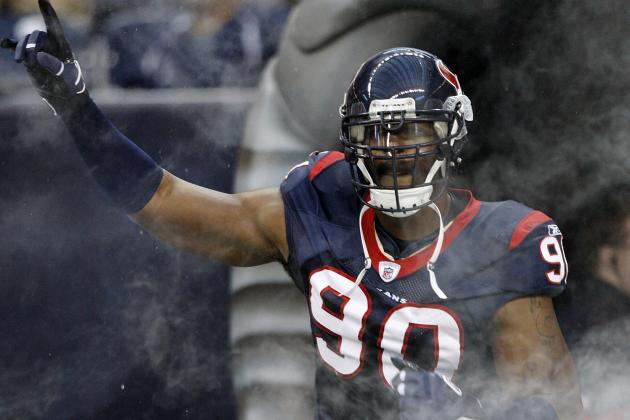 Bob Levey/Getty Images

NFL free agency will soon arrive this March. With its arrival comes an opportunity for teams to upgrade at important positions. Smart decisions in free agency allow NFL teams to slowly mold their roster into championship material, while bad decisions set back franchises for years.
Whether its picking up that final veteran presence to put a team over the top, or stealing a star player away from their old team one thing is for sure—free agency provides franchises with an opportunity that can't be found elsewhere.
The 2012 NFL free-agency class is one of the best in recent memory, and the players at the top are the best of the best at their respective positions. Teams lucky enough to land these players will immediately upgrade their roster in a big way.
This list examines the best players available at each position on the field. Restricted free agents are mostly omitted because it's unlikely they will actually hit the open market. For the rest, there's a chance they could return to their old team, but anything is possible once free agency opens.
One of the most exciting times to be an NFL fan is rapidly approaching.
Here are the three best players at each position when free agency opens in March:
Begin Slideshow

»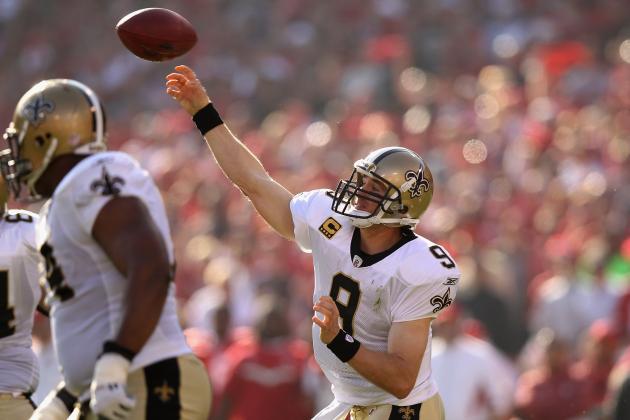 Ezra Shaw/Getty Images

1. Drew Brees
It's unlikely that Brees will hit the open market, but he's the most talented player in the 2012 class. With 5,476 and 46 touchdowns for a 110.6 rating, Brees is one of the best quarterbacks in the league. He's 33 years old, but it's hard to imagine his production falling off anytime soon.
If the Saints have trouble coming to terms with Brees, most teams in the league will throw massive amounts of money at him. To prevent this, New Orleans, at the very least, must franchise tag Brees.
2. Matt Flynn
Flynn is the most highly regarded backup quarterback in the NFL. An understudy of Aaron Rodgers, Flynn burst onto the scene in Week 17 against Detroit to the tune of 480 yards and six touchdowns.
Teams in need of a franchise quarterback should be willing to offer huge contracts to Flynn.
3. Jason Campbell
Campbell is a seasoned veteran who has all but lost his job in Oakland thanks to the organization trading for Carson Palmer.
Campbell was having a solid season running the offense before his injury, and at age 30, he can go to any franchise and provide an amazing backup or solid starter.
Honorable mentions: Kyle Orton, Chad Henne, Shaun Hill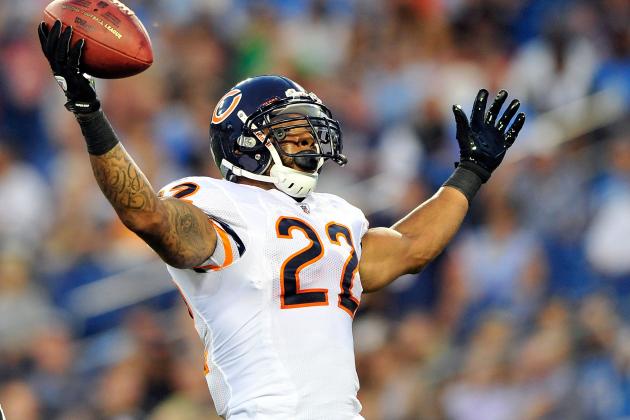 Grant Halverson/Getty Images

1. Matt Forte
Matt Forte is a dynamic back that can beat a defense on any down. Last season was a down year thanks to injury, but Forte still posted 997 yards and three touchdowns on the ground and 490 yards and a touchdown through the air. As the only weapon on an average offense, the numbers are great. Forte might hold out this off season, and if he hits the market some team might find a franchise running back if the team is willing to actually pay what Forte is worth.
2. Ray Rice
Ray Rice is arguably the best running back in the league, but it's doubtful that he leaves Baltimore this off season. Rice rushed for 1,364 yards and 12 touchdowns in 2011 and added 704 yards and three touchdowns through the air. The Ravens would be wise to pay Rice whatever he demands, or someone else will.
3. Michael Bush
Michael Bush is a shifty power back coming off yet another impressive season despite not being the starter. 997 yards and seven touchdowns were his finishing numbers, but if a team brings him in as a starter he could potentially post a jaw-dropping stat line.
Honorable Mentions: Peyton Hillis, Mike Tolbert, Marshawn Lynch
J. Meric/Getty Images

1. Marques Colston
Colston is a massive target who hauled in 80 passes for 1,143 yards and eight touchdowns in 2011. Despite being a beneficiary of Drew Brees, Colston is an elite talent who could shine on any team in the league.
The Saints could have trouble bringing him back in 2012 because of the plethora of free agents they have to re-sign. If Colston finds a new home, it will be for a fat contract—and a deserving one at that.
2. DeSean Jackson
Despite character concerns, Jackson is one of the most explosive players in the league. He recorded 961 yards and four touchdowns in 2011. He's also an elite kick returner, and that talent could land him a huge contract. A team that takes a risk on Jackson will reap the benefits through his production.
3. Dwayne Bowe
Bowe is a talented receiver who doesn't get enough credit—1,159 yards and five touchdowns were his finishing numbers in 2011.
Bowe is a great target anywhere on the field and is difficult to cover for most defensive backs in the league. A big contract is on the way for Bowe—and rightfully so.
Honorable Mentions: Brandon Lloyd, Stevie Johnson, Vincent Jackson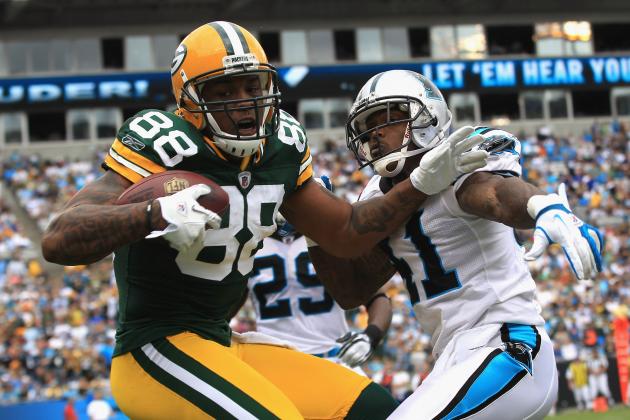 Streeter Lecka/Getty Images

1. Jermichael Finley
Finley is one of the most talented tight ends in the league, despite a strange issue with drops. He had 767 yards and eight touchdowns in 2011. Finley is looking for a long deal, and might not get it in Green Bay.
Finley is a monster who causes mismatches all over the field and will be the best tight end in the league once he improves his catching ability. A team paying Finley on the basis of potential will eventually be vastly rewarded.
2. John Carlson
Carlson is a great tight end coming off a shoulder injury. While still rehabbing his injury, Carlson would be a great addition to any team willing to offer him a prove-it type deal. He's a sure-handed, big target who's an under-the-radar great pickup this offseason.
3. Fred Davis
Davis emerged as one of the better players at the position last season, accumulating 796 yards and three touchdowns. Davis will likely hit the open market where teams with a need at the position should be willing to pay him a decent amount.
He can be a major addition to a franchise running the correct offensive scheme.
Honorable Mentions: Jacob Tamme, Martellus Bennett, Kellen Davis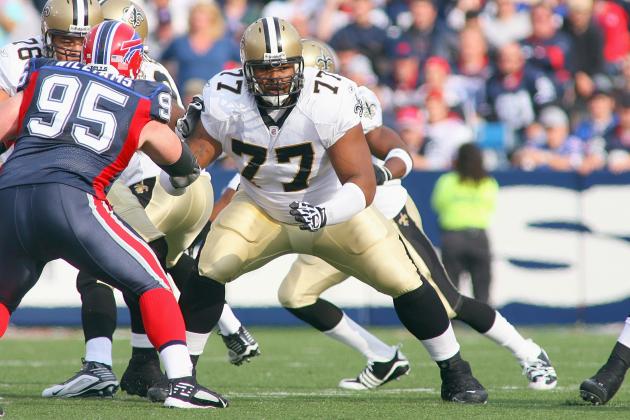 Rick Stewart/Getty Images

1. Carl Nicks
Nicks is one of the best guards in the league, but will likely bolt to a new team in 2012 for more money. The Saints will have a hard time paying him and multiple other guys. Nicks is a massive interior lineman that is effective in both the run and passing game. At only 26 years old, Nicks is a franchise player for whichever team decides to pay enough.
2. Jared Gaither
Gaither had an interesting 2011 campaign, but brought it all together and played admirably to finish out the season in San Diego. Gaither is a beast at the left tackle position, and is great in both aspects of blocking. Franchises that have struggled to protect their quarterback's blind side should bring in Gaither right away.
3. Ben Grubbs
Grubbs is almost in the same class as Nicks at the guard position. He will likely receive huge money from either Baltimore or another team if he reaches the open market. Locking up Grubbs for years to come will provide an anchor on the interior of an offensive line.
Honorable Mentions: Evan Mathis, Chris Meyers, Nick Hardwick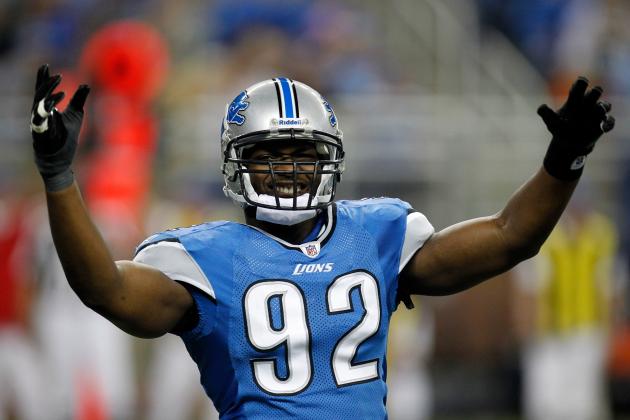 Gregory Shamus/Getty Images

1. Cliff Avril
Avril has steadily become one of the best defensive ends in the NFL.
Last season, he posted 36 tackles, 11 sacks and six forced fumbles. At only 25 years old. the sky is the limit for Avril. It's hard to imagine that Lions won't bring him back, but if they struggle to come to terms, another team could swoop in and land a top-10 pass-rusher for the next five years or more.
2. Robert Mathis
Mathis is a proven veteran who hasn't lost a step in seven years. In 2011, he had 43 tackles, 9.5 sacks and three forced fumbles.
With a new era likely to begin in Indianapolis, a contender could land Mathis for the right price, and he could be the piece to take the team over the top.
3. Calais Campbell
Campbell has been steadily improving each season, ending his 2011 campaign with 72 tackles and eight sacks. Campbell is only 25 and has his best football in front of him.
If Arizona doesn't lock him up early, another franchise is going to land a star.
Honorable Mentions: Jeremy Mincey, Cory Redding, John Abraham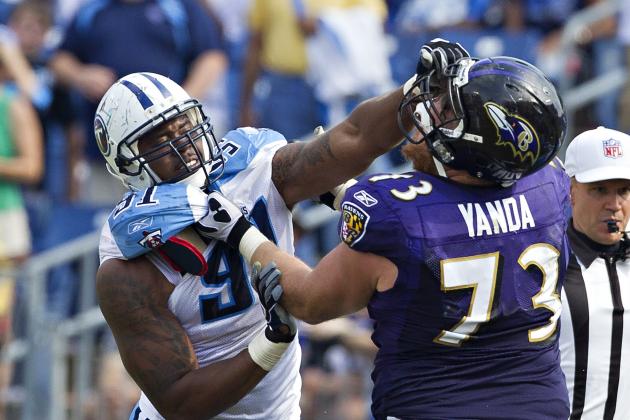 Wesley Hitt/Getty Images

1. Jason Jones
Jones is probably the most underrated player in the 2012 free-agency class after struggling to learn a new system last season.
He only recorded three sacks in 2011, but at 25 years old, is set to be a force for years to come. Jones can play any position on the defensive line but is at his best when pass rushing from the tackle position.
Jones is explosive and should have a breakout year in the right system.
2. Paul Soliai
Soliai is a massive run-stuffer weighing in at 355 pounds. Soliai isn't the type to put up amazing stats, but his presence is known throughout the league.
It's unknown whether the Dolphins are looking to hang on to him, but wherever Soliai plays next year, won't have an hard time stopping the run.
3. Antonio Garay
Garay is on the wrong side of 30 but is still one of the better players at his position. While not a big name, Garay has consistently disrupted both the run and opposing quarterback's timing with their receivers. Garay can join a contender, and start or provide quality depth.
Honorable Mentions: Sione Pouha, Aubrayo Franklin, Amobi Okoye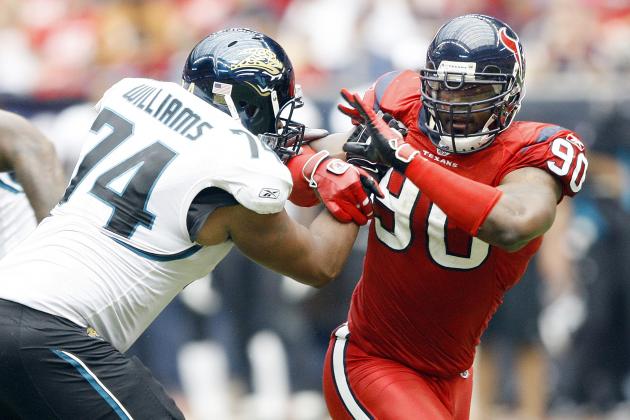 Bob Levey/Getty Images

1. Mario Williams
Williams suffered a season-ending injury early last season but looked like his transitions from defensive end to linebacker went better than anyone had hoped it would.
Williams is only 26 and might not be brought back by Houston because the defensive unit was elite without him. Make no mistake about it, Williams is one of, if not the best pass-rushing linebackers in the league.
Williams has a lot of football still in front of him, and any team in the NFL would be wise to pay him whatever amount he wants.
2. Curtis Lofton
Lofton has quietly become one of the better linebackers in the league the past few years. Last season, Lofton had 147 combined tackles, one sack, a forced fumble and two interceptions.
Lofton can do it all as the leader of a defense and is only 25 years old.
3. D'Qwell Jackson
Jackson is a savvy veteran who had a huge year in Cleveland last season.
Jackson's season ended with 158 combined tackles and 3.5 sacks. Jackson might not hit the open market, but if he does, he will be the main man on almost any defensive unit in the league.
Honorable Mentions: Dan Connor, David Hawthorne, Stephen Tulloch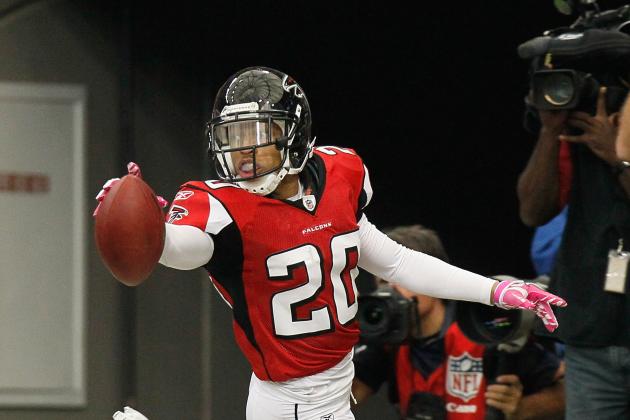 Kevin C. Cox/Getty Images

1. Brent Grimes
Grimes has recently blossomed into one of the better corners in the NFL.
Last season, he had 49 tackles and an interception, but stats don't necessarily portray Grimes' true value. Opposing quarterbacks typically didn't throw his way and rightfully so.
Grimes may be considered a bit undersized, but he makes up for it with his tenacity. He's much better against the run than given credit for and can play effectively in both zone and man coverages.
2. Brandon Carr
Brandon Carr isn't a household name—but deserves to be. Last season, he recorded 45 tackles and four interceptions.
Carr is a big, physical corner who's great in all areas of the game.
He can come up and hit like a safety in run support as well as drop back and cover a team's best receiver with ease.
3. Cortland Finnegan
Finnegan has a reputation as a dirty player, but there isn't a fan in the country who wouldn't welcome him to their favorite team.
Finnegan recorded an amazing 75 tackles in 2011. He's outstanding in the run game for a corner and is great in coverage as well.
Honorable Mentions: Carlos Rodgers, Terrell Thomas, Rashean Mathis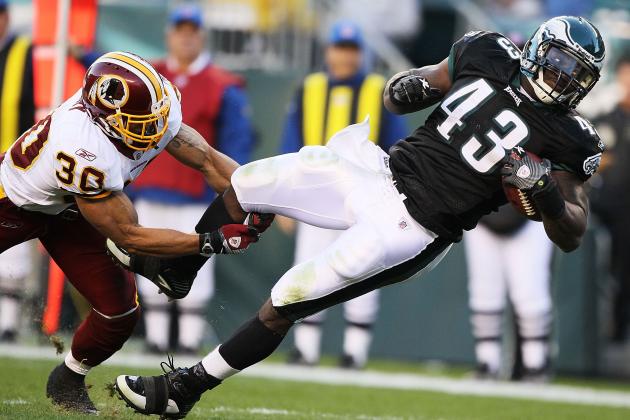 Al Bello/Getty Images

1. LaRon Landry
Landry is a force at the position, despite suffering an injury yet again this past season. When he's on the field, he's great at stuffing the run and effective in coverage as well.
Landry is 27 years old and will likely receive a decent contract even though he has had trouble staying healthy.
If Landry can stay on the field, he has the potential to be a game-changer on any down. A team that takes a gamble on Landry could have an elite player for years to come.
2. Tyvon Branch
Branch is an underrated safety who has failed to garner the attention of the national media—yet. In 2011, Branch had 109 tackles, one sack and an interception.
At 25 years old, his all-around game has done nothing but improve, and if the Raiders don't lock him up, another team will in a heartbeat.
3. Michael Griffin
Griffin had another solid season in 2011 while roaming center field for the Titans. He had 75 tackles, a forced fumble and two interceptions. While there's still room for improvement, Griffin has been a steady presence for years.
Teams looking for secondary help would be wise to give Griffin a look this offseason.
Honorable Mentions: Dashon Goldson, Dwight Lowery, Jim Leonhard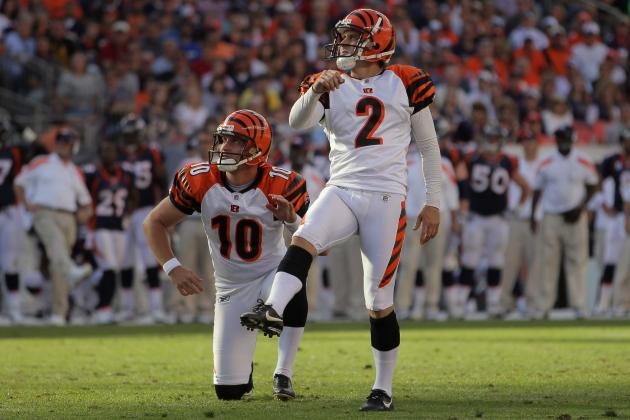 Doug Pensinger/Getty Images

1. Mike Nugent
Nugent rebounded from a gruesome injury to have a fantastic 2011 season.
Nugent went 33-of-38 for a solid 86.8 percentage with a long of 49. He only missed one extra point, and more impressively, registered 36 touchbacks on kickoffs.
Nugent won't get huge money anywhere, but at 29 years old, he will be a solid franchise kicker for five or more years.
2. Neil Rackers
Despite being 35 years old, Rackers continues to be a solid contributor on special teams.
Rackers hit on 32-of-38 attempts in 2011 with a long of 54. Age is a factor, but teams that need to fill a void for a few years can't go wrong with Rackers.
3. Matt McBriar
McBriar continued his solid career as a punter last season by punting 58 times and downing the opponent inside their own 20-yard line 21 times.
He hit a long of 68 and had a net yardage total of 2,130 yards.
McBriar is far from finished in the NFL, and a lucky team this offseason will land a veteran presence on their special teams unit.
Honorable Mentions: Rian Lindell, Nick Folk, Jay Feely