Introducing the Next Great Denver Broncos Quarterback, Tim Tebow!
January 24, 2012

Jim Rogash/Getty Images
There is a quality that all the great athletes share, in the NFL and in other sports. It is not something that can be taught or learned, but without this quality, greatness is not possible. It is just as important as talent and skill, maybe more important. It is a natural leadership and enthusiasm that inspires everyone it touches. It is the ability to raise the level of play of those around you.
Think about any of the great players in the history of the NFL: Walter Peyton, Joe Montana, Lawrence Taylor, John Elway and many more. When they stepped onto the field, the team around them knew that they were going to win.
This is a quality that cannot be measured, and is something that is overlooked too often when the scouting teams are doing their job. Speed can be measured, strength can be measured, height and weight, and how far someone can throw the ball can be as well. But the ability to lead and inspire has to be played out to be evident.
I witnessed this quality in a Broncos uniform this season. Tim Tebow carried the Broncos out of obscurity early in the season to a playoff win over the Steelers. He took a 1-3 team who deserved to be 1-3, and turned them into a 7-4 team that found victory after victory when there was no way to win.
Tebow played quarterback in a pass happy NFL and barely threw the ball. He played a college style offense that made some of the NFL's best look bad. The critics kept saying that he didn't have the skills to win, and week after week the critics were wrong.
Now, the critics will continue to say that he cannot be a real quarterback in the NFL without a passing game. And they are right. I have no intention to say that attitude and leadership are enough. The college option play that surprised a few defenses early was on its way to going nowhere at the end of the season.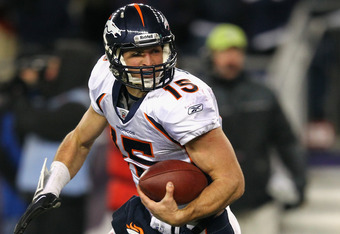 Al Bello/Getty Images
Tim Tebow has a lot to learn about being an NFL quarterback. He does not have the greatest arm strength and he has a hard time staying in the pocket and locating the second and third receiver, if and when he tries to throw the ball. But, he excels in that immeasurable quality that magically turns L's into W's. He is an inspiring and natural leader.
The Broncos management has given him a tentative vote of confidence by indicating that he will be the starter as the pre-season starts next year. However, that is not a promise of anything other than he will be given the opportunity to be the starter.
I keep reading comments by people saying that the Broncos need to go out and find a real quarterback in the draft or from free agency, just in case Tebow fails. Here is where I hope the Broncos brass has enough foresight to see what they already have in Tebow.
Tim Tebow is a gifted athlete that can be molded, in my opinion, into a real NFL quarterback. What cannot be drafted or paid for in the open market is that x-factor, the ability to not only carry a team, but the ability to inspire a team to play better than they should.
Here is some food for thought: John Elway is considered to be not only the best quarterback to wear a Bronco uniform, but also one of the best in the history of the game.  In a 16 year career he led the Broncos to the Super Bowl five times, winning two of those Super Bowl appearances. Elway took the Broncos to the playoffs in nine of those 16 years amassing a 14-7 record in playoff games.
That is an impressive record and why John Elway is a Hall of Fame quarterback. Tim Tebow has been a starter for a little more than half a season, so there can be no comparisons. But, just for fun, let's look at Elway's first year side by side with Tebow's.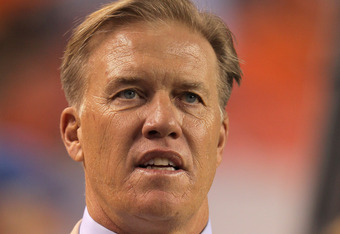 Doug Pensinger/Getty Images
John Elway started 10 games. Tim Tebow started 11 games. Elway completed 47.5% of his passes for 1663 yards. Tebow completed 46.5% of his passes for 1729 yards. John Elway's first year QB rating was 54.9. Tebow's QB rating was 72.9. Elway threw seven TD passes and 14 interceptions. Tebow threw 12 TD passes and six interceptions. Elway's yards per pass was 6.4. Tebow's yards per pass was 6.4.
What is the point here? I do not know what the future holds for Tim Tebow. No one else knows that either. But, I do know that what I witnessed this year was an awesome display of leadership and a level of excitement that catapulted the Broncos from the cellar to the playoffs.
What the stats above plainly show is that good quarterbacks in the NFL learn to play the game. John Elway had natural skills when he entered the league, but he did not take the league by storm from day one.
I hope that the Broncos will give Tebow the time to become a good quarterback. One thing that I am sure of though, is that Tim Tebow will be a good, if not great quarterback. I think the only question is whether he will be the next great quarterback in a Broncos uniform, or in some other.