College Football Recruiting: West Coast Updates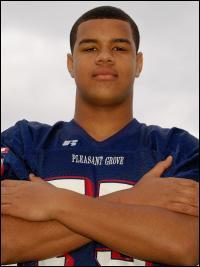 It's almost that magical day again, National Signing Day. It's a holiday for many people like myself who just love college football recruiting.
Before signing day happens on the first Wednesday of February, something else happens during January: coaching changes.
Before their bowl game, UCLA hired Jim Mora. He began to assemble his super staff to help get the program back on track.
Now Washington, another team in the Pac-12, is doing the same thing. Yes, Steve Sarkisian has been very busy replacing every position on his defensive staff after the horrible performance against Baylor in the Alamo Bowl.
From the University of Tennessee, he managed to lure away Justin Wilcox for their new defensive coordinator and Peter Sirmon as their new linebackers coach.
Even more notable than that is the luring away of coaches from their alma mater. Keith Hayward was lured away from the cornerback coaching position at Oregon State and took a pay raise for the exact same position at Washington. The ace though comes from landing recruiting juggernaut Tosh Lupoi from Cal. Spending the last 10 years with the Bears as a player and coach, Lupoi left for a bigger pay raise at Washington as well.
With all these coaching changes happening, one has to ask: How will this affect my team?
Begin Slideshow

»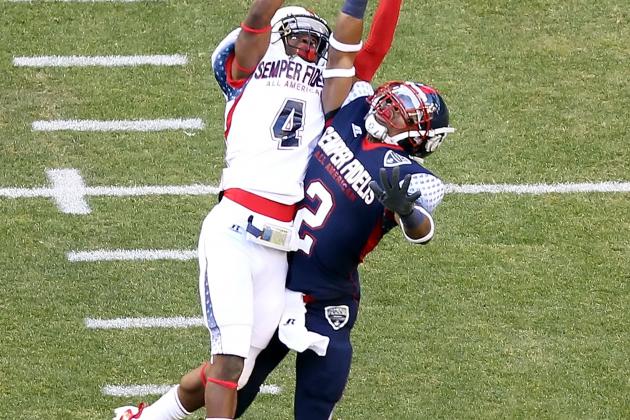 Christian Petersen/Getty Images

The once USC commit has been shopping around and is very close to making his decision.
He has taken officials to Washington, Oklahoma State and is taking one more to Washington State.
While both Washington schools still have a chance, it seems as though Mickens fell in love with Oklahoma State during his official visit.
I would bet money that he signs there.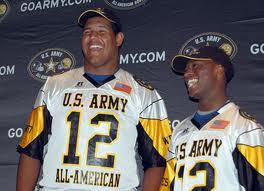 When Tosh Lupoi left Cal for Washington, Dozier was shocked but kept his commitment firm. In the next couple of days when Eric Kiesau left Cal to become the offensive coordinator at Washington, Dozier finally started getting nervous.
After visiting Washington State this last weekend, Dozier will probably still consider taking an official visit to Washington before he makes his true decision.
I believe that Dozier no longer feels like Cal is an option with the loss of the two coaches who recruited him. Washington will be a real player in trying to land Dozier.
There is just one problem: While he would be a superb corner (and Washington is recruiting him as such), he wants to play receiver at the next level—and they are not budging.
That being said, Washington State did impress Dozier and his official and are willing let him play receiver there. Do not be surprised to see him end up there.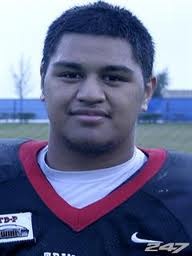 Even after taking an official visit to UCLA, the long time commit could not find a reason to stay with the new staff.
Besides UCLA, he has also visited Utah and USC. The only other school in consideration at this point is BYU.
The reason that Lutui committed to UCLA in the first place was because of family ties.
With Ed Orgeron easily one of the best recruiters in the nation, I see no reason for Lutui to end up anywhere else but USC.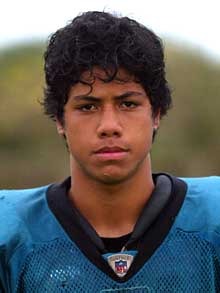 The long time Stanford commit has been looking around, most likely just in case he does not get admitted.
The three other schools that Kaumatule is looking at are UCLA, Colorado and Washington, where he just visited.
If he gets admitted to Stanford, I don't see any way he could turn it down. However, if that does not happen, I could easily see him signing with UCLA.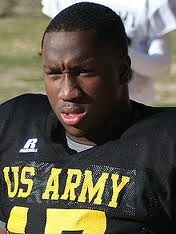 Shittu, unlike many recruits, is a talker. He has made it known that he will be attending either UCLA, Cal, USC or Stanford—he wants to stay in state.
While these are his top four choices, he was really disappointed that Tosh Lupoi left, and that is a sign that Cal will not be heavily considered anymore.
It's a tough one, but I think that he will go full cycle and end up committing to Stanford once again.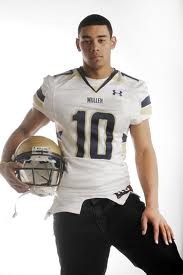 A long time Washington commit, Miles recently took an official visit to USC.
While Washington has made a lot of moves on upgrading their defensive staff, they could not help losing their offensive coordinator Doug Nussmeier to Alabama. That move by itself made Miles want to look around once again to see what else was still out there.
I think once Miles meets the new coordinator for Washington, he will settle down and be firm in his commitment to the Huskies.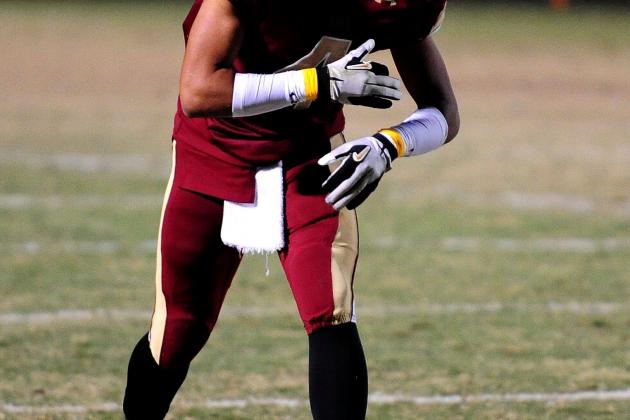 Jacob de Golish/Getty Images

Another victim of coaching changes at Cal, the current Cal verbal just took an official visit to Washington this last weekend (where both coaches who recruited him at Cal flocked to).
He enjoyed his visit but has not yet changed his verbal.
Payton has been very unusual with his recruiting. He decomitted from USC, committed to Cal not long ago, and is now still looking? Bad sign, Cal fans.
Coaches from Cal are coming in for an in-home visit, but will it be enough? I believe that he will switch to Washington since both coaches that recruited him to Cal are now at Washington.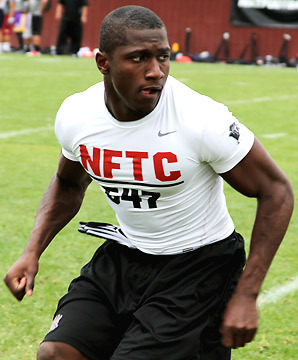 Anyone who asks Neal where he wants to go is going to have to wait a long time to get an answer.
Most likely to go past signing day for his decision, Neal still has two more official visits to take including Arizona (on Feb. 10) and North Carolina after already visiting Ohio State, Arkansas and Notre Dame.
I think that the Urban Meyer effect will most certainly take place and they will secure the signature of Neal, but they will need to hold off Arizona since they are in-state and will be receiving the last visit.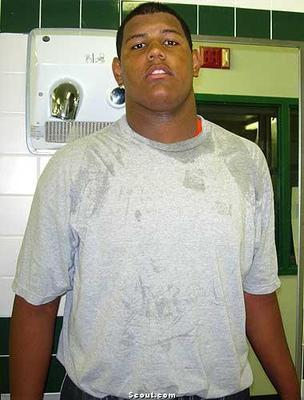 It was a rough Army Bowl game for Banner, and it really showed in his overall ranking on Scout.com which dropped from a five star to a four star, and landing as the No. 13 offensive tackle.
His final three schools include USC, Oklahoma and Washington, who all received official visits.
His most recent was USC this past weekend. He called it his best visit yet.
It has long been suspected that Banner will be leaving his home state of Washington for greener pastures like many of the other top prospects from the state this year.
Washington has been making a late push for him, and he has been impressed that they are dedicated to building a top program by hiring so many highly-touted coaches.
Sorry Washington fans, it has been a rough year recruiting-wise. Unfortunately, I believe Banner will make it rougher by choosing USC on signing day.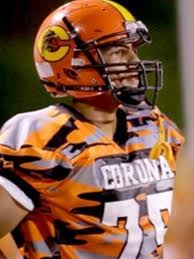 Being the top recruit out of Arizona this year, Peat has been explosive and dominant. While his game does the talking on the field for him, he does not talk a whole lot about recruiting off the field.
His top three consists of Nebraska, USC and Stanford (having already visited all three).
While Stanford could be a dark-horse candidate, I still believe that he will join his brother at Nebraska.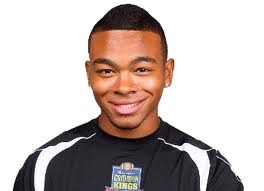 The once mighty "Cal Gang" which Treggs had started is quickly disintegrating. Losing top players like Ellis McCarthy and with others looking around again, Treggs has also questioned his loyalty to Cal.
He recently took an official visit to UCLA and plans to take his final visit to USC on Thursday.
With the departure of his position coach Eric Keisau to Washington, I would understand why Treggs is a little scared. I think when it comes down to it though, he will realize that Cal is where he truly belongs and will be a legacy to his father, just as he wanted to be.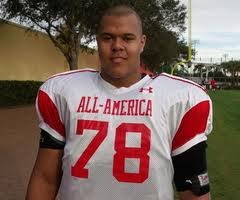 Garnett has just finished up his final visit and is starting to get down to it.
He claims Stanford and Michigan as his final two.
For a long time, it seemed Stanford was the obvious pick since academics are his highest priority, but Michigan has really come on strong with him and could very well lure him away from the West Coast.
This is too close for me to predict, but I will anyway: In the toss of a coin I would side with Michigan landing his commitment.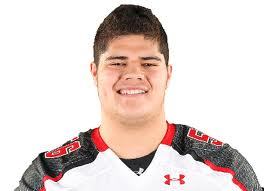 It may have taken 'til the end of the year, but Seumalo finally got the recognition that he deserves, as he is now ranked as a five-star player and as the No. 1 offensive guard in the country.
He has been committed to Oregon State for a long time (where his dad coaches) and has been solid until recently when he decided to take an official visit to USC.
The visit may have gotten Seumalo thinking, but I don't think they have a legitimate shot to pull him away from his home state and his family.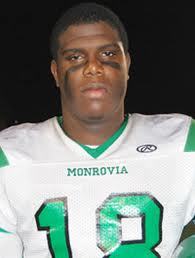 I would imagine Cal fans are not too happy with Ellis McCarthy right about now.
McCarthy announced his verbal commitment to Cal on national television during the US Army Bowl. However, within the span of a week, Tosh Lupoi left Cal and McCarthy followed suit.
While McCarthy may have not followed Lupoi to Washington, he did switch his commitment to UCLA.
Murphy has been quiet this whole time about his recruitment. He has not been heavily considering schools that have made major coaching changes, so there was no reason to ask him if his mind had changed.
It has long been thought that it would be a USC and Stanford battle for the five-star recruit and that theory has stayed the same, but his official top five also includes Cal, Oregon and Florida.
Murphy is a great kid with an even better head on his shoulders. That being said, I believe he will sign with Stanford.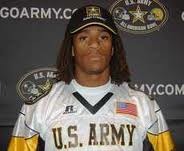 Thompson has truly been conflicted as of late. The main reason he committed to Cal, Tosh Lupoi, has left for the other school he was heavily considering: Washington.
His Twitter has been a flutter as he tries to figure everything out.
He claims that it is a 50/50 toss-up between Cal and Washington with the departure of Lupoi, but I wouldn't count Oregon out from landing this absolute stud of a player.
This is a tough one. Kids are supposed to fall in love with the program and not the coaches who are recruiting them. Gun to the head, I would predict he stays at Cal, but as we know from the past, National Signing Day is full of surprises.
Armstead is ranked as the No. 2 overall prospect by Scout.com and could easily become an All-American on either side of the line.
He was planning on announcing his decision soon but moved it back to signing day, saying that he did not want to rush it.
He and his brother (currently playing at USC but will transfer at the end of the quarter) would love to go to the same school together and had Oregon, Cal, Auburn and Notre Dame as their most likely destinations.
With the coaching shakeups all around the country, it has changed Armstead's mind at least somewhat. Rumored to be leaning towards Cal, with the departure of Tosh Lupoi to Washington, it is a wide-open race again.
The schools that are the most in play are Oregon, Notre Dame and Auburn with Cal, Washington and Texas all on the outside looking in.
Greg Biggins of ESPN said in a tweet, "I could definitely see Oregon being a player for Arik if they decide to go their separate ways, package deal would = Notre Dame."
In the end it will come down to whether the two brothers really think that playing with each other at the same school is their highest priority. If it is, I would agree with Biggins and predict they both end up at Notre Dame. If they do not, I agree with Biggins again that Arik would end up signing with Oregon and his brother Armond transferring to Auburn.