Honoring Alabama Crimson Tide Seniors: Nick Gentry
January 23, 2012

Ronald Martinez/Getty Images
Alabama is known to have extremely large defensive linemen; guys that are so big they can take on double-teams with ease. Nick Saban broke that tradition when he placed Nick Gentry in the lineup.
Gentry stands at 6'1", 284 lbs. He's short and has a sizable paunch. He looks a lot like center William Vlachos, and he's just as ferocious.  
I'll admit, I was bewildered when I first saw Gentry take the field this year as the primary backup nose guard. I use the term "backup" loosely, as Gentry played about as much as starter Josh Chapman did. Chapman only played on suspected running plays and Gentry came in for passing situations.  
I dislike the term "co-starter," but it is the best word for Gentry's situation.  
I thought to myself, "Why does Nick Saban have this little guy playing this much at nose tackle?"  It is the SEC, after all. How can such a small guy play the position that gets the most double-teams?
Maybe I should have listened to Vlachos when he called Gentry, "...an incredible pass-rusher." 
After seeing him throughout the season I will now say that he was the Tide's best pass-rusher. Courtney Upshaw had more numbers with 9.5 sacks and 18 tackles for losses compared to Gentry's 4.5 sacks and six tackles for losses, but numbers don't always tell the whole story.
Upshaw made plenty of plays when he was pitted against just one man as he came off the edge, and on more than one occasion someone forgot to block him completely. It happened in the BCS title game as well.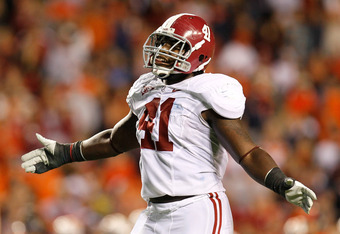 Kevin C. Cox/Getty Images
Gentry, however, had to go right through the middle, by far the most difficult place to try and get to the quarterback from. He faced double-teams every time he went after the quarterback. It's great to beat one guy on the quarterbacks blindside, but it's an astounding feat to beat two guys and make it to the quarterback when he's looking right at you.  
Gentry may not have racked up the gaudy numbers that make your eyes pop out, but he did his job. Half of that job was putting pressure on the quarterback and the other half was giving the linebackers an opportunity to make a big play. And the linebackers made a lot of big plays.
Linebacker Dont'a Hightower returned the favor against LSU in the championship game. Hightower knocked the ball from quarterback Jordan Jefferson's hand and then pushed him away from the fumble, buying Nick Gentry just enough time to jump on the ball.  
Gentry finished the game with three solo tackles, a sack and the fumble recovery. Not bad for an undersized nose guard against the No. 1 team in the nation.  
Gentry's career took a big hit before he even got started. When Nick Saban became the head coach he switched the defense from a 4-3 to a 3-4, and the 3-4 is not well-suited for a small, pass-rushing defensive lineman.  
Gentry knew from the start that it would be a difficult journey; he just was not well suited to play in a three-man front defense when he was accustomed to playing a four-man front.  
He waited two years before he saw the field and made seven assisted tackles in the 2009. In 2010 he doubled that number as well as adding a sack and a tackle for loss.  
In his redshirt senior year, 2011, he finally made a name for himself. He was second on the team in sacks and tied Josh Chapman with 23 tackles.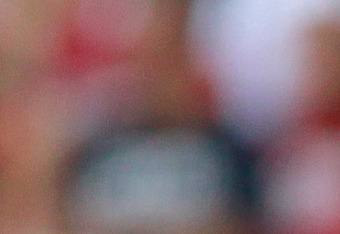 Kevin C. Cox/Getty Images
Gentry played no small part in Alabama's No. 1 ranked defense this year. He carried his own weight and then some all season long.  
He's a smart player and Saban considers him to be coach material, at least he did back in August. I'm convinced he's capable of more.
Some consider him too small for the NFL, but many thought him too small to play nose guard in the SEC—myself included.  
I don't expect Gentry to get drafted into the NFL, but a team would be foolish to not give him a whirl at training camp as a free agent.  
Gentry plays so much bigger than he actually is and I don't quite think his playing career is over just yet.