10 Things Europeans Don't Know About American Soccer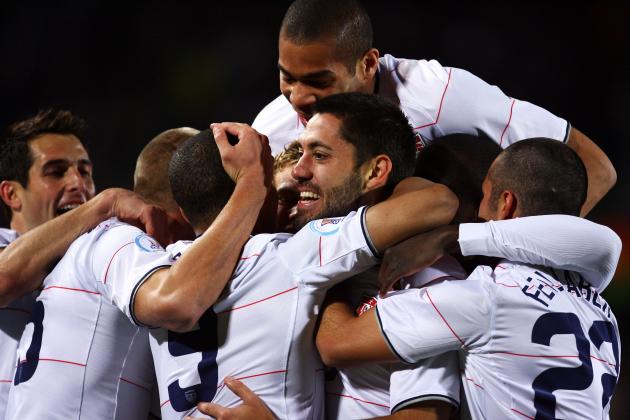 Alex Livesey/Getty Images

It's no secret that American soccer has been "growing" for the better part of the last half century. And as European powerhouses travel the United States during their preseason preparation each summer, their managers and players are fond of euphemisms like "America is the future of the game" or "They're getting better."
The mere fact that these managers and players are trying to avoid insulting American fans underlies the fact that most Europeans still believe they are far superior to the United States when it comes to soccer. However, most Europeans will be surprised to learn the following.
Begin Slideshow

»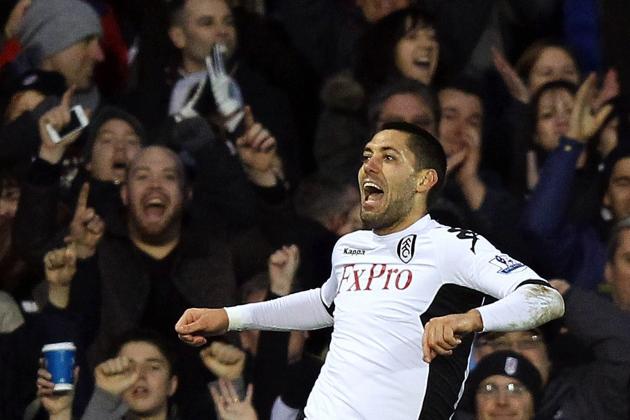 Ian Walton/Getty Images

Clint Dempsey, Landon Donovan and Zak Whitbread all consistently start in what most fans consider to be the best league in the world, the English Premier League.
Steve Cherundolo is a consistent starter and captain of Hannover 96 in the German Bundesliga.
Michael Bradley is a consistent starter in the Italian Serie A and has done the same in the Bundesliga and the Eredivisie.
Oguchi Onyewu is a consistent starter for Sporting Lisbon in Portugal and has done the same in the Eredivisie and the Belgian League.
Jozy Altidore has been a consistent starter in the EPL, the Turkish Super League and the Eredivisie.
Maurice Edu and Carlos Bocanegra are consistent starters for Rangers in the Scottish Premier League. Bocanegra was also a consistent starter in the EPL and Ligue 1 in France and captained Fulham.
Michael Parkhurst and Clarence Goodson are consistent starters in the Danish Superliga. Goodson captains his club, Brondby.
Sacha Kljestan is a consistent starter for Anderlecht in the Belgian League.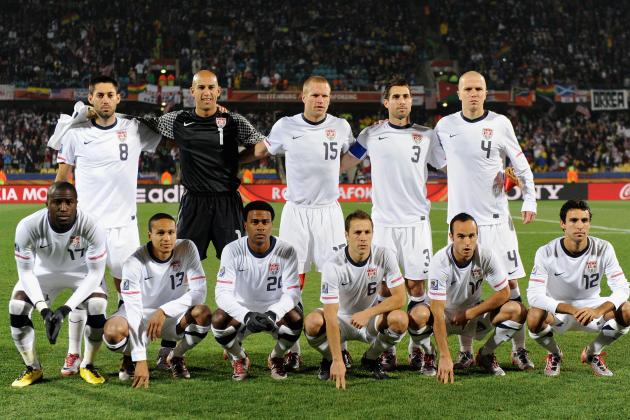 Kevork Djansezian/Getty Images

Have we underperformed at many of them? Certainly. But only seven teams (among them Germany, Brazil, Argentina, Italy and Spain) have qualified for more consecutive World Cups than us.
Not a bad group to be compared to.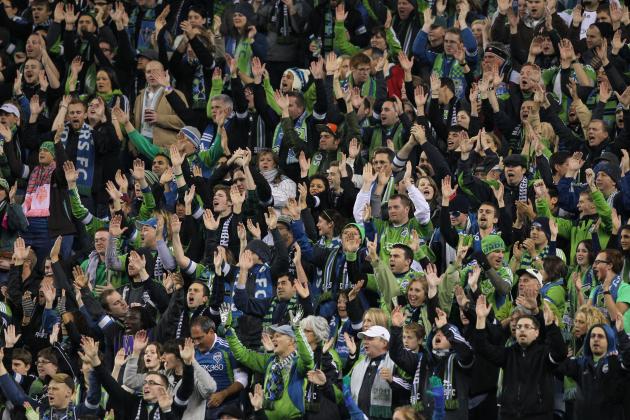 Otto Greule Jr/Getty Images

With an average attendance of 17,844 in Major League Soccer, we have a higher average attendance at our matches than the English Championship, the Turkish Super League, the SPL, the Brazilian League, the J League, the Russian Premier League, the Belgian League and the Portuguese League.
We also have a higher average attendance than the National Hockey League and National Basketball Association.
How's that for growth?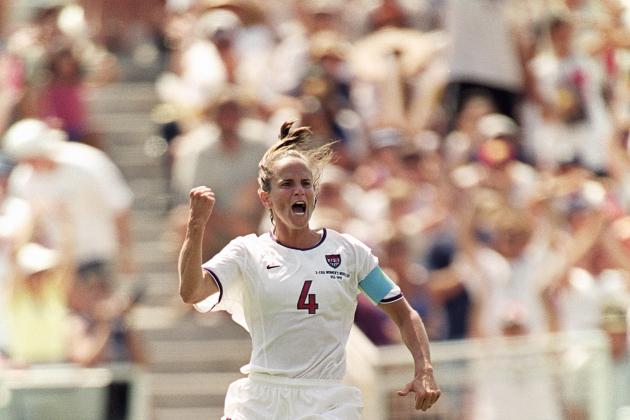 Vincent Laforet/Getty Images

Ok, it was on the women's side, but winning two World Cups is something any nation should be proud of and we love our women's team.
In six World Cups, we've never finished lower than third, something no team on the men's or women's side can match.
In the women's game, we have the best team in the world.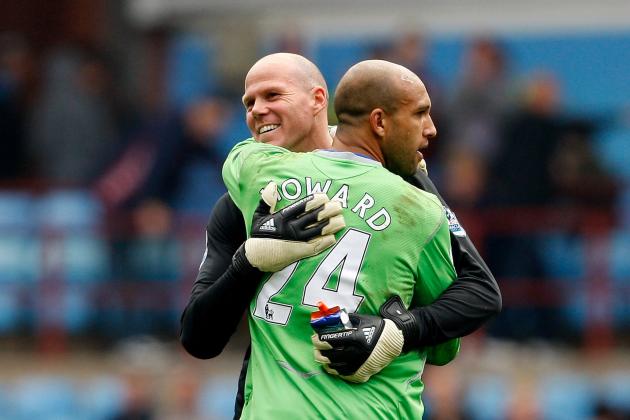 Stu Forster/Getty Images

Like train goalkeepers.
America has produced numerous world-class goalkeepers. Tim Howard, Brad Friedel and Kasey Keller are the first to come to mind, each of whom has had significant international and professional success.
And, as good as they are, they are still undervalued.
How many times over this past season would Sir Alex Ferguson and Manchester United benefitted from still having Tim Howard on their roster?
How much better is Tottenham this year with Brad Friedel minding their net?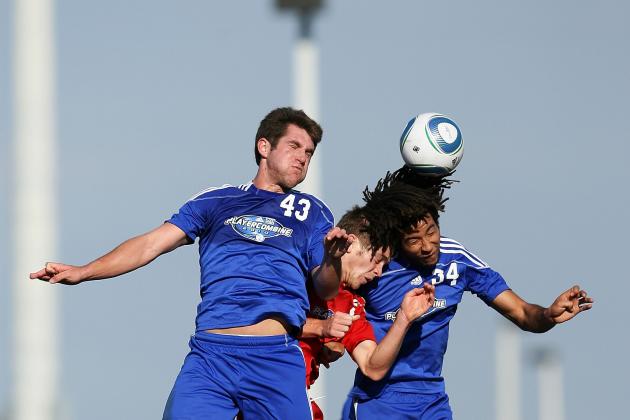 Doug Benc/Getty Images

How many times to do you see American players in Europe in the papers for the wrong reasons?
Rarely.
Even though it has become much-maligned as the reason American soccer is behind the rest of the world, most American professional players went to college and are educated, well-rounded and well-spoken individuals.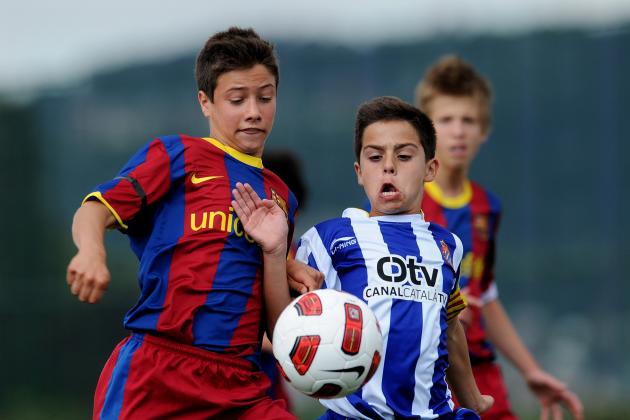 Jasper Juinen/Getty Images

Soccer is consistently ranked in the top two or three for youth participation in America.
With 300 million people, a consistent influx of immigrants who love the game and a solid base of youth players, it is only a matter of time until we become world beaters.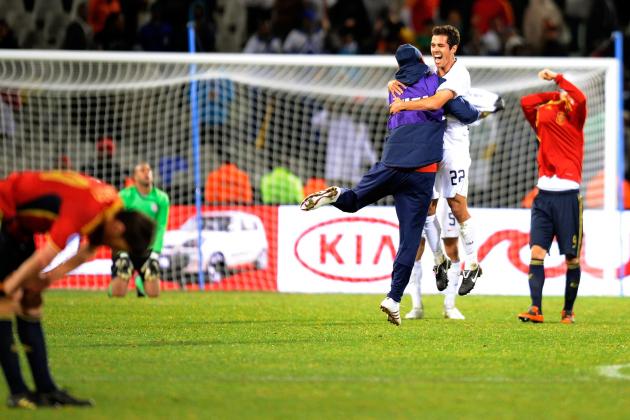 Kevork Djansezian/Getty Images

Have we underachieved at times? Absolutely.
Have we dropped an egg in the World Cup more times than we'd like to admit? Sure.
Do we get frustrated with our two steps forward, one step back pattern? Yes.
But in the last 20 years, there have been plenty of bright spots including victories over Germany, Spain, Portugal, Brazil and Argentina.
How many nations can say they've beaten that group?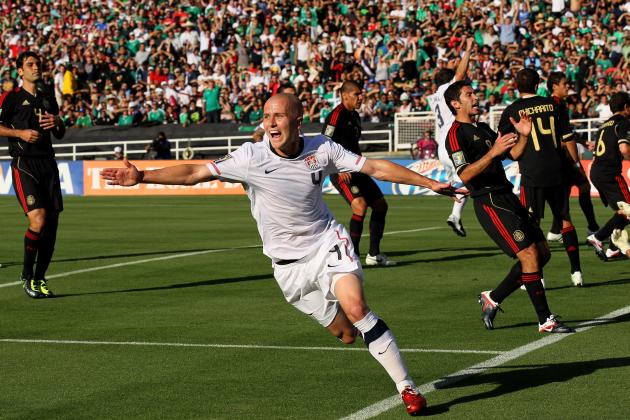 Stephen Dunn/Getty Images

Despite the beating we took in this summer's Gold Cup final, the Red, White and Blue have dominated El Tri over the last decade, accumulating a 10-4-3 record since 2000.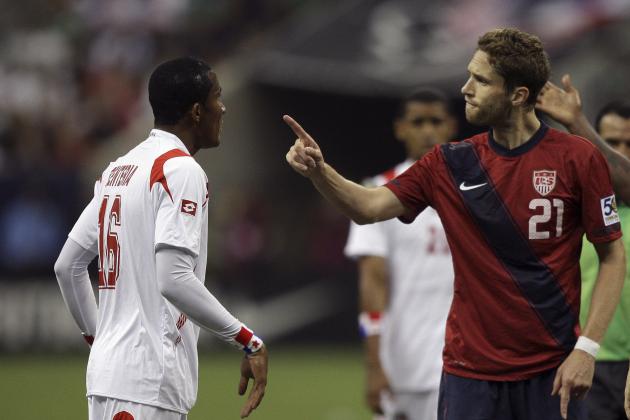 Bob Levey/Getty Images

Sure, we may still have an inferiority complex, thinking you're better than you are, hiring coaches at our youth levels simply because they have a foreign accent and watching your professional leagues more than our own, but when we step on the field, we expect to win.
We're Americans after all.
Follow me on Twitter @AmerTouchline