5 Intangibles the Ryan Braun, Prince Fielder Duo Brought to Milwaukee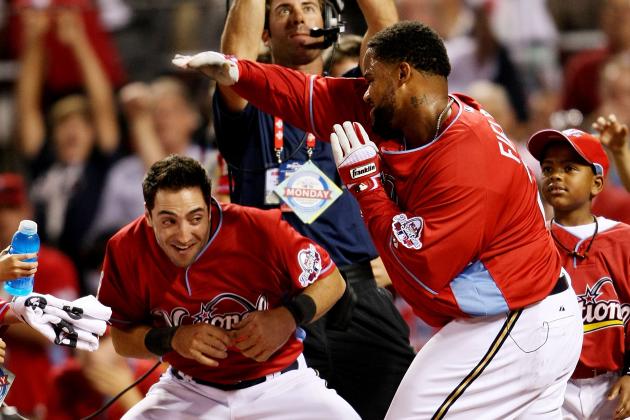 Elsa/Getty Images
How badly will the Braun-Fielder chemistry be missed in Milwaukee?
With Prince Fielder's departure now official, the Brewers face the possibility of two of the game's best young hitters being erased from their previously potent lineup (at least for the 50 games Braun is very likely to be suspended for, though that is up in the air given this recent report from Dan Patrick).
Much has been written about the sheer production that came from Braun and Fielder combined in their respective Brewers careers together: 391 home runs, 1187 RBIs, an astounding 48.6 total Wins Above Replacement; but how do immeasurable intangibles play into this transition in a key moment for the Milwaukee Brewers franchise?
This opinion piece takes a stab at the factors behind the stat column, the men behind the stage, so-to-speak, that helped bring success back to Milwaukee Brewers baseball—and put 3 million fans through the turnstiles for multiple years in the MLB's smallest market.
Begin Slideshow

»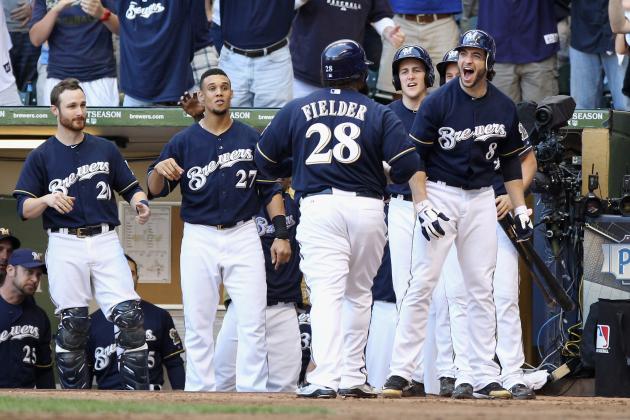 Christian Petersen/Getty Images

Even some of the most diehard Brewers fans quickly forget how far down the tubes the franchise had fallen before the epoch when Braun and Fielder had landed in the big leagues.
Though the anxiety of the franchise's possible departure from Milwaukee had dissipated with the creation of Miller Park, in no way were those first years in the new park successful or fun years for fans.
As Braun, Fielder and Rickie Weeks arrived like a crop of newbie kids fresh off uncle Jack Zduriencik's
farm, the stadium began to fill more and more. I recall being at the first game in which Weeks and Fielder homered, and I asked fellow fans, "is this the future?"
We soon found out these three would bring several years of great fun and monster home runs together.
I think the sparring celebration Braun and Fielder created together is probably the most obvious evidence of the bond the two have formed as players and friends. This type of chemistry, originating from the team's most talented players, is hard to reproduce year-to-year.
Surely, all is not lost as far as fun goes, with fan favorite Corey Hart still in town and the immensely all-out play of Rickie Weeks winning hearts in Milwaukee. But all of us here know without Fielder and 50-games without Braun will be quite a hangover in the fun world of Brewers baseball.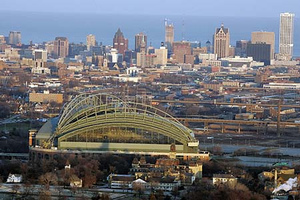 Aerial View of the City of Milwaukee with Miller Park in Foreground
Just about any time Ryan Braun speaks of the city of Milwaukee, he emphasizes his dedication to building relationships with the community.
He speaks highly of the supportive environment, the people, the scenes of a city desperately trying to do a post-manufacturing era makeover. Plus, his decision to open a restaurant emphasizes his commitment to participating in the city's commercial and cultural growth.
Cities such as Boston and New York are not only iconic for their storied baseball history, but also top targets for the many young, talented players who want to be part of the 'scene'—meeting fellow famous stars in the entertainment world and partying with rock stars (literally).
As a Milwaukeean, I know our core is still very blue-collar, many of us coming from generations of immigrant families forced to take whatever work they could to provide bread for the family. When we hear of a kid as talented and well-spoken as Braun support our city (and sign a nearly career-long deal to stay here), such actions definitely endear him to all fans.
Even with a looming suspension, I think Braun will have no trouble winning back the hearts and minds of Brewers fans in no time.
As for Fielder, many fans have lamented about the idea of loyalty during this current free agency period in which Scott Boras' antics go against all that is Milwaukee's identity.
Yet Fielder himself has said numerous times the ideal situation would have been to stay in Milwaukee, and that he has really enjoyed his time here.
Fans have to realize that the era of free agency means it will be just about a million-to-one odds we see the likes of Braun's deal again in our lifetimes.
Fielder is essentially trying to get a mega-raise for a performance unmatched in history by a slugger of his young age. Milwaukee is pretty fortunate to have had him for this many years while always hearing Fielder show support for the city and his growth here in Milwaukee.
Interesting side-note in the "for what it's worth" category: My father saw Fielder on Milwaukee's east side, filling up a tank of gas last season. They shook hands and Fielder was very friendly. The rumor is that many sports stars are inaccessible or keep a buffer between the public and themselves, but this account (among many I've heard from others who have met Fielder) suggest he has been a good statesman in his time in Milwaukee.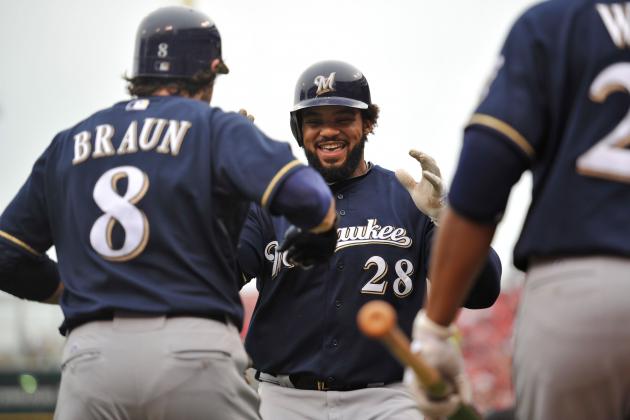 Jamie Sabau/Getty Images

Just about any sportswriter who covers Ryan Braun notes his advanced ability to communicate well with the public through media.
Say what you will for or against Braun in this recent drug test scandal, but if you read or watched Braun's MVP acceptance speech you have to be impressed with his ability to handle a very tough situation in a classy way—without entering the phase of denial, all-too-common among the greats of the Steroid Era.
Some reports have indicated the high-level of the positive result to be rare, which in my take should raise eyebrows about whether this result is in fact legit or not. That's not to mention the ethical issue of the leak, before the official MLB process could manifest itself.
Regardless of the current scandal, in which the truth of the matter is yet to be known, Braun is handling himself well, stating:
"Sometimes in life we all deal with challenges we never expected to endure. We have an opportunity to look as those challenges and view them either as obstacles or opportunities. I've chosen to view every challenge I've ever faced as an opportunity and this will be no different. I've always believed that a person's character is revealed through the way they deal with those moments of adversity."
As for Fielder, despite being consistently hounded by reporters about his upcoming free agency all of last season, he continually re-directed the question toward his team's performance and the importance on focusing on the current season.
A players ability to handle transition and adversity in a media age, where any athlete is constantly in the public eye, is very important.
Fielder and Braun brought a large presence and public identity to the team in their commentary that we have not witnessed since Hank Aaron's time in Milwaukee (with all due respect to Robin Yount and Paul Molitor, neither were esteemed spokesmen, and Yount's personality wasn't one to embrace the spotlight, which I respect too).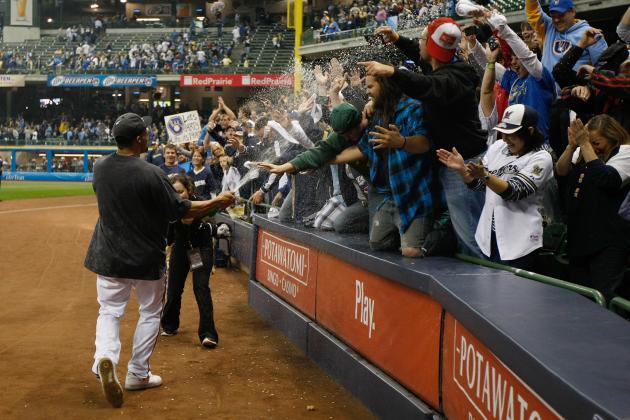 Scott Boehm/Getty Images

Nearly every feat that has become commonplace for superstars like Ryan Braun and Prince Fielder is unfathomable to mere mortals like us sports fans.
A routine day in the park for me includes sitting, taking in an adult beverage, eating some peanuts and having a hot dog with secret stadium sauce.
A routine day in the park for Braun, based on his toolkit, might include stealing a base or two, nearly hitting for the cycle and possibly making a diving catch on occasion. As for Fielder, monster home runs of 450 feet or more were expected at Miller Park during his stay.
What isn't commonplace for many sports stars is to take those gargantuan individual feats and impressive stat lines and remain modest. During the frustrations of the Ken Macha years or this past season's talk of Braun's upcoming MVP, both Braun and Fielder emphasized that their stats meant nothing without winning as a team first.
Shortly after news broke of Fielder signing in Detroit, Brewers General Manager Doug Melvin explained, "one thing about Prince was that he always cared about winning. He always wanted to win."
Though it's a cliche in sports, a "wining first" superstar isn't a guarantee to arrive in the smallest market in sports. Both Braun and Fielder are champs in this regard, and this modesty of team achievement over individual goals is another intangible quality that set this ferocious duo apart.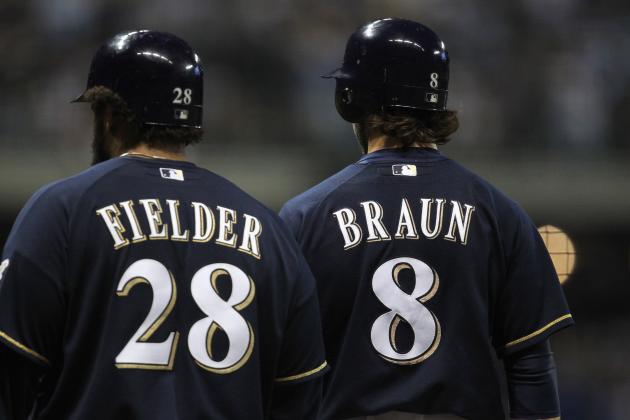 Jonathan Daniel/Getty Images
During their time together, #28 and #8 carried a franchise's hopes and dreams on their backs.
Looking to turn a moribund franchise into a contender? Need a superstar or two to carry the weight of the franchise on their backs?
Look no further than Ryan Braun and Prince Fielder. Though both worked hard on their obvious defensive limitations over their careers, there is no doubt that both delivered at the heart of the order—while having the weighty expectations of being a top pick.
We forget that the men Braun and Fielder are today were drafted very young, at 22 and 18 years of age respectively. Everyone who follows baseball knows many top prospects fizzle out to become denigrated as "busts." Whether it's a lack of work ethic or the mystery of unmet expectations, the case studies of busts are as numerous as they are common.
As fans, just ask yourself, what were you doing at 18? How mature were you at 22? What mistakes did you have to make to mature? And lastly, if you had million dollar expectations, would you be 100 percent guaranteed to deliver?
In Braun and Fielder's cases, neither ceased to continue to up his game, particularly offensively. The sky became the limit for their potential together, ending with today's signing in Detroit. While many rookies who have great years might be 'figured out' by opposing pitchers, Braun and Fielder have only improved.
Furthermore, as documented in the previous slides, both have an uncanny ability to say the right things at the most important times.
To reach these heights, with such great expectations put on their shoulders, Braun and Fielder had to have maturity beyond their years.
They had to avoid many of the temptations most 18-to-22-year-old Americans face, and behave like professionals right off the bat. This maturity has aged finely to what became a core leadership of the Division Championship team in 2010, and thus an intangible quality the Brewers will have to find ways to replace.
Melvin describes today's official loss of Fielder as "still somewhat of a sad day," adding, "Prince is one of the best young players in the game. You try to build teams around young, star players."
In Wins-Losses, the Brewers went from a perennial 56 to 68-game winner a few seasons before Braun and Fielder to a 96-win team last year, with two playoff births in the past four seasons.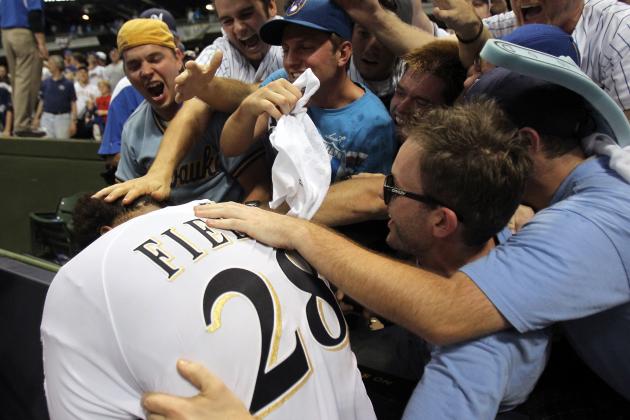 Jonathan Daniel/Getty Images
Brew City beasts mobbing the man who brought Beast Mode to Milwaukee.
After taking a look into the ways Braun and Fielder affected the city of Milwaukee, the Brewers' overall franchise success and the pair's intangible team-first qualities, I'd like to hear from you.
What are your thoughts on Braun and Fielder? What memories do you have of this all-time great duo during their time with the Brew Crew?
How important are 'intangibles' for building winning clubs?
Which player(s) will pick up some of Fielder's leadership role?
And look for my next article to feature some keys to surviving the power outage of Fielder and the possible Braun suspension coming soon.