Hip, Hip Jorge! Posada Set to Hang 'Em Up Tuesday at 11:00 a.m.
January 23, 2012

Nick Laham/Getty Images
Tomorrow will be a sad day for Yankees fans as they say goodbye to a player that epitomized what it means to be a Yankee.
A once-in-a-generation player, Jorge Posada feels that he is ready to move on from baseball and announce his retirement tomorrow, Tuesday, January 24th.
There was much debate as to what would happen with Posada after the 2011 season. Many questioned his allegiance to the Yankees when he was quoted saying he would be willing to suit up for another team. Many questioned the Yankees for not making an effort to re-sign their veteran backstop.
In the end, Posada made the right decision. As much as it pains me to say it, Posada's playing days really are over. He is no longer capable of providing innings behind the plate, his arm strength is diminishing and his bat speed is beginning to slow down.
This comes at the end of an illustrious 17-year career with the Yankees, which started in 1990 when he was drafted in the 24th round as a second basemen.
After just his first season in the minor leagues, he switched to catcher, a move that would signal the beginning of Posada's legacy.
Posada saw varied amounts of playing time with the Yankees through 1999, when players like Jim Leyritz and Joe Girardi blocked him from getting the full-time job.
That time came after the 1999 season, when Girardi agreed to the deal with the Chicago Cubs. With nobody in his way, Posada was ready to show off what he could do with starter's at-bats.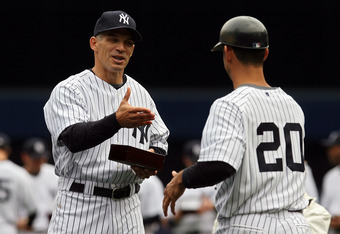 Chris Trotman/Getty Images
He did not disappoint.
In his first season with full at-bats, Posada was an All-Star and a Silver Slugger Award recipient. He batted .287/.417/.527 with 28 home runs and 86 RBI.
He would go on to see similar success from 2001-2003, being named to the All-Star team each year as well as being awarded the Silver Slugger for American League catchers.
Arguably his best season came in 2003 when he finished third in the American League MVP voting. He hit .281/.405/.518 with 30 home runs and 101 RBI. That season marked the only time in his career that he hit 30 home runs or eclipsed 100 RBI.
Posada was left off the All-Star team from 2004-2006 until 2007, when Posada made an attempt at rivaling his 2003 season. Many would argue that 2007 was in fact his best season.
He finished that season sixth in the American League MVP voting, hitting .338/.426/.543 with 20 home runs and 90 RBI. He also set career highs in hits (171) and doubles (42).
Unfortunately for Posada, his career took a turn for the worse after that season. He played in just 51 games following season-ending surgery on a torn labrum in his right shoulder.
He had a resurgent campaign in 2009 but fell off again in 2010. So much so that the Yankees went out and signed Russell Martin to a one-year contract, almost signaling the end of Posada's catching days.
Posada started the 2011 season as the team's primary designated hitter, but he was unable to produce in the at-bats he was given. His struggles were well documented, as were his disagreements with manager Joe Girardi.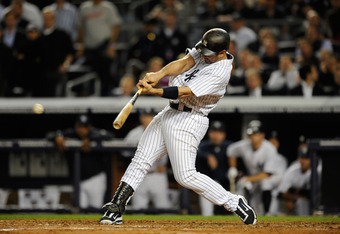 Patrick McDermott/Getty Images
Posada's most memorable moment of 2011 came on September 21st (a game I was fortunate to attend), when he hit a pinch-hit, go-ahead two-run single in the bottom of the eighth inning that gave the Yankees the lead and, ultimately, the American League East division title.
With rumors of retirement or possibly switching teams circling around before the 2011 AL Division Series against the Tigers, Posada decided that he might as well end his Yankees career with a bang. Posada was the most consistent Yankee bat during that series, hitting .429 with a triple, four runs, four walks and a .579 OBP.
Posada leaves the game as one of the greatest Yankees of all time despite getting a late start to his career as an everyday player. He was one of the most clutch players of his time, as evident by his 103 postseason hits, his 11 postseason home runs and his 42 postseason RBI.
Putting anyone in league with some of the Yankees' all-time greats is a daunting task, but Posada has earned to be put into the discussion.
He has caught the third-most games in Yankees history behind only Yogi Berra and Bill Dickey. He is eighth in games played, 14th in at-bats, 17th in runs, 14th in hits, seventh in doubles, eighth in home runs, 11th in RBI and seventh in walks.
Although a trip to Cooperstown may not happen for Posada, a trip to Monument Park is almost a guarantee. Despite being the latest member of the Core Four to blossom, Posada should be considered one of the greatest Yankees of all time and one of the driving forces behind the many championship runs the Yankees have had during Posada's career.
So even though tomorrow will be a sad day for us Yankees fans, Jorge Posada has given us an awful lot to cheer about during his illustrious career as a New York Yankee.