Detroit Red Wings: Central Division Championship Doubts Are a Good Thing
January 23, 2012

Christian Petersen/Getty Images
"Central Division Champions."  "Detroit Red Wings."
For most of the past decade, these terms were more or less interchangeable.
Most of the talk about the NHL Western Conference Central Division began and ended with the Detroit Red Wings, and for good reason—for most of the past decade, they were really the only team worth talking about.
Sure, the St. Louis Blues threatened for a while in the early 2000s. Immediately before and after the NHL lockout in 2004-05, the Nashville Predators were a popular and sexy pick as a playoff dark horse.
But neither of these teams were able to deliver on the promise of proving a legitimate threat to the Red Wings' dominance in this division over the past 10 years.
During this period of time, if you were a Detroit Red Wings fan, life was good. 
You could rest calm and secure knowing your team was immune from any real threat and simply sit through 82 games, patiently waiting for another Stanley Cup run to start up in April.
It wasn't until the long-laughable Chicago Blackhawks drafted a couple kids named "Toews" and "Kane" (in 2006 and 2007, respectively) that any of the other four teams in the Central Division (oh yeah, Columbus, Ohio has an NHL team, really) looked to be even close to making the Red Wings doubt their eventual first-place finish.
In 2007, the Chicago Blackhawks looked much better than they did in 2006.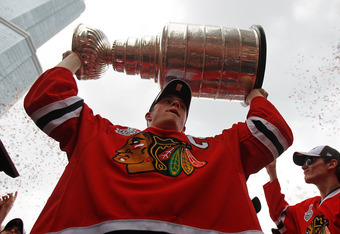 Jonathan Daniel/Getty Images
By 2008, they looked downright dangerous.
By 2009, they found themselves toe-to-toe with the arch-rival Red Wings in the Western Conference Finals.
In April 2010, for the first time in 10 years, the Red Wings were not Central Division Champions; the Blackhawks finally wrestled that title away from them.
By June 2010, they officially put the Wings on notice when they left Philadelphia as Stanley Cup Champions.
In the two seasons since, Detroit has had to share the Central Division discussion with Chicago. In fact, it might be more truthful to say that the other way around.
Whatever the case, by 2010 the Central Division quickly became the most competitive in the NHL. If that's true, I'm not sure what we could call it now, as "competitive" is far too weak a term. Detroit's imposing dominance in the division lit a fire under the Blackhawks to build a team that could legitimately challenge them and they succeeded.
But that fire has expanded exponentially. Now, with two perennial Stanley Cup threats in the division, St. Louis and Nashville have doubled the motivation to build equally powerful teams, and build them they have.
The margin between these teams isn't wide enough to squeeze a razor blade through, and this fact isn't likely to change any time soon.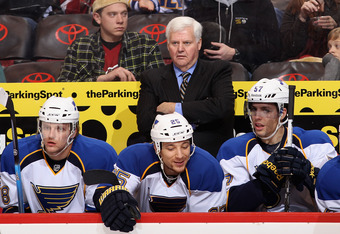 Christian Petersen/Getty Images
The Blackhawks are once again one of the most consistently dominant offensive teams in the league. The St. Louis Blues, under Ken Hitchcock, are almost ridiculously dedicated to a stifling defense that sees them win nearly every game they play. And the Nashville Predators still have one of the best coaches in hockey in Barry Trotz and a deceptively strong depth of talent.
Oh, and the Columbus Blue Jackets are also in the Central Division—yeah, still.
Two years ago, the Detroit Red Wings had one brand new, newly-emerged threat to their power in Chicago. Today, they've got three.
While the Wings currently sit atop the division, conference, and league with 65 points, there is absolutely no guarantee they'll finish in the top three seeding come April.
In fact, it stands to reason that the division championship may very well come down to the final minute of the final period of Game 82 on April 7th against Chicago.
There are some among the Red Wings faithful that find this troubling, even angering in some strange way.
Me?
I think it's great.
The competition Detroit is facing in the division provides the kind of motivation and dedication to winning they simply didn't have all those years when they'd get penciled in as division champs sometime in mid-January.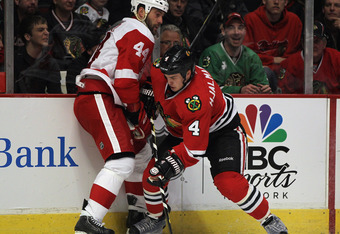 Jonathan Daniel/Getty Images
Sure, the re-heated rivalry with Chicago has been a great thing; but now that St. Louis and Nashville have squarely put themselves in the way of both teams, the intensity surrounding all of these games has become white-hot.
This kind of intensity makes for some outstanding hockey. What's more, it provides the kind of heat and pressure teams like Detroit need to grow even better and stronger than they already are.
There's no way to handicap the Central Division. At this point, it's a legitimate four-team race, and the eventual winner will likely win by a nose hair.
That's a far cry from what Red Wings fans have been used to for most of the last 10 years, but damn if it doesn't make things a lot more exciting.
Follow Matt on Twitter: http://twitter.com/MAhutter12