Chip Kelly: The Oregon Man Was Right to Stay in School
January 23, 2012

Jeff Gross/Getty Images
No more than a day following numerous reports that Oregon's Chip Kelly was on the brink of finalizing a deal that would make him Tampa Bay's next head coach, Kelly has decided to forgo the NFL.
It seems the college coach, unlike his former starting quarterback Darron Thomas who opted to skip his senior season, decided it better to stay in school.
Now, both Buccaneer and Duck Nation alike can let out a collective sigh of relief averting what could have been a disastrous situation for all those involved.
One year removed from being ranked No. 5 in the nation in the BCS and capping off an already successful season with a 45-38 Rose Bowl victory over equally potent Wisconsin, Kelly may have finally realized the tremendous task standing before him at Raymond James.
The Bucs are unfortunately not an underachieving team coming off an abysmal four win season after winning 10 the year before but one that is lucky to have only lost 31 of their last 48.
Committed to hovering over the league minimum salary-cap limit and expecting playoff worthy results does not prove to be a favorable situation for any coach.
Considering the huge financial backing of the university and Kelly having more uniform combinations to choose from than nearly every woman does shoes combined within a 10-mile radius, his organization may have a higher payroll and it's not even legal.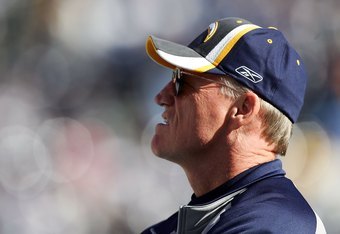 Harry How/Getty Images
With every passing day, Tampa Bay begins to look more and more like that lonely boy sporting massive head gear, oversized orthotic shoes and obnoxiously bright red suspenders at a middle school Sadie Hawkins dance. Remember him? Yeah, not very popular.
But sometimes being rejected is not such a bad thing; I hear that wallflower eventually became your boss.
The irony of life aside the facts are this…
Hiring a coach with little to no interest in using his defensive players as anything more than practice-day whipping boys for his attacking side does not exactly bode well for long-term success in a city traditionally known for its defense.
The spread option offense which has gained so much popularity on the back of Tim Tebow's success this season is extremely limited in the NFL. This goes especially for a squad sporting a number of slower possession receivers and a starting running back unable to effectively play third down.
Success in college football in no barometer for certain success in the NFL. Nick Saban tucked tail and ran out of Miami faster than a bat out of hell only to win the BCS National Championship twice in the five seasons since. Do not get me started with Steve Spurrier either.
The Buccaneers need a heavily experienced NFL coach with a hard old-school mentality and a proven record (let's not even talk about the playoffs right now) to restore order to the franchise.
Bring in Marty  Schottenheimer!