Chip Kelly to Buccaneers?: Making Sense of the Oregon Ducks' Future
January 22, 2012

Jeff Gross/Getty Images
Rumors that Chip Kelly is headed to the Tampa Bay Buccaneers have gone from mere tweets to materialized news within an hour.
NFL writers out of Tampa Bay are beginning to pick up the broadcast of the story. Procedure suggests that if there is a deal finalized, it will be within the next 24 to 48 hours.
For Ducks fans, there's no longer anything else to do but to wait.
But what comes with that type of anxious waiting? We can look at how many Oregon fans reacted off the bat.
First, there was denial: "Chip can't be leaving." This is usually followed by anger: "How could he do this to us?" Once the anger subsides, there's bargaining: "Where's Uncle Phil? Can't Nike ship him an extra million dollars?" There's depression: "Thomas Tyner is never going to come here anymore. We're never going to the Rose Bowl again. I'm transferring to Washington State."
But while we wait, there's a better idea: acceptance.
Does that mean that I suggest accepting the rumors that Chip Kelly is going to the NFL as fact? Not at all, as nothing (let me repeat: nothing) is official until it is announced as official. Remember when former Ducks head coach Mike Bellotti was within hours of accepting a deal at USC?
What this does mean, however, is that Oregon fans from across the country are forced to reconcile the facts of the matter.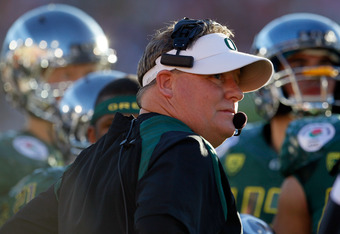 Jeff Gross/Getty Images
Somehow, this entire process has gone from the fact that Chip Kelly has been "in talks" with the Tampa Bay Buccaneers to being "close to a deal" by the time it would take for De'Anthony Thomas to break a few 90-yard runs.
But as it goes, the entire ordeal would be very frustrating for the Oregon Ducks. This would mean that Oregon would have gone from winning the Rose Bowl on January 2nd to losing their quarterback, running back and head coach by the end of the month. It's hard to stay positive, it seems.
Perhaps what is most frustrating about the whole ordeal is that the decision seems to have come a week before National Signing Day, when seniors in high school from across the nation will have to reconsider the stability of the program at the University of Oregon before ultimately deciding to spend their next four years in Eugene.
This weekend, Jeremy Castro decided to de-commit to Oregon and instead attend UCLA. The Oregon Ducks are also in talks, against the University of Washington, to convince the nation's top safety Shaq Thompson. The news about Kelly is not what Thompson would like to hear.
Earlier in the night, my favorite Oregon commit, Thomas Tyner, took to Twitter to cite his complaints. "Questioning where I will be in a couple years," wrote Tyner.
If the recruiting situation was bad for Oregon, another factor to consider in discussion is the fact that this could mean that the University of Oregon is speculated to finally be hit with sanctions re: the Willie Lyles situation. Many fans are wondering if this could be the reason why James, Thomas and Kelly would all be fleeing after such a successful season for the program.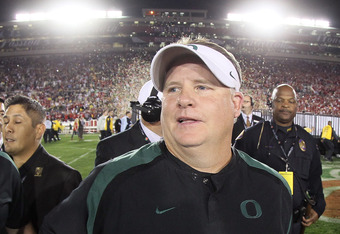 Stephen Dunn/Getty Images
There is, of course, no validity to this claim except the hearsay of the nature of Twitter. Chip Kelly is not a coward, and has never proven to be one. This news comes one week after Kelly complained about Darron Thomas's decision to go pro. There's no indication that sanctions have anything to do with this decision. It is a valid worry considering the way that things to be shaping up for this program, but that's not the way the world works.
If I can offer one piece of advice, I'd say this: "Stay off the ledge, Ducks fans."
The ultimate fate of the matter lies in what the program at the University of Oregon still has to offer.
"Best facilities, Nike, Autzen Stadium, sweet unis, awesome fans," writes Geoff Schwartz. "We will still get recruits."
Schwartz makes a very good point. The program was not a null life before Kelly arrived at the University of Oregon, and he did not create the school. Instead, he created a name from himself.
"From an assistant at New Hampshire to NFL coach in five years," says Dale Newton.
Let's not forget that everything he inherited (see: facilities, Nike, Autzen, etc. that Schwartz mentioned) will still be in place if he turns out to accept the NFL gig. In that sense, things aren't all bad for the University of Oregon.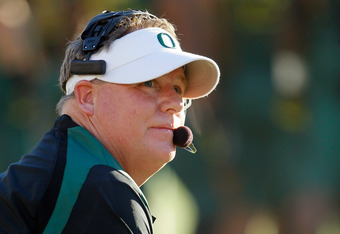 Jeff Gross/Getty Images
"Kelly went 10-3 and went to a Rose Bowl as first-year head coach," Newton continues. "A new one would have an even better roster and foundation."
Whatever head coach ends up accepting the lucrative available position that is the Oregon Ducks head coaching position would be inheriting some beautiful little football options in two elite running backs (Kenjon Barner, De'Anthony Thomas), two very capable QBs that can run the Oregon spread (Bryan Bennett, Marcus Mariota), a quick and suddenly more developed offensive line that is featuring mostly returning players, and a defense that has gotten the job done against the likes of Russell Wilson and Monte Ball.
Who might be looking to get the new position if open?
As Brandon Oliver points out, "Oregon has had three head coaches since 1977. Very rare in this era."
The University of Oregon would not look to hire someone for a temp position who could just patch things up.
There's some grumbling that perhaps former Indianapolis Colts head coach Tony Dungy might be interested in snagging the job, as his son is on the Oregon Ducks roster and Dungy owns a home in Eugene, Ore.
This seems a little unlikely, given his age and lack of interest in coaching in the NFL, let alone in college football. Dungy has seen the highlights of his career manifested already (including a Super Bowl ring, mind you) and does not run the kind of offense that caters to the likes of the one that Oregon has been developing over the years.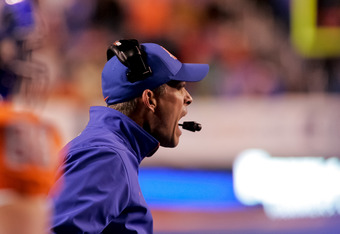 Otto Kitsinger III/Getty Images
As Rob Mosely reports, Chris Petersen and TCU Head Coach Gregg Patterson will be the two initial targets for the Oregon Ducks.
Chris Petersen, who has had success so far at Boise State, was an Oregon assistant coach for five years before accepting a position in Boise. Petersen's extension with Boise State would pay him roughly $2 million a year (Kelly, who is currently making $3.5 million a year at Oregon and is the highest paid government official in the state, would hope to seek a contract comparable to the $7 million deal that Pete Carroll recently signed with in Seattle). Petersen has experience working with Mike Bellotti, and should be considered the top candidate for the job if the news of Kelly leaving becomes official.
There's also the distinct possibility that Mike Bellotti takes the position himself, although it seems as if that road has already been traveled.
We have no way of knowing if the Chip Kelly style of offense has a legitimate chance of transferring to the NFL, nor do we have any idea if these rumors are even entirely true.
Instead, we have to wait.
Now is the time, above any other time, to stay true to the fact that this is the University of Oregon and that we are fans of the Oregon Ducks.
It's funny, really. I saw Chip Kelly literally yesterday afternoon. When I was in the Pit Crew at the basketball game, I remember commenting on how happy he looked to be there. It didn't look like the face of someone who was about to abandon his program. But we all know how Kelly loves to play games with the media.
According to Justin Hopkins, Kelly finished building a new house in Eugene yesterday. He's never been an easy man to read as, according to Joe Davidson, Kelly cancelled Sacramento recruiting trips earlier this afternoon.
I'm not a detective, nor am I an investigative journalist. I just want to know what's happening with the school that I know and love as my home.
In the words of Jonathan Adams, "Taking your talents to South Beach? I get that. Taking your talents to Tampa? I'm a little confused."
Tonight is a weird night to be an Oregon Ducks fan, but it is not the final night to be an Oregon Ducks fan.
Keep calm, Oregon. If I know you at all (and I believe I do), that's one thing that we've always been very good at. It's not time to overreact, abandon ship, or do anything you'd regret in the morning.
Keep calm, Oregon, carry on, and #GoDucks.
(Ohandbytheway, if all of this turns out to be wrong and Kelly does turn out to stay at the University of Oregon, call it his biggest test yet and burn this article and that cursed NWCN piece that first broke my heart earlier today. Thanks!) 
Click here to Follow @BryanKalbrosky.