Chicago Bulls: 5 Areas the Bulls Need to Improve to Win 2011-12 NBA Title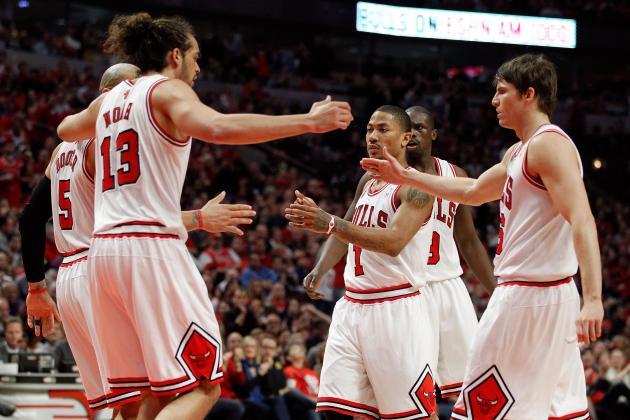 Gregory Shamus/Getty Images

The Bulls are good. Not only are they good, but they are darn good.
They have the league's best record with one of the toughest schedules, as they have played a league-leading 11 road games.
However, just like any contender, the Bulls can always improve in certain areas.
In Tom Thibodeau's mind, there is probably a couple hundred things he would like to perfect, but here are five simple improvements that can put the Bulls over the top.
Begin Slideshow

»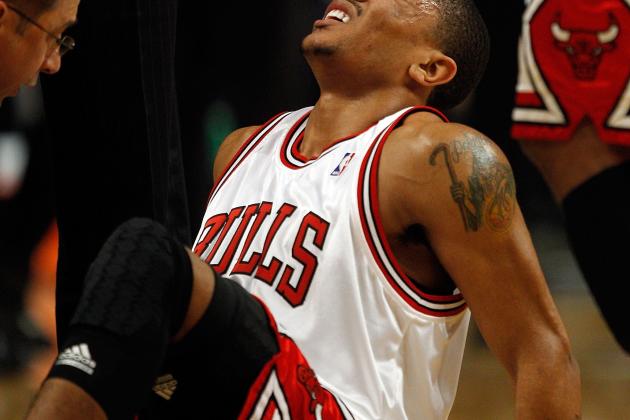 Jonathan Daniel/Getty Images
That is a sight the Bulls never want to see
This is probably the top-of-the-list concern for most teams in the NBA and should definitely be for the Bulls.
In fact, health is getting out of control for the Bulls.
Taj Gibson: Injured with left ankle sprain
Joakim Noah: Injured
Derrick Rose: Injured with left toe sprain
John Lucas III: Injured with left groin strain
Hamilton has already missed a good chunk of the beginning of the season and now Rose looks like he could be going through a toe injury for the rest of the season.
I know the Bulls are still winning, but their competition hasn't been that great as of late. They have beaten the Suns, Cavaliers and Bobcats, who are weak competition for a team that is contending for a title.
Although, the way the Bulls are handling and playing with injuries, you would have to consider Chicago as one of the toughest and smartest teams in the league. Thibodeau is being smart with Rose, sitting him out in a favorable part of the schedule for the Bulls. The players have stepped up big time such as Watson, Deng and Boozer.
This team just won't back down, no matter who gets injured.
No doubt, when the Bulls have their entire starting lineup and bench healthy, they can contend with, if not beat anybody in the league.
The Goal: Get everybody, if not at least Rose, healthy for next Sunday's thriller against the Miami Heat.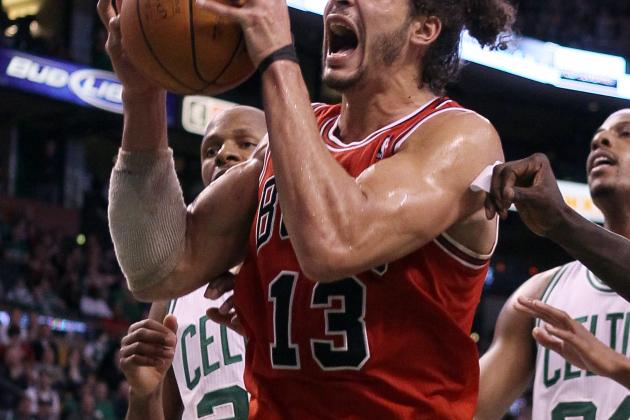 Elsa/Getty Images
That fierceness has somewhat been lacking this season
We'll probably be hearing this until Noah can put up a double-double every night, but until he does, his game is a concern.
He only has three double-doubles this year, which is tied for 37th in the league and 16th among centers. This guy is definitely not the 16th-best center in a league which barely has any true centers.
Last year he averaged around 12 ppg and 10 rpg. We don't expect him to be a 20-10 guy, but he should at least grab some rebounds.
The stats aren't even the most disappointing thing with him. He isn't bringing the same fierceness that he is famous for.
The Bulls need Noah to play heavy minutes, destroy the glass and bring that same toughness to this team. In the playoffs, you need that guy who will motivate his teammates and get them pumped up.
However, Noah has shown a great improvement in the last week, putting up Noah-like numbers, averaging 7.2 ppg, 10.2 rpg and 1.5 bpg. If he can keep this up consistently for the rest of the season, the Bulls will improve physically and mentally.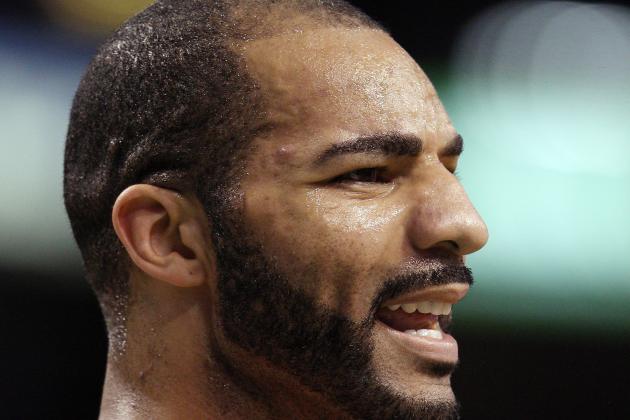 Elsa/Getty Images

To boo or to booze, that is the question.
Is Boozer finally coming around?
Take a look at his last five games:
Jan. 14 @Toronto: 17 pts and 13 reb
Jan. 16 @Memphis: 13 pts and 7 reb
Jan. 17 vs. Phoenix: 31 pts and 6 reb
Jan. 20 @Cleveland: 19 pts and 14 reb
Jan. 21 vs. Charlotte: 23 pts and 9 reb
Overall last 5 games: 20.6 ppg, 9.8 rbg, and 1.8 spg (What!)
I know we all like to hate on Boozer, but there are some amazing stats that he ranks among the league's best in:
Defensive Rebounds: 7th
Field Goals Made: 7th
Total Efficiency in Points: 12th

This is Boozer ranking among the top 10 in defensive rebounds and field goals made. Also, he is averaging almost two steals per game for the last five games.
We know he can bring scoring, but if he starts playing defense, the Bulls are in great shape at the 4 spot. Plus, he is doing this under 30 minutes per game.
The haters can hate, but Boozer has stepped up his game ever since injuries have occurred for the Bulls.
If he can average 15-20 ppg and get double-digit rebounds, the Bulls will be even more dangerous in their title run.
This guy is known for being injury prone, but it feels like he is the only player on the Bulls who hasn't suffered any injury at all.
I hope I didn't jinx him.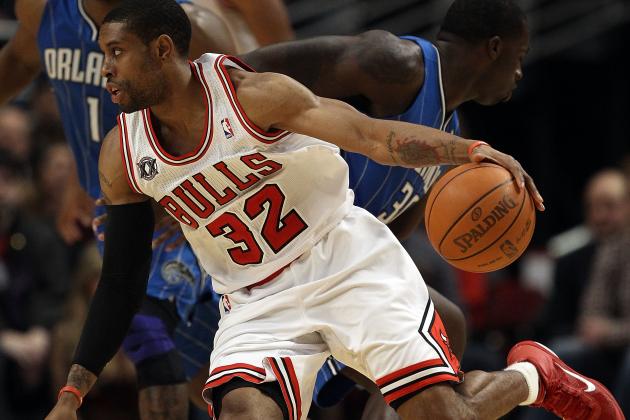 Jonathan Daniel/Getty Images

CJ Watson is not really known for being a point guard in this league, as he has more of a scoring personality which is what the Bulls need.
Watson provides excellent backup duties to Rose and is playing very well in his starting role due to Rose's injury. He gets to the free-throw line and can shoot from long range as well.
Thibodeau should try playing Watson and Rose more often together to make this team a fast-paced offense.
Having two players that can attack the basket consistently at the same time on the floor can be an asset against a team such as the Heat.
Watson's capability to drive and also knock down the three will cause defenses to struggle. All eyes will be on Rose, which will allow Watson to get easy drives to the basket or even open to knock down three-pointers.
This does make the lineup small at times, but I'm not saying play them together for 20 minutes.
Experimenting with the two guards playing together early in the season could potentially make the Bulls more of a potent offense at times.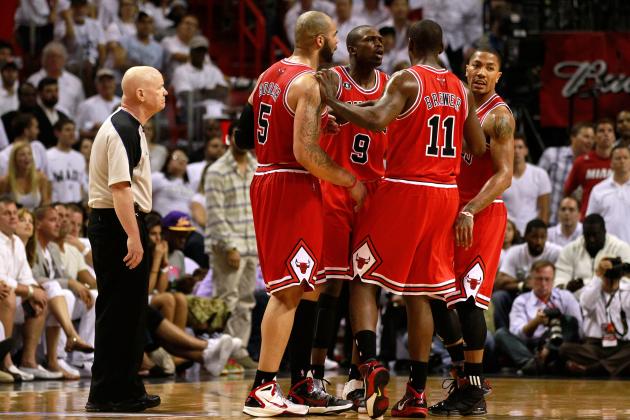 Marc Serota/Getty Images

I know a lot of Bulls fans want Howard.
A lot of writers out there speculate on Howard or some other scorer such as OJ Mayo to come to the Bulls (myself included) because it makes sense. But if these players don't want to come to Chicago, that is their problem.
I'm saying now to forget about everyone else and keep the team as it is.
This is the most cohesive team in the league. They have the most depth at every position. Each night you can expect one player from each position to step up.
Howard clearly doesn't have any interest in the Bulls, so why bother?
More importantly, the guys on the Bulls actually like playing with each other.
They put their team name ahead of themselves. As long as they're winning, they put their personal struggles behind them.
In fact, players such as Noah and Boozer, when struggling, start rooting for Gibson and Asik and appreciate their contributions.
They don't mope about their game but look for anyway to help their team win, even if it means motivating certain players on the bench.
Basketball is a team game.
A team is not of three players.
A team is not of five players.
A team is of 12 players who all bring their will and passion to win every day no matter the circumstances.
The Chicago Bulls are a team and there is no reason right now to get rid of any of their players.
The Bulls can win with this team. Health is the key and everything else will fall into place.