UFC on FOX 2: Phil Davis vs. Rashad Evans Breakdown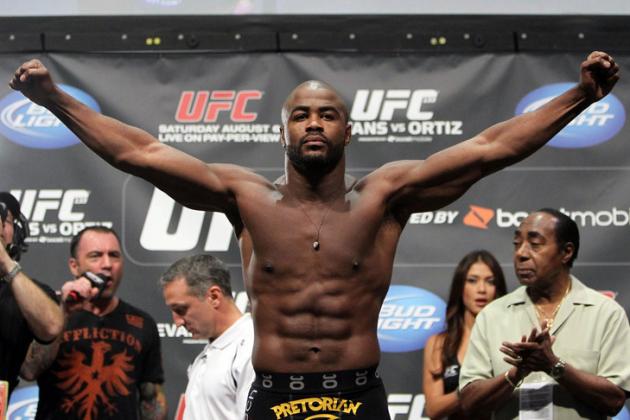 Josh Hedges/Zuffa LLC
This Saturday, the UFC will broadcast its first event on FOX since the largest MMA organization and largest television network officially began their partnership at the beginning of 2012.
The event, which will actually mark the UFC's second appearance on FOX after a teaser event on the channel in 2011, will be headlined by light heavyweight contenders Rashad Evans and Phil Davis.
The winner of Saturday's main event could very well find himself facing 205-pound champion Jon Jones in his next Octagon appearance.
Evans has been considered the No. 1 contender for quite some time, but injuries to himself and the champions he was expected to meet delayed his shot at reclaiming the UFC belt. Meanwhile, former NCAA wrestling champion Davis has gone undefeated thus far in his MMA career and is expected to be a force in the light heavyweight division for the foreseeable future.
Title implications alone, this will be one of the most important fights of both competitors' respective careers. Competing in the main event of a network-televised event only adds to the pressure.
Before Evans and Davis step into the Octagon, let's take a look at how the two match up against one another in all areas.
Begin Slideshow

»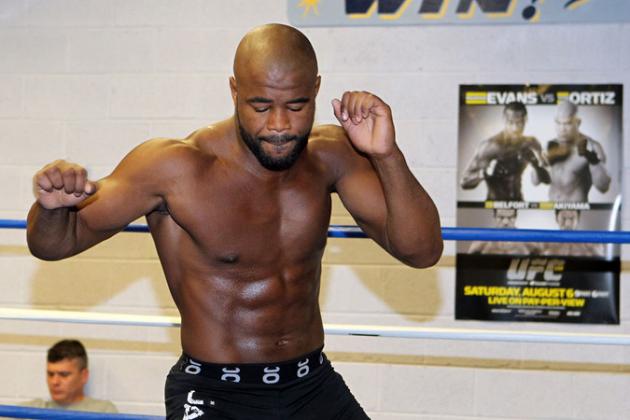 Josh Hedges/Zuffa LLC
Striking
It's no secret that Phil Davis' striking is a work in progress. The former amateur wrestler has only been training MMA for the past three years. While he continues to grow, Davis has simply not been working on his striking long enough to compare with Rashad Evans in that discipline.
With a knockout victory over Chuck Liddell on his resume, Evans is clearly the better striker at this point. The former light heavyweight champion also scored one of the most devastating head kick knockouts against Sean Salmon in January 2007.
The more well-versed striker, Evans is capable of putting combination together much more smoothly than Davis. Evans has also developed a quick jab that allows him to move in and out without exposing himself to counters.
Evans' superiority over Davis in the striking department is likely the most glaring advantage in this matchup. If he can keep this fight at a distance, Evans could finally get a shot at reclaiming his UFC title from former teammate Jon Jones.
Edge: Evans
Chin
In addition to his notoriously brutal knockout loss to Lyoto Machida, Evans was also rocked in his following two bouts against Thiago Silva and Quinton Jackson. Evans recovered to defeat Silva and Jackson, but the fact he was hurt in fights he otherwise dominated shows Evans' chin could fail him at any time.
For the most part, Davis' chin has gone untested in his nine professional fights. It's quite possible that Davis would also be hurt by the previously mentioned shots Evans was hit with, but he must be given the benefit of the doubt until that is proven.
Edge: Davis
Takedowns/Takedown Defense
In a pure wrestling match, Davis would be a monstrous favorite over Evans. At Penn State University, Davis was a four-time All-American wrestler, while Evans never placed in the NCAA tournament during his time at Michigan State University.
That being said, Davis' ability to take opponents down in MMA has been hindered by his inability to set shots up with strikes. Where Evans has mastered the differences between takedowns in amateur wrestling and MMA, Davis continues his learning curve.
When you match Davis' pure wrestling ability against Evans' adapted wrestling style, the two fighters' wrestling should cancel out, which may mean most of this fight will take place with both fighters standing.
Edge: Push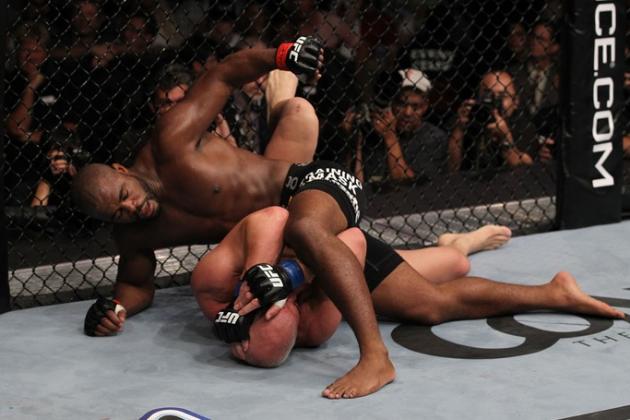 Josh Hedges/Zuffa LLC
Grappling/Positioning/Control
If Phil Davis does show improvement in his takedown setups and puts Rashad Evans on his back, his top control will be on full display.
It may not have been the most exciting victory of his career, but Davis' ability to comfortably stay on top of Antonio Rogerio Nogueira without being significantly threatened by any submission was something to be appreciated.
Davis' win over Nogueira was just one of many examples of the former wrestler easily controlling an opponent once the fight went to the ground.
Evans is also very skilled on the ground, but this is the one area where Davis' advantage over Evans in pure wrestling is least affected by his transition to a new sport.
Edge: Davis
Submissions/Submission Defense
Since joining the UFC more than six years ago, Evans has never won a fight via submission. Evans has also never been submitted, but it is clear that the former champ's offensive jiu-jitsu is lacking.
Davis, on the other hand, has defeated two of his five UFC opponents with submissions. Additionally, Davis competed in the No-Gi World Jiu-Jitsu Championships and came in first place in the blue belt super heavyweight division.
If either fighter is going to threaten the other with submission, it will be Davis looking to lock up chokes from the top position.
Edge: Davis
Ground Striking
While Davis has excellent top control, he primarily uses it to work toward submissions instead of using ground and pound to soften up his opponents.
Evans, meanwhile, is coming off a fight in which he beat Tito Ortiz up on the ground and finished the fight with a knee to the body of a downed Ortiz.
Neither fighter is particularly known for their ground and pound, but Evans would have to have the edge over Davis in striking on the ground.
Edge: Evans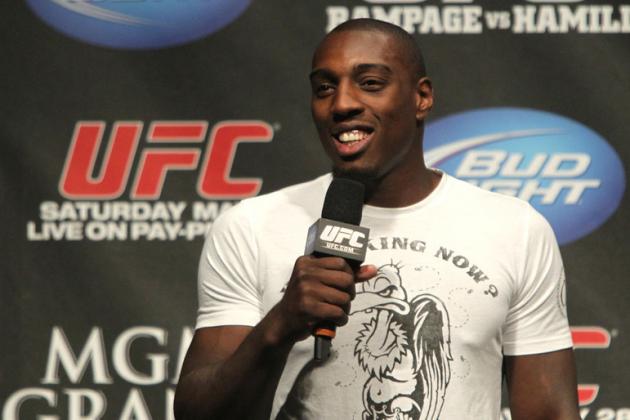 Josh Hedges/Zuffa LLC
Experience/Game Plan
Rashad Evans has been competing in MMA for nearly eight years and has 13 Octagon appearances under his belt. Compared against Phil Davis' three years of MMA training and five UFC bouts, Evans is a true veteran of the sport.
In addition to his experience advantage, Evans also has a solid training camp behind him. Evans' teammates, Melvin Guillard and Anthony Johnson, had a rough start to 2012, but the Mike Van Arsdale-coached Blackzilian team has been a solid home base for Evans.
An Alliance MMA product, Davis is also equipped with a good group of teammates and coaches, but he certainly lacks in experience when compared with Evans. Experience could certainly come into play under the bright lights of a main event on FOX.
Edge: Evans
Strength/Quickness
Fighters don't get to this level of competition anymore without being extremely athletic. Evans and Davis are both very strong and fast individuals.
However, Evans possesses another level of quickness that Davis can't quite match. On his feet, Evans is able to move in and out of range in an instant, an attribute that will be key in staying off his back against Davis.
Edge: Evans
Conditioning
Evans hasn't shown any visible signs of gassing in the later rounds of his fights, but "Suga" has faced problems in each of the past two times he has seen fights go to the third round. Against both Thiago Silva and Quinton Jackson, Evans was rocked and forced to survive to the final bell to secure decision victories.
It's hard to say whether Evans just happened to get caught in both of those fights, but it is possible he was trying to coast through the round due to fatigue. Earlier in his career, Evans showed a tendency to fade in the third round in his fights against Michael Bisping and Stephan Bonnar.
It has been quite awhile since those fights, but Davis has to be given an advantage in conditioning over Evans, since he never seemed to tire in his three UFC bouts that went the distance.
Edge: Davis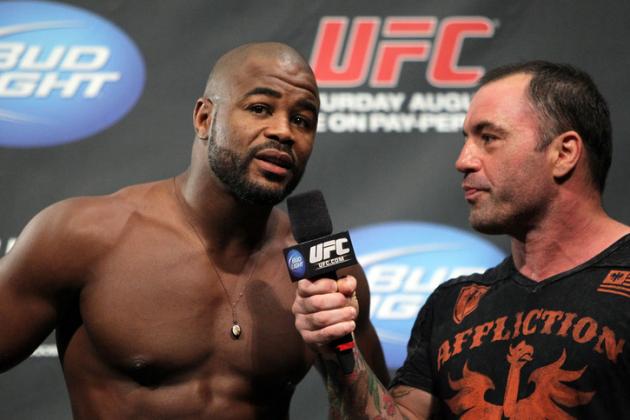 Josh Hedges/Zuffa LLC
In the end, the outcome of this bout between two former wrestlers will come down to whether or not Evans can stifle Davis' attempts to take the fight to the ground.
One important issue not mentioned earlier in this preview is that Davis has not competed in nearly one year. Even when ring rust wasn't a factor in his most recent appearance, Davis had trouble securing takedowns in the early going of his bout against Antonio Rogerio Nogueira.
Evans has much better takedown defense than Nogueira. So, unless Davis shows some major improvements in setting up his shots, this is Evans' fight to lose.
If he is able to stuff Davis' takedowns, Evans has the option of picking Davis apart in the stand-up or surprising the former NCAA wrestling champion with takedown attempts of his own. Because he has had more time to adapt his wrestling skills to MMA, Evans has more ways to beat Davis than Davis has to beat Evans.
Davis may turn out to have a better career than Evans in the end, but, at this point in time, Evans is more prepared to win this fight and make a run at the light heavyweight title.
Evans defeats Davis by unanimous decision.
Sean Smith is a featured columnist for Bleacher Report MMA. For the latest insight and updates on everything MMA, you can follow Sean Smith on Twitter.