Manchester United: Antonio Valencia Demonstrates Wing Play at Its Finest
January 23, 2012
Mike Hewitt/Getty Images
For regular readers of my articles, I have already expressed my views about why I think Antonio Valencia is underrated. 
The feedback was mixed, many not really appreciating my point. I am not much of a gloater, but I have to admit I do like being justified in my views.
Valencia is the best right winger in the Premier League. 
Bold statement, isn't it ? But think about this: How will the likes of Liverpool, Chelsea and Arsenal do if they had somebody who can cross the ball with pinpoint accuracy, allowing the likes of Van Persie and even underperforming stars such as Fernando Torres ammunition to attack the ball in the 18-yard box? Pretty well in my opinion.
The importance of wing play I think has been a little lost in the past year or so in a Barcelona-influenced age in which many teams are trying to replicate their style of play. Wingers are finding themselves marginalised and underused in some clubs, with much tactical discussion focusing on the use of fake No. 9's and 10's.
Taking Chelsea as a case in point, much of the play goes through the middle of the park, usually via the likes of Juan Mata and Frank Lampard. However, they have struggled in numerous games this season against the likes of Stoke City, and more recently, Norwich City. These failures can largely be attributed to the lack of natural width in the squad.
Manchester City do possess the likes of Adam Johnson on their ranks, but he is very much of the new style of winger, playing on the right hand side with the intention of cutting in onto his left.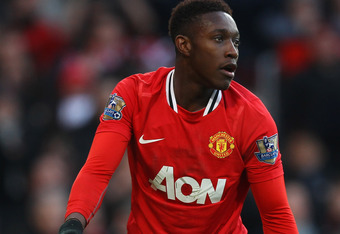 Alex Livesey/Getty Images
This is why Valencia is so important, and it showed very predominately in his (arguably) man-of-the-match performance in the 2-1 victory over Arsenal. After scoring the first goal just before halftime, some great wing play, helped set up Danny Welbeck for what was to prove to be the decisive goal.
Thomas Vermaelen filling in at left back was given a torrid first 45 minutes by the Ecuadorian, who sped past him with unerring ease on a regular basis. Vermaelen switched to centre back in the second half in a effort to control the game,  Yennaris also came on for the equally bad Djourou, but was still found wanting for the second goal.
This is indicative of what Valencia has been doing all season: getting down the wing, attacking the full back and pinging balls into the box. With seven assists so far in the league, he is along with Nani providing ammunition for the strikers with devastating effect. Doing the basics are what makes players such as Valencia effective but understated. 
Theo Walcott and Aaron Lennon are example of players who for all their skill and natural ability are seemingly incapable of consistently putting in decent balls. 
Valencia demonstrates that getting chalk on your boots is just as effective as making 30 passes before you score. Against Arsenal, he was a reliable outlet relieving pressure of the defence and making headway in the opposition half.
Effective wing play is what has enabled Manchester United to keep up with Manchester City despite their dominance in the centre of the park. Having an outlet to the wings is essential in what can be perceived as a defensive 4-5-1 formation; wingers like Valencia and Nani allow United to operate a 4-3-3 in attack. thus allowing flexibility. 
It goes without saying Gareth Bale is the best left-sided midfielder in the league, but I challenge you to think of a right-sided player who has performed more effectively this season then Valencia