Philadelphia Phillies: Why Vance Worley Was Not Just a One-Year Wonder
January 23, 2012

Len Redkoles/Getty Images
No matter how much success a player has during their rookie season, the term "sophomore slump" and whether a player will experience it or avoid it, may still be used when forecasting their second season in the major leagues.
Vance Worley of the Philadelphia Phillies is no exception following a rookie season that led to a third-place finish in National League Rookie of the Year voting.
Worley finished last season with an 11-3 record, 3.01 ERA and 119 strikeouts in 21 starts. Worley is also set to begin this season in the Phils' starting rotation, after beginning last season pitching at Triple-A. But after giving up 15 earned runs during the final month of the regular season, one must question whether Worley's 2012 season will more resemble his 4.05 ERA from last September or his 9-1 record and 2.65 ERA through last August.
However, as a starter in one of the major league's best starting rotations, Worley may not have to exactly match his numbers from last season in order to have success.
As the Phils' fourth or fifth starter, Worley may be pitching behind three starters in Roy Halladay, Cliff Lee and Cole Hamels, who combined to go 50-23 with 652 strikeouts and a 2.51 ERA last season. While a full season that results in double-digit wins, 150 strikeouts and an ERA around 3.00 may help Worley try to match last season's success, a slight increase in ERA could still make him a dominant starter at the back end of the rotation.
Worley held opponents to a .237 batting average last season, including a .201 average against left-handed batters. Worley also won nine consecutive starts during the regular season; in five of those starts he gave up one earned run or less.
Even if Worley's ERA increases to 3.50 this season, the Phils may still have four starting pitchers combine for an ERA under 3.00.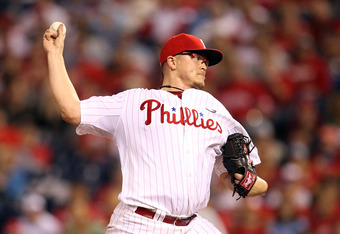 Hunter Martin/Getty Images
Worley finished last season with an FIP between 3.25 and 3.35 and a BABIP between .280 and .290. Worley also finished with a K/9 rate of 8.13 and a BB/9 rate of 3.14.  His FIP, K/9 and BB/9 rates had improved each month from June to August.
While Worley spent last season in the Phils rotation pitching in place of an injured Roy Oswalt and Joe Blanton, he now joins Blanton in filling out the team's starting rotation. Prior to last season, Worley had made two career major-league starts, compared to over 60 minor league starts. 
In the minor leagues, Worley has never had a season in which he made over 20 starts and had an ERA under 3.35. He had, however, reached at least 100 strikeouts in each of the two seasons prior to last year, when he made nine starts at Triple-A. 
At one point last season, Worley was eighth in the major leagues in called third strikes, thanks in part to a two-seam fastball and sinker that hitters had trouble figuring out. If Worley can continue to develop his pitching repertoire, he may be able to find success once again this season.
Worley went from pitching in the minor leagues to finishing third in National League Rookie of the Year voting inside of one season. If he spends an entire season in the Phils' starting rotation, he may be able to prove that last season was no fluke.
As a fourth or fifth starter, Worley may be able to continue the success that the Phils' first three starters have had, while giving the team one of the best starting rotations in the major leagues.