Philadelphia 76ers Report Card: Grades for All Key Players Through First Quarter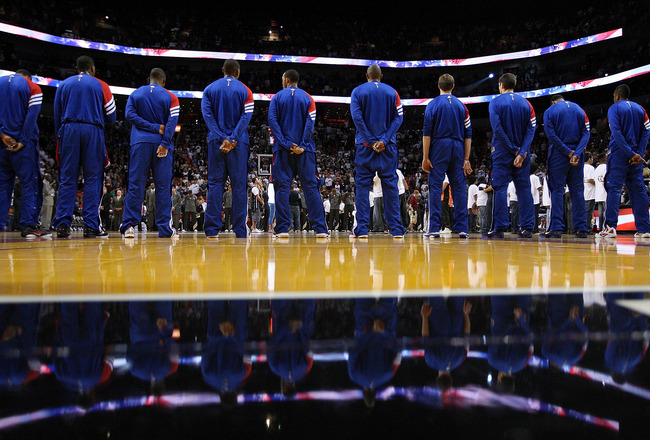 Mike Ehrmann/Getty Images
Thanks in large part to a healthy dose of home games, the Philadelphia 76ers have been one of the NBA's early season surprises this year. Through 16 games, the 76ers sit at 11-5, and their 4 1/2-game Atlantic Division lead over the Boston Celtics is the largest by any first-place team in the entire league.
Although they're on pace for a 45-win season, Philadelphia's schedule gets much tougher from here on out. But the foundation has already been laid for a successful 2011-12 campaign, thanks to the contributions of virtually every player on the roster.
With 50 games left to go before the playoffs, let's take a look back at the first quarter of the season and hand out grades to the key players on the Sixers' roster.
Jrue Holiday: B-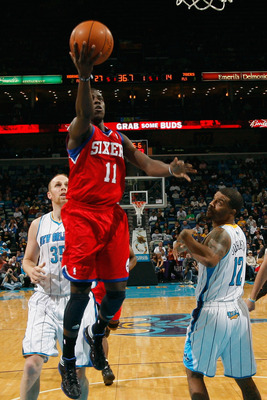 Chris Graythen/Getty Images
Patience is not only a virtue, but it is a quality that 76ers' fans would be wise to embrace when it comes to 21-year-old point guard Jrue Holiday.
After two-plus years in the league, Holiday is still learning the ins-and-outs of the point guard position. With every jaw-dropping assist comes a maddening turnover at an inopportune moment (although any time is a bad time for a turnover). Holiday's turnovers per game have increased every year since he came into the league—a disturbing trend.
One thing that hasn't suffered this season his Holiday's ability to put the ball in the basket. According to Synergy Sports, he's the third-best player in the NBA this year when it comes to scoring in isolation sets.
At some point, Holiday's play-making abilities need to match or surpass his other offensive skills. The 76ers' young point guard has to improve on his 1.71-to-1 assist-to-turnover ratio—and quickly—if Philadelphia is to make any sort of run at one of the top four seeds in the Eastern Conference.
Jodie Meeks: B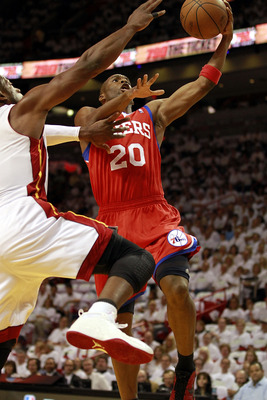 Marc Serota/Getty Images
Jodie Meeks is a spot-up shooter who opens up the floor for his teammates. It would be misguided to expect anything more than that from him, and he's given the 76ers exactly what they've expected after a slow start to the season.
When Meeks is locked in, there are few better shooters in the NBA. His 26-point outburst against the Washington Wizards—a game in which he finished 10-for-11 from the field—is evidence of that. But more often than not, a typical game for Meeks will be in line with his 8.8 PPG scoring average.
The drumbeat for Meeks' eventual departure from the starting lineup grows louder with every stellar performance out of Evan Turner. Regardless of if or when that will happen, Meeks will continue to spot up on the wing as the team's primary long-range option.
Andre Iguodala: B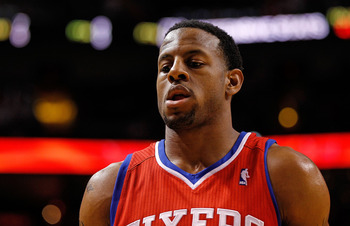 Mike Ehrmann/Getty Images
In the minds of many 76ers fans, all of the good that Andre Iguodala does (his exceptional defense, his ability to finish on the break) will always be overshadowed by his failings (most notably, an inability to perform in clutch situations).
Iguodala is a fine defensive player to be sure. But consistency on offense—or lack thereof—is what has plagued him ever since he arrived in Philadelphia. A week after filling the box score against the Washington Wizards on January 14 (23 points, seven rebounds, five assists, five steals), Iguodala all but disappeared against the Miami Heat (four points, three rebounds, three assists, three turnovers).
His shooting percentages this season have muddied the waters even further. Thanks to a hot start, Iguodala is shooting a career-best 38.2 percent from three-point range. Conversely, he's also converting at a career-worst 66.2 percent from the free-throw line—a figure that is completely unacceptable.
Iguodala's six-year, $80 million contract has created the perception that he is a borderline superstar. The reality is that Iguodala is likely a notch or two below that. One shouldn't grade him based on what he is perceived to be, but rather, what he actually is: an elite-level defender who is capable of a triple-double virtually every night. And in that role, he's pretty good.
Elton Brand: B+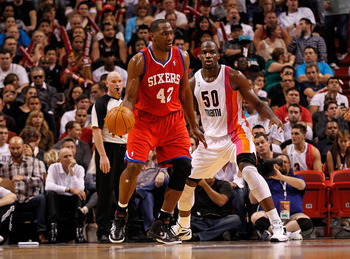 Mike Ehrmann/Getty Images
One night, Elton Brand looks like a man who has played more than 800 games over a 12-plus year NBA career. The next, he looks like the Brand of years gone by, outworking players far younger than him on the offensive glass. Although his minutes and field-goal attempts are down this season, Brand has remained the ultimate team player—never once griping about his role in the offense.
Will he ever again give the 76ers production commensurate with his contract? No. But you can pencil him in for about 10 points, seven rebounds and more than his share of solid defensive plays each and every night. Brand is by far the most consistent player on the entire Philadelphia roster, and that's definitely worth something.
Spencer Hawes: A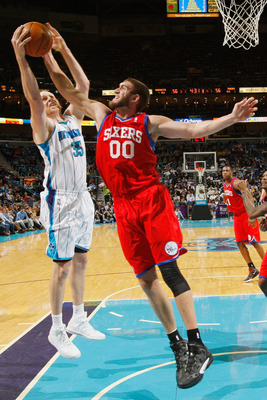 Chris Graythen/Getty Images
When Spencer Hawes has been in the lineup, he has been nothing short of phenomenal. In his 12 starts this season, Hawes is averaging 10.4 points and 8.8 rebounds per game, and has racked up six double-doubles in the process.
Beyond the numbers, Hawes is an exceptional passer for a big man, and facilitates the offense extremely well from the top of the key. However, the grind of the compressed season has already caught up to the 23-year-old Hawes, and back and Achilles injuries have already caused him to miss four games.
In his absence, the 76ers are a completely different team: Philadelphia is 10-2 when Hawes has been in uniform this season, and 1-3 when he hasn't. A candidate for the NBA's Most Improved Player Award, Hawes might be the 76ers' most valuable player this season.
Lou Williams: B+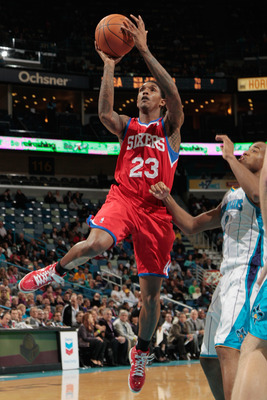 Chris Graythen/Getty Images
Philadelphia's reserves are affectionately referred to as "The Night Shift", and Lou Williams has been the de facto leader of the 76ers' second team through the first quarter of the season.
Williams is the only player in the NBA who leads his team in scoring (15.5 PPG) despite coming off of the bench. But while he's had a pretty good stretch from beyond the three-point line this season (41.7 percent), Williams' overall shooting percentage (41.4 percent) remains an issue, and is the primary reason why his grade isn't higher.
Expect Williams' scoring output to decrease during the season as second-year swingman Evan Turner begins to further define his role on the team. That said, Williams will continue to provide a much-needed dose of energy to a Sixers' bench unit that ranks as one of the best in the NBA.
Evan Turner: A-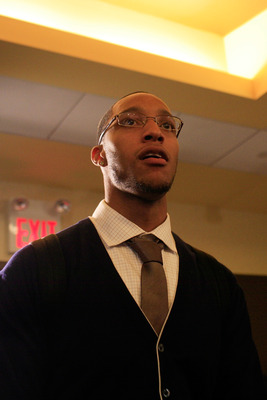 Patrick McDermott/Getty Images
A summer working on his jump shot with Hall of Fame coach Herb Magee has done wonders for Evan Turner, who is shooting 47.4 percent from the field through the first month of the season. And even as one of the team's primary ball-handlers, Turner rebounds exceptionally well for a player at his position (8.6 rebounds per 36 minutes).
From his near triple-double against the Sacramento Kings on January 10 (16 points, 10 rebounds, eight assists) to the 20 and 11 he put up versus the Denver Nuggets last week, Turner is showing flashes of the potential that made him the No. 2 pick in the 2010 NBA Draft.
Turner's confidence is almost tangible at this point—you can see it growing as he learns the nuances of the NBA game. He knows that his turn in the starting lineup is almost here, and if his play this season is any indication, it will happen sooner rather than later.
Thaddeus Young: A-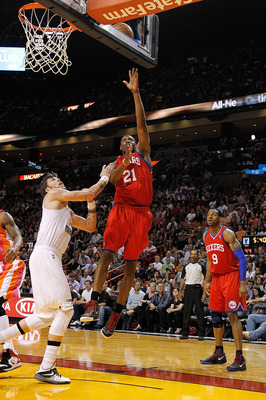 Mike Ehrmann/Getty Images
For a player who rarely has any plays run specifically for him, Thaddeus Young always seems to find a way to score.
"I just play," said Young during an interview with the Philadelphia Inquirer earlier this month. "I go out there and think it's having a natural feeling for the game and knowing where the ball is."
Young—who signed a five-year/$43 million extension during the offseason—does a little bit of everything for the 76ers (12.4 PPG, 4.4 RPG, 1.4 SPG). And now that his mid-range jumper is noticeably improved—Young is shooting 42 percent from 16-23 feet vs. 34 percent in 2010-11—he is even more of a matchup problem for opposing forwards.
After finishing third in the balloting for the NBA's Sixth Man of the Year Award last season, he just might take home the hardware this year.
Nikola Vucevic: A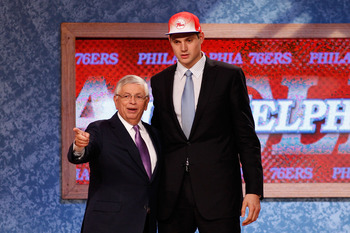 Mike Stobe/Getty Images
With a quarter of the season already in the books, rookie center Nikola Vucevic has been the Philadelphia 76ers' most pleasant surprise so far in the 2011-12 campaign.
Ever since his NBA debut back on December 28, he's shown no signs of being intimidated by the pro game. At 7'0" and a slight 240 pounds, Vucevic frequently out-hustles opposing big men in the paint, and is a pretty adept finisher around the basket.
As his minutes increase, so too will his averages of 5.2 points and 4.9 rebounds per game. Vucevic has been everything that the Sixers could have expected from the No. 16 pick in the draft, and has filled in admirably for an oft-injured Spencer Hawes.
Keep Reading

Philadelphia 76ers: Like this team?