UCLA Basketball: True Void of Bruins' Team That Needs to Be Filled
January 24, 2012

Stephen Dunn/Getty Images
After losing a close game to a 1-5 Oregon State team on the road, it looked as though UCLA was going to split its road trip to Oregon by overcoming the Oregon Ducks on Saturday on the road. The Bruins dominated the game in the first half and seemed to have demoralized Oregon with a 13-point lead going into the locker room. 
However, the Bruins came out sloppy in the second half, turning the ball over and missing layups to allow Oregon to go on an 11-0 run to start the half and cut the deficit to two.
UCLA looked improved, though, as it did not falter after that run. The Bruins were able to hold on to the lead for 13 minutes into the half. 
Should they have been in the position to relinquish the lead at all after having a 13-point halftime lead?
No, but at least they were able to stay in there. That's not the ultimate goal of a game—to merely stay in the game—but at least we are seeing some signs of improvement. 
So, yes, the Bruins are improving little by little. We've seen better team chemistry, which has changed the dynamics of this team and has made them a contender once again. 
What is still missing, though? 
As we saw in UCLA's most recent loss to Oregon, this team falters when faced with adversity. As soon as the Bruins started turning the ball over and the Oregon crowd began to roar, UCLA lost its composure.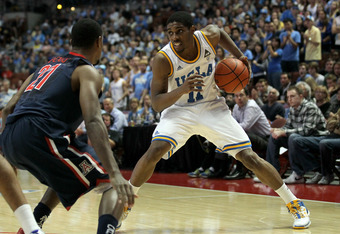 Stephen Dunn/Getty Images
So how does that issue, that void, become filled?
On most teams, the composure of the coach sets the tone for the players, as they feed off the coach's demeanor and carry it onto the court. 
While Ben Howland is a great coach, he is not the kind of guy that transmits composure. He is a relatively composed coach, but he does not trust his players enough for them to feel like they have things under control. 
Who can keep the team composed in tight situations, then, if not the coach?
A leader. An example. A role model. A leader. 
The Bruins don't have a team leader that can lead them through adversity, who will keep them composed and directed. 
We've seen bits and pieces of leadership from seniors Lazeric Jones and Jerime Anderson, but not with any consistency or real influence. 
But they don't need just any kind of leadership, though. It has to be positive leadership. We've seen Jones, especially, get on guys like Josh Smith when they do something wrong, but that's not the kind of leadership they need. 
UCLA needs a true leader who will serve as an example and bring positive energy to the team. Jones and Anderson have show spurts of this positive leadership, and if they could bring such leadership on a consistent basis the Bruins would be a completely different team. 
The Bruins are still one of the most talented teams in the Pac-12, a conference that has disappointed thus far on a national level. 
Who can bring that positive energy, that constant reassuring voice?