Patrick Kane: 5 Reasons Why He'll Never Be Traded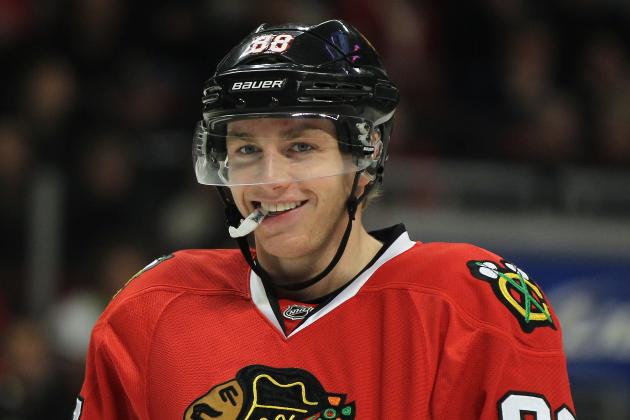 Jonathan Daniel/Getty Images

There has been a lot of criticism towards Patrick Kane as of late. Most of it is coming as Kane is currently in one of the worst slumps of his NHL career.
Fans have speculated that Kane could be traded for a player with more "grit" and more "determination." But the simple truth is Kane is an elite player in his own way, and many teams would love to have the abilities that he brings to the table.
No matter how poorly Patrick Kane is playing now, the Chicago Blackhawks will never trade him.
These are the five reasons why.
Begin Slideshow

»
The Chicago Blackhawks over the years have become a puck-control team, which means their system of play requires them to have the puck more often than not.
Kane, being an elite playmaker, fits in perfectly with this system. Being able to set up plays, skate around opponents and score all help the Blackhawks play their puck-control system.
Kane is one of the best stickhandlers and playmakers in the league. At 23 years of age, he is already an elite forward. He can saucer pass better than anyone in the league and hit a teammate's stick from halfway across the ice.
Unless Stan Bowman can find a better playmaker and stickhandler, expect Kane to be with the Blackhawks for the rest of his career.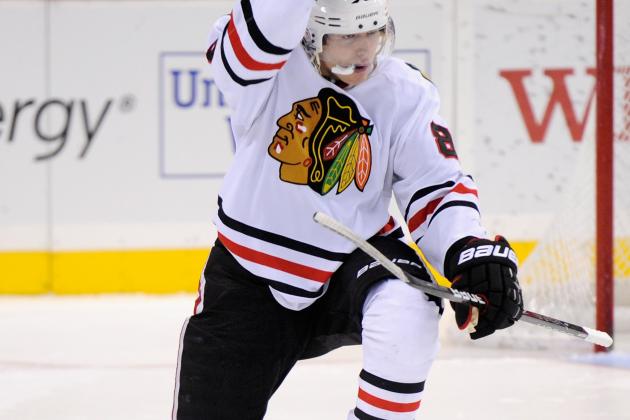 Hannah Foslien/Getty Images

Kane may be slumping as of late, but his point production can certainly be worse.
He currently ranks ninth in the league with 30 assists and sits 24th in points. Not bad for a guy who's been in a near season-long slump.
The potential for improvement is definitely there as Kane has put up better numbers in his past two seasons. Being a point-per-game player last season, Kane said that he would like to improve that as he could reach another level.
"Time has been flying by, and I think it's about that time to really take that next step up to the elite level," Kane said according to the Chicago Tribune.
At just 23, Kane has the majority of his career in front of him. To trade him now when he can expand into an even greater threat on the ice would be a careless mistake.
Dogging it on the ice is not Kane's style; he proves this with his play night-in and night-out for the Blackhawks.
Some might criticize him for poor play, but that is bound to happen even to the greatest players out there. Kane is a competitor; maybe not as much as his teammate Jonathan Toews, but pretty close.
He hunger to win is matched only by his skill on the ice and his ability to make opponents look silly at times.
A lot of this can be seen after Kane scores; his goal celebrations are always an ecstatic jump for joy. Not only because he scored, but also because he is giving his team a chance to win the game.
That competitiveness was missing from the Blackhawks lineup during their cellar-dwelling years.
It's pretty nice to see it now.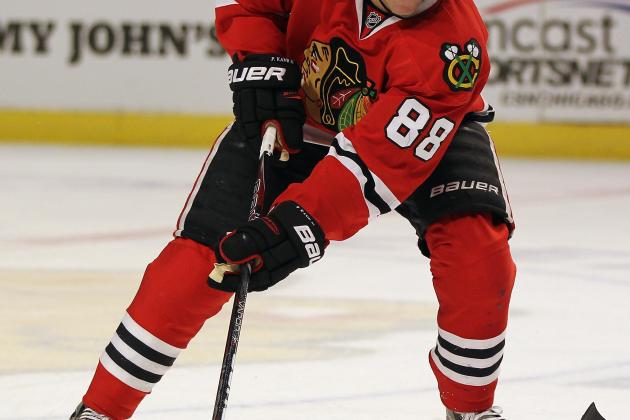 Jonathan Daniel/Getty Images

Cocky is what some people may call Kane's attitude when he tangles on the ice against some of the biggest guys in the NHL.
Immature is what some other people might say when they hear about his off-ice late-night bar crawls. But all is relative when your 23 years old.
Kane has shown his ability to be not just an elite right wing, but one of the best in the world. His ability will only grow as well as his sense and feel for the game.
Think of Kane as a prospect—for as good as he is now, he may only get better and eventually reach the 100-point mark in a season. Why would any franchise want to give up a chance that one of their players could break the 100-point plateau?
The amount that the Blackhawks could get in return for trading Patrick Kane will never make up for what Kane could become in the future.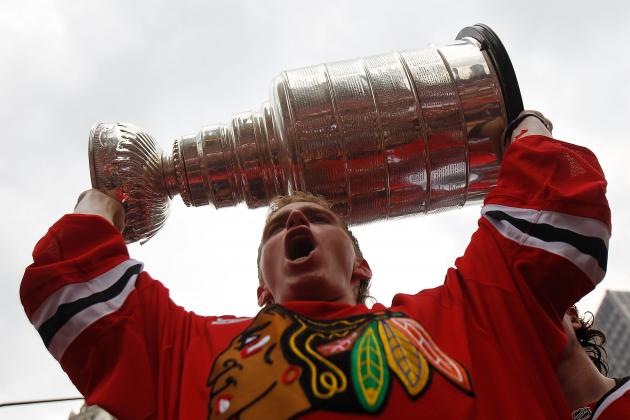 Jonathan Daniel/Getty Images

Like it or not, Patrick Kane is one of the faces of the Chicago Blackhawks franchise.
To be exact, Kane and Jonathan Toews are the faces of this franchise, and it all started during the 2007-2008 season when the Blackhawks missed the playoffs by three points.
Kane and Toews were what attracted the fans to the United Center after a decade of low attendance. It was no mistake that Dale Tallon, GM at the time, built a team around those two core guys.
And yes, Patrick Kane cemented his legacy with the Blackhawks when he scored that overtime Stanley Cup-winning goal in Game 6 against the Philadelphia Flyers.
It had been 49 years since the Blackhawks had last won the Stanley Cup, and now Patrick Kane finished it off and took them to the promised land.
To trade Kane would be to take a leg out from underneath this Blackhawks franchise. It can survive without him, but it would be crippled.