Juventus 2-0 Atalanta: Bianconeri Defense Dominates, Alessandro Matri Flounders
January 21, 2012

Marco Luzzani/Getty Images
Antonio Conte has made a pretty quick run up the Italian football coach table. He went from coach of an Arezzo team that was relegated to Serie C1 in 2007, to winning Serie B with Bari the next season. After that, he was appointed as Atalanta's manager, but his tenure was unsuccessful.
Conte started well, but his team's form quickly fell. Their poor play eventually led to Atalanta's furious fans calling for Conte's resignation. Conte did indeed resign, and the police even had to step in to protect Conte from the Atalanta ultras. Conte went on to success at Siena, but nonetheless his time at Atalanta was not pleasant.
Today, Conte returns to Atalanta's stadium as head coach of the leading team in Serie A, and the best team in Calcio history, Juventus.
Perhaps Conte's redemption song inspired the Old Lady's players, as they dominated for most of the match and won 2-0. Granted, the two goals are a lot less impressive when one considers that they had eight shots on target and 18 shots overall.
Juve were great at creating chances to score today but mediocre at finishing. More specifically, Alessandro Matri continued his recent bad form with another stinker.
Matri has had some spectacular games this season, for example his brace against Genoa. However, lately he has failed to live up to standards.
It started when Mirko Vucinic was injured in December, but it has continued through Mirko's return. Luckily for Antonio Conte, he has other options, most notably the new arrival Marco Borriello. Borriello did not appear in today's match, though he seems ripe for some playing time against Roma in the Coppa Italia match on Tuesday.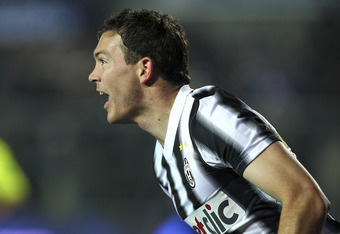 Marco Luzzani/Getty Images
Of course, Conte also has the legendary Alessandro Del Piero, who has failed to score this year. With a little more match time, however, he will surely knock a goal in.
Matri had shot after shot today, but he failed to make any of them count. He had shots that went right at Atalanta's goalkeeper; he had shots that went over him; and he had shots that went to his side—but none of them went into the goal.
Juventus had to rely on Stephan Lichtsteiner to give them the leading goal today. Andrea Pirlo sent forth a glorious pass that was perfectly aimed for the Swiss running machine to head it straight into goal.
Both men had fine matches, with Pirlo returning to his usual form after an odd dip in performance last week. Lichtsteiner has been perhaps the most consistent performer for Juve, and that's important since there really isn't another player to step in at right back.
Martin Caceres may finally find his way to Turin, but as of now Stephan is the only real option at right back.
After all, we can't trust Marco Motta. Marco Motta is a bad, bad man.
There were also some unorthodox substitutions made by Conte in this match, though one was due to circumstance. Simone Pepe was injured by a late sliding challenge from Federico Peluso, who received some words from Conte. Pepe would have to come out, and as of this writing his condition is still unknown. His replacement was to be the young Luca Marrone.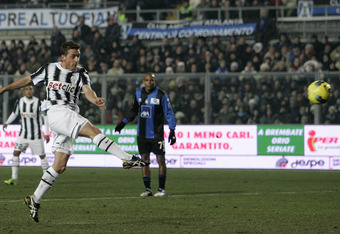 Marco Luzzani/Getty Images
The other unorthodox substitution was that of Claudio Marchisio, who is usually a stalwart for Juventus. Also, his performance usually merits that status.
Marchisio was okay today, but Conte made a good decision to put some fresh legs into the midfield at half time with the inclusion of Emanuele Giaccherini.
Giaccherini and Marrone did their part to confirm Conte's decisions, as they worked together to score Juve's second goal. Marrone played a ball right through Atalanta's central defense to Giaccherini, who had been making a run. To cap the move off, Giaccherini slid the ball right past Andrea Consigli.
Marrone had another impressive movement when he played a little 1-2 pass with Ale Matri, Marrone serving as the end recipient. He smashed the ball towards the goal, but Andrea Consigli made an impressive save.
Consigli made many impressive saves today, but he also received some help from Ale Matri.
Marrone has impressed me in every appearance he's made this season. Even when he has only played for a few moments, he still manages to make an important linking pass to continue a counter attack, or a nice long ball to meet a winger's run.
Conte has been looking for some reinforcements in midfield, but he may a suitable option in Marrone. He is young, and still needs to prove that he can be consistent against tougher opposition, but he shows promise.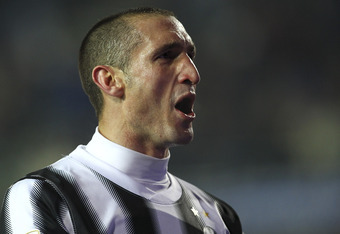 Marco Luzzani/Getty Images
There was one other thing about today's Juve squad that was different: Paolo De Ceglie was starting at left back, while Giorgio Chiellini started in the center. Until his suspension last week, Chiellini had been playing as the left back for most of the games, with De Ceglie seeing time sparingly.
Last week, De Ceglie showed he deserved to start, and today he had another solid game. Chiellini, though, was more than impressive.
Today, Giorgio Chiellini was absolutely classy. He had 23 clearances and 19 of those were headed clearances. The player he was marking, Denis, was suffocated for most of the match, though he got a few shots in.
Perhaps it was the shift for Chiellini back to central defense; perhaps it was motivation to avenge Conte—whatever it was, Juventus took control today.
They had looked shaky last week against Cagliari, but they put in a very solid performance today. Yes, they struggled when it came to finishing, but for the most part this was due to Matri.
On the whole, this is a side that looks ready for their big Coppa Italia (aka TIM Cup) tie at home against Roma on Tuesday. Perhaps that game will see the inclusion of Eljero Elia and Fabio Quagliarella, two players who were off the teamsheet for today's game due to minor injuries.
The match against Roma is one of two big matches for Juventus next week, as they also face third-place Udinese over the weekend. Juventus have had some struggles the past few weeks against mediocre opposition, but seem to have gotten back to their usual impressive form.
Still, if they want to win against Roma and Udinese (teams who both tied Juventus the last time they played), they need to improve their finishing.
I think we know what Conte will be focusing on in practice this week.
You can follow David Tenenbaum on Twitter: @DTenenbaum