Oregon Football Recruiting: 5 Positions the Ducks Can Get Away with Not Filling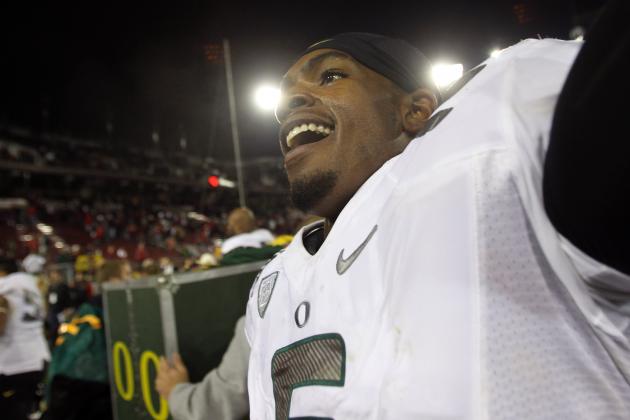 Ezra Shaw/Getty Images

The Oregon Ducks, although facing the departure of some key players—some to the NFL and some to graduation—are blessed with strong returning talent.
In an ideal world, one would want 4-star recruits at every position to step into the shoes of departing players.
In the real world, there are never enough quality recruits to satisfy every position at every school. And we all know how keen the competition is for the top recruits.
The Ducks will field an exceptional team again in 2012. Because of their depth, here are some positions that can go unfilled this year.
Begin Slideshow

»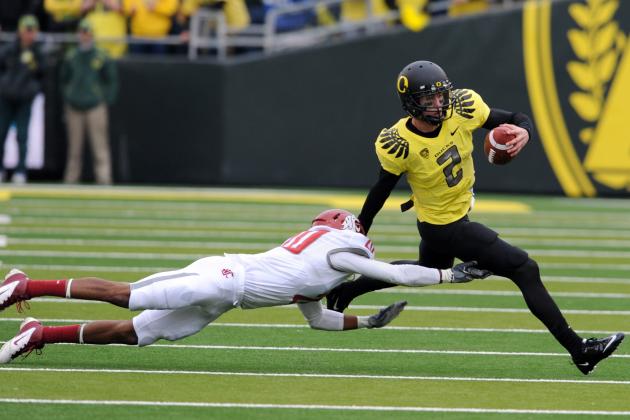 Steve Dykes/Getty Images

When Darron Thomas went down with a knee injury during the 2011 season, Bryan Bennett filled in admirably. There was even, briefly, a teensy tiny quarterback controversy when some fans and media questioned whether Bennett should be given a shot to replace Thomas.
In my mind, Thomas was the undisputed leader of the Ducks. But he's gone now and this is Bennett's chance. Bennett will be a sophomore in 2012, so he has the opportunity to become the Ducks QB of the future. At 6'3" and 205 lbs., Bennett has good size, and showed good decision-making and good speed in Thomas' stead.
Waiting in the wings and chasing Bennett will be 6'4", 200 lbs. Marcus Mariota, who was listed as the Ducks No. 3 QB in 2011 as a true freshman.
Mariota was rated the No. 12 overall QB prospect in the nation by Rivals.com when he came out of Honolulu, HI.
The Ducks appear to be set at the QB position for at least the next two years.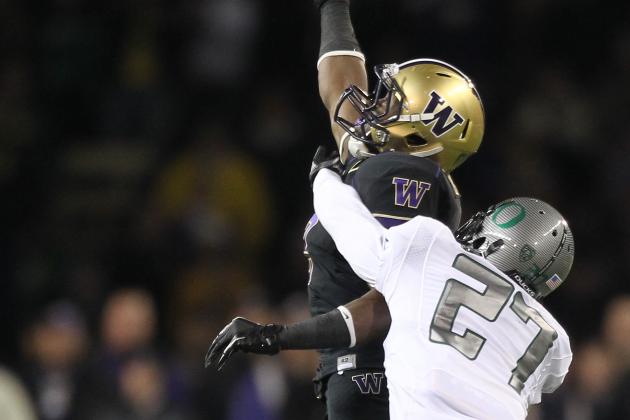 Otto Greule Jr/Getty Images

The toughest job in college football in 2011 belonged to the kid who came in to replace beleaguered All-American Cliff Harris—Terrance Mitchell.
And the second toughest job belonged to Troy Hill, the cornerback who replaced Anthony Gildon when he was injured.
Hill's job was tough because most Ducks fans don't know what side Harris played on (left), so he was going to be blamed equally for not being Cliff Harris.
While the two red-shirt freshmen took their lumps, especially early on, as the year progressed they learned from their mistakes and listened to their coaches.
I now consider both Hill and Mitchell experienced cornerbacks, and I expect the position to be theirs in 2012 and beyond.
I also expect both CBs to carry on in the tradition of great Oregon defensive backs like Walter Thurmond III, TJ Ward, Jairus Byrd and Patrick Chung.
With free safety and all-around crazy man John Boyett backing them up, I think the Ducks have CB covered for the next two years, at least.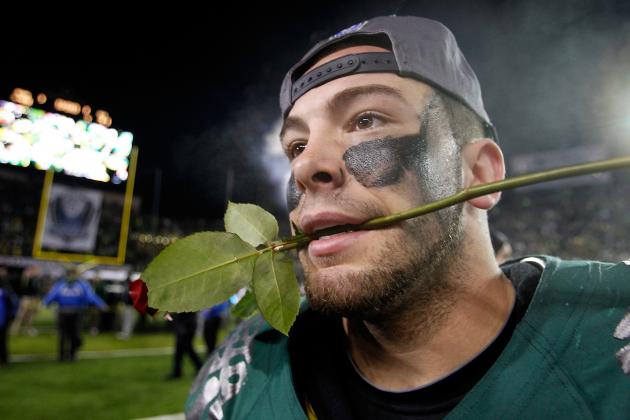 Jonathan Ferrey/Getty Images

I love this guy. I wish he could stay a Duck forever because he personifies what it means to play free safety at the University of Oregon.
When I'm 70, I wouldn't be surprised to read that Boyett tackled his great aunt over a game of Texas hold 'em gone bad, but, for now, I love this kid's aggression on the field.
I'm not sure which of the DBs currently listed on the Ducks roster is Boyett's understudy, but I have to believe that we have guys learning from the master. I'm confident we can take a year off recruiting for free safety, and that 2012 is secure at this position.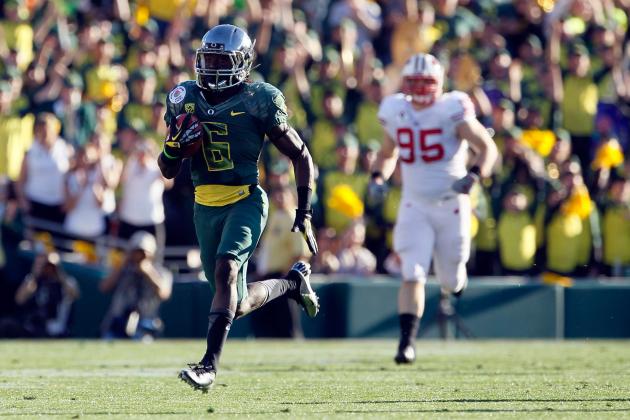 Jeff Gross/Getty Images

I'm not exactly sure what this position does. But I am quite sure that it currently belongs to De'Anthony Thomas.
DAT means we don't need anyone else in this category. This year or next year.
We're set.
Truly.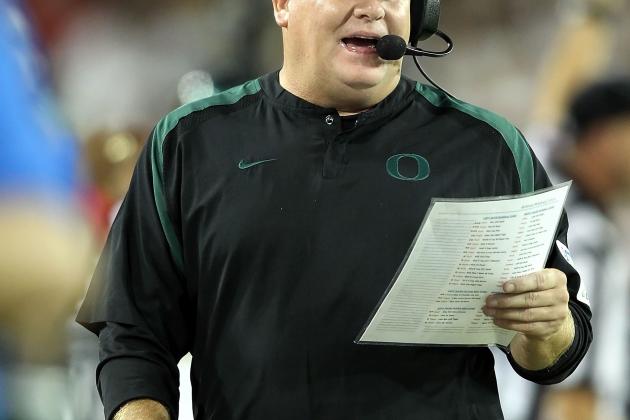 Christian Petersen/Getty Images

Every thinking Ducks fan knows that our beloved Chip will move on at some point.
But, thankfully, as I write this (major caveat, because the way this story is changing, it could change again after my bathroom break), Chip will be at the helm in 2012. It looks like we won't have to recruit a new head coach, at least in 2012.
We welcome you back with open arms, Chip. But like a wife who has been cheated on, we say to you please don't let it happen again.
If it does, and there is a position to fill, we want Jon Gruden for our next husband.