WWE: Why Meeting Mick Foley Has Made Me a Fan of the Hardcore Legend
January 21, 2012

Last month, I came across a report on an Internet dirt sheet announcing that Mick Foley was coming to my home state of Connecticut for an exclusive autograph session. Regardless of what I already had planned for that Friday night, I immediately told myself, "I'm going."
Of all the famous wrestlers that have come through Connecticut for various meet-and-greets over the years and who I've had the pleasure of meeting those such as the Million Dollar Man or current reigning World Heavyweight Champion Daniel Bryan, Mick Foley had to be the one that I was most looking forward to meeting.
I mean, come on! It's Mick Foley! The same invincible man who was thrown of a Hell in a Cell by the Undertaker over a decade ago! There was no way in hell I was missing this once-in-a-lifetime opportunity.
As many of you may know, I've only been a wrestling fan since April 2008, so I did not have the privilege of being able to watch the classic Attitude Era days where Mick Foley was at his prime. However, my wrestling knowledge expands far beyond the last few years, and I was very aware of what the innovator of hardcore wrestling had accomplished throughout his legendary career.
As the night of December 9th finally arrived, I prepared myself for the signing by wearing my Zack Ryder t-shirt, bringing my digital camera for a photo-op, my Rise and Fall of ECW novel and carrying along my vintage Jakks Pacific Hardcore Championship belt I found at the last minute before leaving.
On the rather long trip to Terryville, I was mentally preparing myself as to what I was going to say to Foley upon meeting him. "Welcome back to WWE!" "So glad you left TNA, Mick." "You make an excellent Santa Claus." Of all the possible things to say, I was left speechless.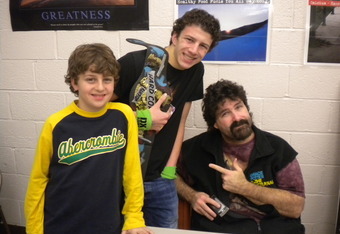 Upon my arrival at the Terryville Middle School, I was shocked to see that Mick Foley's autograph signing was not a lone appearance, as it was actually a part of one of the usual Northeast Wrestling shows I often attend. Also advertised on the brochure I was handed included Tommy Dreamer, Robbie E, Maria and Luke Robinson.
Prior to even claiming my seats for this impromptu show, I rushed to the back of a lengthy line to meet all the wrestlers who were present at the event. My Hardcore title belt was met with many stares from the people already standing in line, giving me somewhat of a feel that I was no ordinary fan.
After waiting in line for about 20 minutes or so, the time had finally arrived to meet Mick Foley himself. Although I chatted with Robinson and other local wrestlers before getting to Foley, all that was on my mind was showing him the belt he once created.
Honestly, I can't remember the exact words I said to Foley when I approached him, but it was something along the lines of that it was an extreme pleasure to meet him. Regardless, my little brother and I were able to get a quick picture with him as well as have him sign of Rise and Fall of ECW book for a very cheap price.
Mick Foley seemed legitimately happy to be meeting all of his fans, which is quite rare with some wrestlers today. Sure, he wasn't wearing his classic red flannel shirt, but he was graciously kind with everyone he spoke with. It was humorous that I had to wait to get my picture taken with him since he was sending rapid text messages like a teenager would.
The funniest part of the entire experience was what he said to me after the picture was taken, asking me to go over to Robbie E and ask him if he was Zack Ryder (since I was wearing his shirt), which the Television Championship he had with him, and what TNA was just to push his buttons.
Soon after, I made my way over to Tommy Dreamer's table to get a free autograph from him in my ECW book. Since I've met Dreamer a number of times before, I'm always able to chat with him for a while and I'm lucky enough he even remembers me after taking so many blows to the head during his matches!
While filming a quick clip for my WrestleRant YouTube show with Dreamer, I accidentally left my cherished ECW book on his autograph table, the same book with both Dreamer's and Foley's autographs inside it. Sadly, I didn't realize that I no longer had the book in my possession until a few minutes after, when all the autograph tables had already been put away.
Despite my numerous attempts to ask around to see if anyone had seen my book, there was no luck. I even tried to get Dreamer's attention in the ring during the intermission, but of course many other desperate fans had his attention to get his signature on their respective memorabilia.
Putting that aside, I was able to enjoy the rest of the show, ending with the sight of Mick Foley fist pumping with Robbie E and Northeast Wrestling Champion Brian Anthony in the middle of the squared circle. In the spur of the moment, I was able to capture a video of the hilarious segment, but it was of course removed from YouTube a few days later due to copyright.
Nonetheless, watching Foley come out to both his WWE and TNA entrance music as well as bringing back the patented Mr. Socko made me realize how awesome of a person he really is. His natural charisma, unique style and strong connection with the crowd slowly made him one of my favorite WWE alumni in history.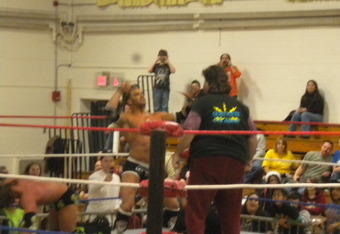 Following the show, I made one last attempt to find my book by waiting for Tommy Dreamer to leave so I could ask him if he ended up finding my book. In a shocking turn of events, I was fortunate enough to ask him and receive the following response:
"That was your book? Mick Foley's reading it in the back."
As soon Dreamer disappeared to the back to go retrieve it, I nearly exploded in excitement that Mick Foley was sitting in the locker room reading my Rise and Fall of ECW book that he himself was featured in. To say the least, it was a phenomenal moment that will forever live in my mind.
What brought me to compose this piece was Mick Foley's surprising appearance on Monday Night Raw this past week. From his cheap pop line at the start of the night to the mic bump he took at the end, Foley is finally being utilized correctly on WWE television.
One must wonder how much time remains until Foley inevitably takes his rightful place among the immortals in the WWE Hall of Fame, whether it be this year or some other time down the stretch. His illustrious accolades speak for themselves, proving as to why he deserves to wear that brass ring.
With a potential rivalry with Dolph Ziggler or John Laurinaitis in the works, who knows what the future holds for Foley on WWE television in coming weeks. For one thing, having the former WWE and TNA Champion compete in this year's Royal Rumble match could add a much-needed suspenseful factor to the bout, not to mention the already lacking star power.
Personally, I hope to see CM Punk team with lifelong idol Mick Foley against the devious duo of Ziggler and Laurinaitis come the Elimination Chamber pay-per-view. Given the bad blood between all four of the Superstars involved, that could prove to be one hell of a contest.
All in all, meeting Mick Foley was truly one of my most memorable moments since becoming a wrestling fan only a few years back. Hopefully you can pay him a visit the next time he rolls by in a town near you, as he is one of the few wrestlers in WWE history that has an inspirational story to his credit.
I'm not really known for writing many personal stories here on Bleacher Report, so I hope you enjoyed and can drop a comment with your overall thoughts on my piece in order to help me improve. As always, your criticism and feedback are greatly appreciated and welcomed.
GSM out.
Visit my website at Next Era Wrestling as well as my WrestleRant and Spoilers podcasts for more of my thoughts and writings, along with WWE/TNA news, rumors, reviews and more.
Listen to internet radio with Spoilerspodcast on Blog Talk Radio