Montreal Canadiens: Top 3 Reasons for Poor Performance in the 2011-12 NHL Season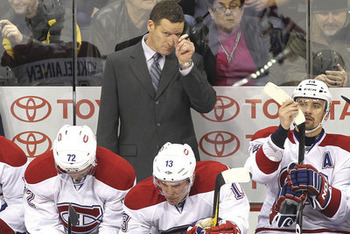 The Montreal Canadiens are 47 games into the 2011-12 NHL season and their record has suffered drastically. With a 17-21-9 record and currently sitting 12th in the Eastern Conference, one point ahead of the last place Carolina Hurricanes (17-24-8), the team is on pace for their worst season since the 2002-03 NHL season.
There are many reasons why the Montreal Canadiens are having such difficulty winning games this year. The problems are coming from just about all levels of the organization.
To find out the top three reasons for the terrible first half of the Montreal Canadiens' season, please continue onto the next slide of this article.
No. 3: Under-Achieving Forwards Gomez, Gionta and Kostitsyn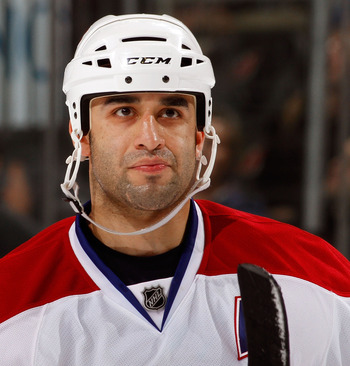 Paul Bereswill/Getty Images
The third top reason for the Montreal Canadiens' woes this season comes from the under-achieving forwards that would usually carry a team to success. These players include Scott Gomez, Brian Gionta and Andrei Kostitsyn.
These forwards have been in the NHL for multiple seasons and have had success in the past, but suddenly these forwards are not meeting up to expectations. Being plagued by injury does not help their situation either as each of these players has missed time this season due to injuries.
The 32-year-old Scott Gomez has only suited up for 17 games so far this season due to an upper injury suffered on October 22nd and also a groin injury suffered on November 25th. During these 17 games, the veteran forward has only recorded five assists along with a minus-five plus/minus rating.
Gomez is on pace to record 15 assists this season in 52 games if he does not miss any more time. The Canadiens need much more from him as he is being paid on an average of $7.357 million per season. Gomez has not only under-achieved this season but also during his full venture with the Canadiens, posting just seven goals in his past 97 games.
The 33-year-old captain Brian Gionta is currently out due to an injured bicep. He has also missed time (11 games) earlier in the season due to a lower-body injury.
The Canadiens' captain has suited up for 31 games so far this season to only record eight goals and seven assists for a total of 15 points, along with a minus-seven plus/minus rating. This puts Gionta on pace for a total of 31 points in 66 games this season—his lowest career total since the 2006-07 NHL season. When Gionta comes back from injury, hopefully he will be healthy and re-energized to help win games for his team.
Lastly, 26-year-old Andrei Kostitsyn has dressed for 37 games this season despite missing 10 games due to a lower-body injury suffered on November 8th. In 37 games this season the winger has recorded 11 goals and nine assists for a total of 20 points along with a minus-seven plus/minus rating.
The 10th overall pick in the 2003 NHL entry draft has not met up to expectations, as he is on pace for 38 points in 72 games this season. Kostitsyn's best season came in his first full season with the Canadiens, finishing with 53 points in 78 games in the 2007-08 season. Since then, the winger has averaged approximately 35-45 points per season.
No. 2: P.K. Subban's Style of Play and Attitude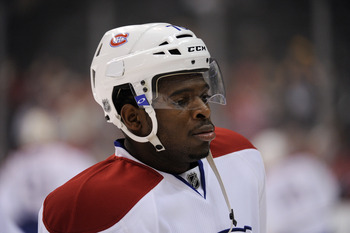 Harry How/Getty Images
P.K. Subban, a young emerging defenseman in the NHL at age 22, still has a lot of learning to do.
His over-aggressive play on the offensive blue line leads to many turnovers, which lead to odd-man rushes and gift goals for his opponents. Subban also gives up the puck way too much on the breakout and also from rushing the puck end to end—a common play for Subban during his days in Junior Hockey.
As these mistakes have decreased throughout his career so far, they are still happening too often. What Subban needs to learn is that the NHL is not like Junior Hockey. High-risk plays that worked in Junior will rarely work in the NHL due to the experienced and skilled players in the NHL. These mistakes will decrease drastically over time, but right now the Montreal Canadiens have had to rush back too many times from a P.K. turnover.
Subban's attitude and maturity have also lead to unrest in the Montreal Canadiens dressing room at times. Recently during a Canadiens practice, forward Tomas Plekanec and P.K. Subban ensued in a scrum. However, both reported to the media that there were no hard feelings and explained that things just got heated up.
Despite no hard feelings, the fight at practice caused media to start drama over the issue. Some reports starting rumors of trading the defenseman. These reports were also denied by the Canadiens.
But this was not the only time that Subban had been involved with teammates. The Toronto Sun reported last season that Subban was leaving his equipment around the dressing room, giving the impression to veteran defenseman Hal Gill that P.K. was treating the equipment staff as his "servants". The Toronto Sun also stated that "Gill picked up Subban's jersey and handed it back to him saying, 'You're an a**hole, P.K.'"
Subban has come a long way, but he is still learning as the season progresses and he is realizing his bright future in the NHL. For now, Subban's main goal should be to help out his team in the pursuit of winning hockey games.
No. 1: Signings, Trades, Hirings and Firings Made by GM Pierre Gauthier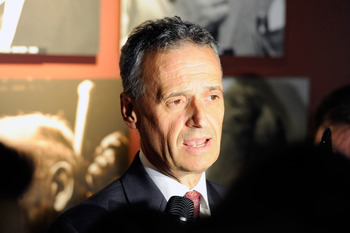 Richard Wolowicz/Getty Images
Hired on February 8th, 2010, Canadiens General Manager and Vice President Pierre Gauthier has made a few key mistakes that has lead Montreal to a season of disappointment.
Many fans believe that Gauthier should be fired as soon as possible, which would be the organization's best option due to being the No. 1 reason for their woes this season.
All-Star Russian defenseman Andrei Markov only played seven games last season due to a knee injury suffered on November 13th, 2010. Markov missed the remainder of the season and was expected to be healthy for the start of the 2011-12 NHL season.
On June 23rd, 2011, Gauthier signed the injury-plagued defenseman to a three-year deal worth $17.25 million with an annual cap hit of an average of $5.75 per season. Expecting that Markov would be ready for the season, the defenseman has remained out of the line-up due to his injury, not playing one game yet this season.
Due to a slumping start to the season, Pierre Gauthier decided to relieve head coach Jacques Martin of his duties on December 17th, 2011. The team's record at this point was 13-12-7. Martin's replacement on an interim basis would be English speaking assistant coach Randy Cunneyworth.
This move did not go well with the French media and Habs fans as they felt it was important to have a French-speaking coach in the organization.
Since Cunneyworth has taken over the reins of head coach, the Montreal Canadiens have posted a record of 4-9-2—not exactly what General Manager Pierre Gauthier was looking for.
"We prepare for our games like losers. We play like losers. So it's no wonder why we lose." This quote was stated by ex-hab Mike Cammalleri on January 12th, 2011, and it is one that is well known in the Habs' dressing room as of late.
Cammalleri was only stating the truth in his interview with NHL.com and La Presse, but his words caused a massive stir in the media and also within the Canadiens' organization.
Pierre Gauthier was clearly distressed by the remarks, trading Cammalleri mid-game to the Calgary Flames. The trade would involved the Flames acquiring Cammalleri, the rights to goaltender Karri Ramo and a 2012 fifth round pick for gritty forward Rene Bourque, prospect Patrick Holland and a 2013 second round pick.
Since trading Cammalleri, he has put up a goal in three games with the Flames.
What Should the Montreal Canadiens Do Now?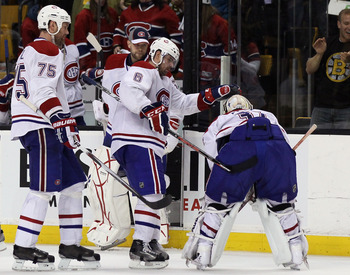 Elsa/Getty Images
There is no doubt in anyone's mind that General Manager Pierre Gauthier is the main reason for Montreal's woes this season. Gauthier has made others within the organization his scapegoats for his failures. It's safe to say that the Canadiens' chances of making the playoffs are slim to none, but if they want to win anymore games this season than expected, changes need to be made by the Molson family ownership.
Pierre Gauthier needs to be replaced.
Montreal fans are crying for a General Manager replacement. A French-speaking coach needs to be brought in so their fans can clearly know what is going on within the team's organization, dressing room and also on the ice. Once those moves are made, the General Manager can decide the direction the team is going to take, whether it is starting fresh with a rebuild or making a few key trades or signings to shake up the team's overall look.
If nothing is done, the Montreal Canadiens' fans can only expect a long, torturous NHL season and the embarrassment of finishing behind the Toronto Maple Leafs in the 2011-12 season standings.
Keep Reading

Montreal Canadiens: Like this team?