Manhattan Jaspers Put 4-Game Winning Streak on the Line Against Niagara
January 22, 2012

The Manhattan Jaspers (13-7, 6-2 MAAC) have been one of the hotter mid-majors in college basketball over the last month and a half. Since losing to Penn, 75-72, in the final days of November, Manhattan has won 10 of its last 13.
The Jaspers opened up January with a pair of losses to Rider and Loyola (MD), but now they have won four in a row, including wins over the preseason favorites in the MAAC, Iona and Fairfield.
Today, Manhattan hosts Niagara (9-11, 4-4), another hot team in the MAAC. After starting 1-4 in conference play, the Purple Eagles have reeled off three-consecutive wins over the bottom three teams in the MAAC. However, the poor competition should not take anything away from Niagara—the average margin of victory during that stretch was 16.7 points.
Niagara is led by rookie studs Juan'ya Green, who is No. 2 among the nation's freshman in scoring with 18 ppg. He is backed by a pair of guards—redshirt freshman Antoine Mason (14.9 ppg) and sophomore Marvin Jordan (11.5 ppg).
Manhattan has a few dynamic guards of its own to go up against the Purple Eagles' backcourt.
Junior George Beamon is No. 4 in the MAAC with 16.8 ppg. The Jaspers also have a standout freshman of their own, Emmy Andujar (8.9 ppg, 5.3 rpg). Andujar sat out against Marist with an injury and his status for today's game is uncertain.
Manhattan also has sophomore Michael Alvarado, who has emerged as one of the better point guards in the MAAC.
Here are a few things each team will have to do in order to be successful this afternoon.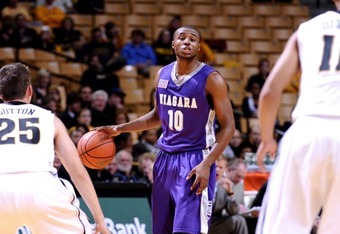 Keys for Niagara
Take away the three-point shot
Manhattan is No. 3 in the MAAC, converting 35.7 percent of its three-pointers. Also, the Jaspers have a variety of shooters.
In the conference, Beamon is No. 3 at 43 percent, and Kidani Brutus (38.5 percent) and Liam McCabe-Moran (37.9) both stand in the top 10. However, McCabe-Moran has been in the middle of a cold streak, shooting just 2-of-17 during January.
Despite being streaky, freshmen Donovan Kates and Ryan McCoy are also potentially dangerous shooters.
Niagara has been strictly mediocre defending beyond the arc—opponents are shooting 36.1 percent from long range. But if the Purple Eagles can defend the perimeter well, Manhattan will struggle to find an offensive flow.
Make it a guard's game
Niagara has a slew of terrific guards. Green, Mason and Jordan lead the Purple Eagles in scoring, and Malcolm Lemmons (9.1 ppg) and Ameen Tanksley (8.3 ppg) are right behind and can go off on any given night.
Niagara is clearly outmatched in the frontcourt, so it will need contributions from all five of its main backcourt players.
Keys for Manhattan
No foul trouble for the bigs
Rhamel Brown and Roberto Colonette have the potential to dominate against Niagara, thanks to the Purple Eagles lacking a good big man—no one taller than 6'6" plays 20+ minutes per game.
6'8" Scooter Gillette will likely see some more playing time today, but Brown should be able to handle him despite a small height disadvantage.
The biggest weakness of Manhattan's frontcourt this year has surprisingly not been size or talent, but rather foul trouble. Brown and Colonette have each had at least four fouls in six games this year.
If they have to spend extra time on the bench, it will be easier for Niagara's backcourt to take control.
Torgrim Sommerfeldt
Sommerfeldt saw his first action as a Jasper with two minutes of playing time on Friday night. The Norwegian had been battling knee injuries for the last year and a half, but a strong comeback would be extremely valuable for Manhattan, especially if Andujar will have to miss a number of games with his injury.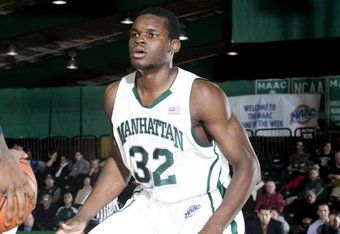 Sommerfeldt was reputed as a deadly shooter, and at 6'6" he would give Manhattan some more size in the backcourt.  
Limit turnovers
Manhattan continues to struggle with turnovers, currently the worst in the MAAC with 16.8 per game. Meanwhile, Niagara is No. 4 in the MAAC with 7.9 steals per game.
Takeaways are a big enough problem to deal with, but the Jaspers can absolutely not afford unforced turnovers against the Purple Eagles. 
Stats to know
Manhattan leads the all-time series with Niagara, 43-28, but Niagara has won nine of the last ten meetings. The last time they played was in Niagara, where the Purple Eagles defeated the Jaspers, 66-59.
Brown continues to climb on Manhattan's all-time blocks list. With four blocks against Marist, he now has 120 for his career, just nine behind No. 3 Jamal Marshall ('95).
Niagara head coach, Joe Mihalich, has 241 career wins after beating Canisius on Thursday.
Green passed Tyrone Lewis ('10) for the No. 2 spot on Niagara's freshman all-time scoring list. He currently sits 109 points behind No. 1 Gary Jordan ('81).
My pick: Manhattan 73, Niagara 64