NFL Playoffs: Vernon Davis and the Rise of the Tight End
January 21, 2012

Thearon W. Henderson/Getty Images
Tight end Vernon Davis of the San Francisco 49ers turned in a pretty good day's work last Saturday against the New Orleans Saints: two touchdowns, 180 yards and seven catches, including two spectacular gains of over 40 yards.
Not that he won the game by himself. But without him, and especially his goal-line grab with nine seconds left, the 49ers would be taking in the NFC Championship Game at C&J's Sports Bar in Santa Clara.
Much has been written in the last few days about how Davis has turned his game around, how he has scuffed off the snakeskin of selfishness and how he has become a team leader.
All accurate, in my view.
But beyond that, Davis is part of a new trend in the NFL.
Tight ends are suddenly hip. Not only are they big, strong blockers; they're also fast and have great hands. (For Davis, let's be honest; most days he has great hands. But after he held on Saturday following the desperate, savage hit by Saints safety Roman Harper, we should be generous.)
Of the top 10 receivers in the NFL during the regular season, three were tight ends—Jimmy Graham of the Saints, Rob Gronkowski of the New England Patriots and Brandon Pettigrew of the Detroit Lions.
Graham finished third in the league with 99 catches, behind wide receivers Wes Welker of the Patriots and Roddy White of the Atlanta Falcons, respectively. Gronkowski was fifth with 90 receptions and Pettigrew eighth with 83.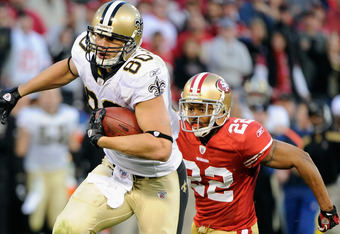 Thearon W. Henderson/Getty Images
In the playoffs, Davis ranks third in receptions among tight ends and first in yardage. His 67 catches during the regular season placed him eighth among all tight ends and 31st when compared with all receivers. (For perspective, star Green Bay Packers wideout Jordy Nelson was tied for 29th with 68 receptions.)
What's going on?
Mainly this: Tight ends are still big, strong blockers, but they're no longer slow. According to the website 40-yard-dash-times.com, Davis' time in the 40 is 4.38 seconds. Not bad for a guy who stands 6'3" and weighs 250 pounds. Not far behind Davis, Graham runs a 4.53 (according to NFLdraftscout.com) and Gronkowski a 4.68.
Compare those times with Harper's 4.5 seconds and fellow Saints safety Malcolm Jenkins' 4.51.
What they mean is this: Today's tight ends are fast enough to challenge defensive backs and big enough to run over them when they get the ball.
With that in mind, it's hardly surprising that the league's top five tight ends (including Tony Gonzalez of the Atlanta Falcons and Aaron Hernandez of the Patriots) were all on playoff teams.
The tight end is becoming a regular go-to—and nowhere more than in New England, where Gronkowski and Hernandez combined for 169 catches, 24 touchdowns and more than 2,200 yards. For his part, Gronkowski led all receivers in scores, with 17 TDs.
This weekend in the playoffs, three of the top 10—Gronkowski, Hernandez and Davis—will still be displaying their talents. Don't be surprised if one or both games hinges on their performance. Not only are they big and fast; as Davis showed last Saturday, they're now the kings of the big play, as well.