2012 NFL Free Agents: New Orleans Saints Must Keep Drew Brees and Core
January 20, 2012

Jed Jacobsohn/Getty Images
The New Orleans Saints are going to get a deal done with star quarterback Drew Brees.
They just simply can't afford to let him go to a different team when he means so much to New Orleans.
In fact, Brees has told NBC Sports he would be stunned if he didn't re-sign with the Saints.
So, it seems to be a foregone conclusion that Brees will be back in black and gold in 2012.
The problem is that the Saints might not have enough money to bring back all their other key offensive free agents.
Left tackle Carl Nicks and wide receivers Marques Colston and Robert Meachem are all free agents as well.
Colston will require a lot of money to stay and Meachem is also due for a pay raise. Both are integral parts of the Saints offense, so it'll be interesting to see if New Orleans can afford to pay them both.
Most likely, Meachem would be the one to leave. He's a complementary receiver on the Saints, but he has enough talent to be the No. 1 guy on several teams.
If he decides he likes playing with Brees and doesn't want to leave, he's the most likely of the free agents to accept a pay cut to stay in New Orleans.
Colston has already made it clear he won't take a cut to stay with the Saints, according to NBC Sports.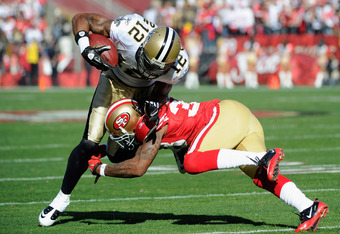 Thearon W. Henderson/Getty Images
Nicks is another interesting case. He's going to be an unrestricted free agent and would like to test the market.
He's one of the top guards in the NFL, so he should command a lot of money in free agency. The Saints pass and run blocking will be worse without him, but it doesn't look like they'll be able to afford to keep him.
Right now, Brees has complete mastery over the Saints offense. But, taking out even one of these three guys would throw off everything.
Suddenly Brees would have a lesser guard blocking for him and would have an unfamiliar receiver that he'd have to work into the mix.
That would cause him to throw more interceptions than he normally does, which would spell disaster for New Orleans.
In a division with the Atlanta Falcons being consistently competitive and the Carolina Panthers quickly on the rise, the Saints can't afford to take even a minor step back.
Unfortunately, that's what will probably happen this offseason, as there is very little chance that the team will be able to keep Nicks, Colston and Meachem.
The NFC South will probably become a much tighter race in 2012 and beyond.