Sarah Burke: Tragic Death Brings Sorrow to Upcoming X-Games
January 20, 2012

Doug Pensinger/Getty Images
The Winter X Games are set to begin next week and the usual excitement and anticipation is gone. The usual brash exuberance that joins the start of the X-Games will be far more sorrowful this year as the champions of Winter remember Sarah Burke. 
Nine days ago, an awful accident took place on the halfpipe at Park City Mountain resort when Sarah Burke took what seemed to be a benign spill. She would later succumb to head trauma that would be described as, "irreversible damage to her brain due to lack of oxygen and blood after cardiac arrest." Via ESPN. 
A myriad of emotions will be felt shortly as the X Games start at Aspen, Colorado. It is impossible to quantify how much Burke meant to her sport and to the Winter games in general. 
She has four gold medals from the X Games in freestyle Superpipe. Never settling for anything, Burke championed that her sport be included in the Olympic games. Her wish was finally granted and will see their day at the 2014 Olympics in Sochi, Russia. 
ESPN has a report with words from those that knew her well. An X Games champion himself, Simon Dumont had this to say about his fallen comrade, "She's probably one of the nicest people I've known in my life and that's about the only thing I have to say about it." 
Dave Mirota, the Canadian team's director, stated, "She was a great, positive person for the whole team, the whole sport. She enlightens the room and she's great."
There is no word on what officials will do to honor Sarah Burke, but there is no doubt that nearly every athlete will have her memory on their minds. 
The X Games is a special place where injury and death is never considered by the athletes whose mottoes are forever; faster and higher.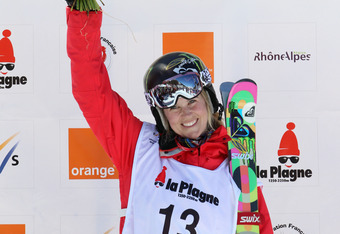 Christophe Pallot/Agence Zoom/Getty Images
This is as good a time as any to pause and reflect on the dangers of the sports we love. NY Times' Lynn Zinger asks that exact question after the tragic passing of Burke.  
While it is always good to reflect, it's important that we never dwell to long on things that can't be answered. Soon, the athletes and winter heroes we love will be pushing the boundaries of human limits like Burke once did and that is the only way to remember her justly. 
Burke did what she did because she loved it. Soaring through the air was something that gave her immense joy and continuing to further her sport and making Winter games far more accessible is the only way to do her justice.
The Winter X Games is right around the corner, and that doesn't have to be a bad thing. It is the perfect opportunity to remember and honor a well-respected and beloved Sarah Burke.