Would Matt Garza Give Detroit Tigers the Best Starting Rotation in the AL?
January 20, 2012

Denis Poroy/Getty Images
The Detroit Tigers are prognosticator's poison this upcoming MLB season.
In 2011 they were a 95-win team with the Pythagorean profile of an 89-win team. Add the recent loss of star DH Victor Martinez to a season-ending ACL tear, and the Tigers look like regression candidates.
But it isn't all darkness and woe. Detroit did win the AL Central by 15 games last year.
Entering 2012 their division remains the weakest in the American League: the Indians improved a tad, the White Sox took a step back and neither the Royals nor Twins made substantial improvements.
Hardly reason for panic.
If any team could slip a bit and catch themselves before total fallout, it would be these Tigers.
Enter rumors that Detroit could land Cubs ace Matt Garza via trade, and the reason for optimism grows.
Imagine a rotation with Justin Verlander and Matt Garza at the top, both pitchers just 28 years old and on the front end of their tantalizing primes. Imagine a playoff series with those two setting the table. Imagine the potential for portmanteau (Garlander? Verlanza?).
The thought alone won't re-animate Victor Martinez's knee, but it's the closest thing to a miracle cure for this ailing Tigers team.
How close? Well that depends on how much you think of Matt Garza.
Does he make up for the loss of Victor Martinez? Does he give Detroit the best pitching rotation in the American League?
Yes to the first question and maybe to the second.
Explanations are forthcoming, but let's start with a smaller question.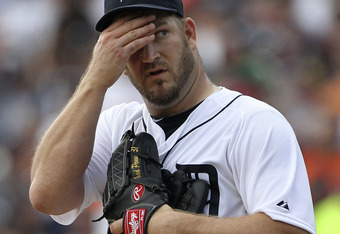 Leon Halip/Getty Images
How good is Matt Garza?
Last year, very. He struck out a batter an inning, posted a 3.13 SO:BB ratio, had a 3.32 ERA and registered an even better 2.95 FIP.
All those were career bests. But even if we account for a bit of regression from that stellar season, Garza is among the top quartile of major league starters.
Garza's value to the Detroit Tigers climbs another rung when you consider that he's effectively replacing Brad Penny in the starting rotation. Penny bombed last year, even when compared to other fifth starters. He had the worst SO:BB ratio (1.19) among starters in baseball last year and the second worst FIP.
According to rWAR Garza was 3.3 wins better than Penny last year. If you prefer fWAR, Garza was a full 4.2 wins better than the Tigers starter.
On the flip side we have Martinez, he of the identical 2.9 fWAR and rWAR. If the Tigers can manage replacement-level production at the DH position, they stand to gain from the Garza-Martinez trade off.
It's a crude analysis of the situation, I admit, but it highlights how much better Garza makes the Tigers in the context of their weaknesses last year.
Now onto the bigger question, the one pitting Detroit's rotation against those of their AL foes.
With a full season of Garza and deadline pickup Doug Fister, a healthy 2012 Tigers rotation looks something like this:
1. Justin Verlander
2. Matt Garza
3. Doug Fister
4. Max Scherzer
5. Rick Porcello
That's a nice looking group, stellar at the top and solid through the fourth spot. Porcello's a bit worrisome with his pitch-to-contact tendencies, but as fifth starters go he's decen. The potential for growth at 23 years old moves him above average in my book.
Now the eye test, stacking that fictional Tigers rotation against the rest of the AL's best.
New York Yankees (C.C. Sabathia, Hiroki Kuroda, Ivan Nova, Michael Pineda, Freddy Garcia)
Tampa Bay Rays (David Price, James Shields, Matt Moore, Jeremy Hellickson, Jeff Niemann/Wade Davis)
Boston Red Sox (Jon Lester, Josh Beckett, Clay Bucholz, Daniel Bard?, Vicente Padilla?, Aaron Cook?, Alfredo Aceves?)
Cleveland Indians (Ubaldo Jimenez, Justin Masterson, Derek Lowe, Fausto Carmona, Josh Tomlin)
Texas Rangers (Colby Lewis, Neftali Feliz, Yu Darvish, Derek Holland, Matt Harrison)
Los Angeles Angels (Jered Weaver, Dan Haren, C.J. Wilson, Ervin Santana, Jerome Williams)
From that view it's a close call. The Tigers can go toe-to-toe with anybody at the ace and co-ace positions. They're arguably weaker at three and four than the Yankees, Rays, Angels and Rangers. At five they're better off than the Red Sox and Angels perhaps, but that's it.
The eye test doesn't tell us enough. It's sufficient to discount the Indians and Red Sox from contention, the first based on lack of starpower and the second because of massive uncertainty, but still leaves us with five teams in striking distance of the top spot.
So we turn to the numbers, and draw up five-man averages for each of the proposed rotations based on their performances last year. Understand, these aren't composites. They weigh everyone's contributions equally. That's unfair to the guys who are likely to throw more innings, but a composite has equal flaws.
(Why should Jerome Williams' performance carry such little weight just because he pitched so little last year? Someone is going to eat those innings in 2012 and it might as well be him. The other option I can think of is to extrapolate Williams' number over 165 innings and imagine that's how much he'll pitch in 2012. Too much guesswork there. Flawed averages it is.)
So we'll stick with averages and imagine a scenario where all pitchers throw the exact same number of innings.
The yield:
Yankees - 3.43 ERA, 3.64 FIP, 2.85 SO:BB, 
Rays - 3.33 ERA, 3.83 FIP, 2.85 SO: BB (Plus Matt Moore)
Rangers - INCOMPLETE
Angels - 3.12 ERA, 3.61 FIP, 3.30 SO:BB
Tigers - 3.55 ERA, 3.43 FIP, 3.37 SO:BB
In the end I couldn't run the Rangers through the ringer without any major league data on Yu Darvish and Neftali Feliz as starters. Until we know more on those two, I think we have to disqualify the Rangers from this conversation.
The Yankees aren't quite up to snuff. After Sabathia the drop is steep. Pineda might be their second best pitcher based on performance last year and Kuroda is a solid contributor, but Nova and Garcia hurt their peripherals.
The Rays are the team with the most room to improve and the one least flattered by this particular comparison. Based on the glimpses we got last year, Matt Moore could be their second best pitcher and he gets frozen out of this comparison altogether.
Add Moore into the mix and I think the Rays see substantial improvement. If he posts a 3.5 SO:BB next year (he twirled a 4.5 in AAA last year), Tampa's overall SO:BB spikes to 2.98. That's good, but not enough muscle to push them past our final two survivors.
Then there's the Angels, with the best ERA and the second best marks in FIP and SO:BB. They take a hit with inclusion of Jerome Williams as a fifth starter, but it seems it should be that way. Williams' averages over six starts last year are about in line with his career totals.
The Tigers round out the group with what looks like the strongest resume. Bolstered by career years from Verlander, Garza and Fister, Detroit's fictional staff performed as well as any last year.
And although this is some of the most crude statistical analysis available, it drives home a crucial point: Matt Garza makes a bigger impact on the Tigers than he would on almost any other team.
Because he would replace Brady Penny, one of the three worst starters in baseball, Garza can take the Tigers rotation from above average to elite.
It's true that the Tigers would likely have a better fifth starter than Brad Penny in 2012 no matter who it was. But the alternatives to Garza—Jacob Turner or whomever—figure to fall a win or two short of the Cub righthander's projected production.
That's the reason to trade for Garza if you're the Detroit Tigers, even if it means mortgaging the future.
Another starter of Garza's caliber gives them an opportunity to recoup their losses, get back to the playoffs and see where the road winds from there.