National Signing Day 2012: Top 25 Questions Heading into Feb. 1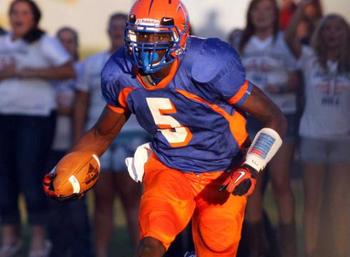 No sport on the planet has a more exciting offseason than college football. In sports leagues like the NFL, NBA and MLB, very few players change teams during the free-agency period. However, in college football major roster moves are made each season.
None as important and visible as on national signing day, where high school recruits become official representatives of the schools they have pledged their loyalty to.
Signing day has more drama than any daytime soap opera. Many work locations become idle as workers only focus on who their favorite teams have signed.
This article lists 25 stories you should pay attention to as February 1st approaches.
How Strong Will the USC Trojans' First Reduced Recruiting Class Be?
Stephen Dunn/Getty Images
As I stated in a previous article, the NCAA took its best shot at USC, and the Trojans will be unfazed. One of the reasons is that despite losing 10 scholarships each of the next three recruiting classes, the players the Trojans bring in will be superior to almost any other school in the nation.
The Trojans only have 12 players currently committed. However, they lead the Rivals rankings in star-per-player average at 3.92.
USC had four players enroll early, which will allow it to sign approximately 18 people to this recruiting class. With only 12 on board, it could be an interesting sprint to signing day for the Trojans.
Can the Georgia Bulldogs Finish the Recruiting Season with Another Flurry?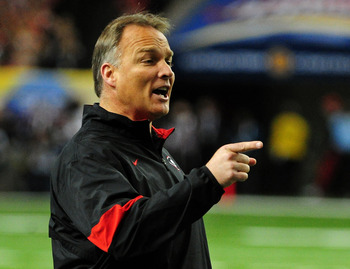 Scott Cunningham/Getty Images
Last season much of Bulldog nation was frantic because of the lack of verbal commitments from big-name recruits. However, Georgia closed with a flurry, nabbing Malcolm Mitchell, Isaiah Crowell, Ray Drew, Jay Rome and John Jenkins.
Fast-forward one calendar year and the Bulldogs find themselves in a similar situation. This month the Bulldogs took large strides by locking up stud 4-star recruits Todd Gurley and Jordan Jenkins. However, more big fish are on the way.
Georgia is speculated to be leading for the service of 5-star recruits Josh Harvey Clemons. Several 4-star recruits are as well, and Cordarrelle Patterson has UGA as one of his finalists.
Don't be surprised if the Bulldogs finish with a recruiting class that tops last season's.
Who Will Win the Dorial Green-Beckham Sweepstakes?
There is no doubting that Dorial Green-Beckham is the nation's top recruit left on the board. In fact, he might be the top overall prospect in the 2012 class, period. There is a lot of chatter and rumors on where Beckham will land, but at this point nothing is certain.
Depending on which fanbase you speak with, Texas, Arkansas, Missouri and Oklahoma all seem to be front runners.
Beckham has all the tools to be an All-American early in his career. He is far from a complete wide receiver at this juncture in his career. However, his ceiling resembles that of Calvin Johnson and A.J. Green coming out of high school.
How Will the Auburn Coaching Changes Affect Recruiting?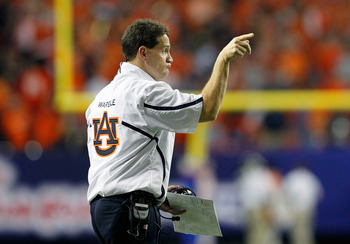 Kevin C. Cox/Getty Images
It was not that long ago that it appeared the Auburn Tigers were headed for a top-five recruiting class. However, their coaching staff had a major overhaul over the past few weeks, and recruits could be the next to be headed out of the Plains.
They have already suffered major damage with the departure of T.J. Yeldon. However, the question is whether the hire of Brian VanGorder will stop the bleeding. While that is unclear at this moment, a new offensive coordinator might.
Don't count out head coach Gene Chizik out just yet. He is a master recruiter and could still pull some surprises.
Will Jameis Winston Stay Committed to Florida State?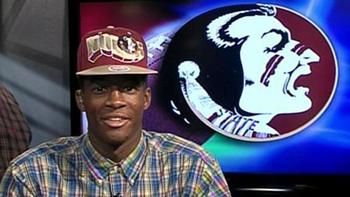 Jameis Winston is one of the top quarterback prospects in the nation and a great all-around athlete. He has been committed to Florida State for over five months but has reopened his recruiting even though he says he is still committed to the Seminoles.
At this juncture there is only one team that could lure him away, and that is the University of Alabama. Since his commitment, several of his good friends have signed with the Tide, and they are trying to persuade him to flip schools.
The Tide seem to have had one player after another swap choices at the last moment over the past two seasons. The question is will they be able to flip one more?
Who Will Strike It Rich with Eddie Goldman?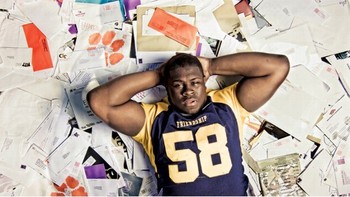 Over the past two seasons the Florida State Seminoles have turned the heated rivalry between Alabama and Auburn into a three-team fight on the recruiting trail. Not only has Florida State gone inside the Alabama state line and taken some of the top recruits, but it is battling them in other states as well.
One of the current three-way battles is for 6'4", 310-pound Eddie Goldman, who is ranked as the No.1 defensive tackle recruit in the nation.
What was once considered a two-way battle between FSU and Alabama has now taken a dramatic shift. Miami is listed in Goldman's final four, but it is down to these three.
Who Will Land No. 1 JUCO Player Cordarrelle Patterson?
Each season there are several high school recruits that have the potential to become very good wide receivers. However, there is only a handful of recruits with the potential to be great.
Patterson is so talented that he might be one of the rare one-and-done players in college football. The 6'3", 205-pound wide receiver from Hutchinson Community College (KS) has the potential to be a first-round pick in the 2013 NFL draft.
According to Shea Dixon's interview with Patterson, three teams are in the race, and they won't be announced until the weekend. Whichever team Patterson chooses will have a new starter at wide receiver in 2012.
How Many Players Will the University of Alabama Sign?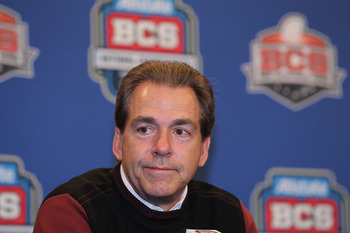 Andy Lyons/Getty Images
The University of Alabama has the No. 1 recruiting class in the nation according to most scouting websites. However, this past week they made news for all the wrong reasons.
News broke that Nick Saban had asked longtime commit Justin Taylor to sit out one season before joining the Tide. According to Taylor, Saban told him they were only going to take 25 players.
Taylor stated, "Coach Saban just said I'm the 26th commitment. I would be the 26th signee. I guess he went and picked up somebody else. He said I make 26 and they only get 25."
It is likely that Alabama will take 28. However, they currently have 27 commitments listed. With Taylor likely coming off that list and Casey Gladney being a potential grade casualty, that will free up some space. However, Alabama is still in the hunt for several recruits, something will have to give if any of those recruits swing the Tide's way.
Will the California Golden Bears' Recruiting Class Sink or Swim?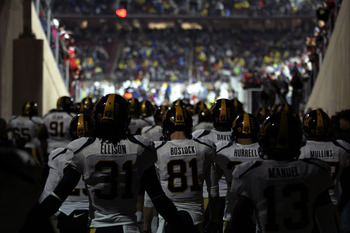 Ezra Shaw/Getty Images
If the California Golden Bears' recruiting class was a stock, it would be dropping faster than Enron. Just two weeks ago, California was one of the hottest recruiting teams in the nation. That, however, was before the departure of defensive line coach Tosh Lupoi for the Washington Huskies.
Now the Golden Bears are in a free fall. They had already lost one 5-star recruit (Ellis McCarthy), and another (Shaq Thompson) might be on the way—not to mention several solid 4-star players are rethinking their commitment.
Can the Golden Bears rebound? We will know on signing day.
Can Vanderbilt Finish with Its First-Ever Top 25 Recruiting Class?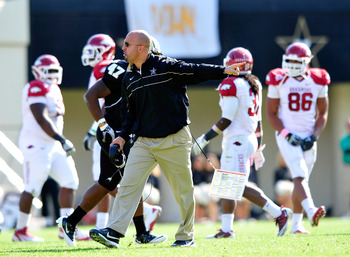 Grant Halverson/Getty Images
Since Rivals.com started compiling team recruiting rankings in 2002, the Vanderbilt Commodores have only signed three 4-star players. One of those, Rajaan Bennett, was tragically murdered before he ever reached campus.
As a result, Vanderbilt has never finished anywhere near the top 25 in recruiting. However, with four recruits rated as 4-star players, the Commodores currently sit at No. 23, ahead of such teams as Arkansas, Oklahoma State, Nebraska, Penn State and Wisconsin.
The Commodores are going to sign their top recruiting class ever. However, there are a few big fish that might be getting away. Most notable is defensive end Josh Dawson, who recently visited Georgia and says it's 50/50 between the two schools.
The Commodores were so close to winning several big games this season but fell just short. Will they do the same with this recruiting class?
Where Will Yuri Wright End Up After Twitter Debacle?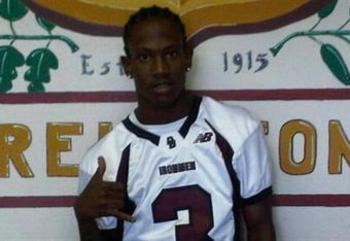 Coaches are constantly warning players of the potential pitfalls of social media. However, recruit Yuri Wright might become the poster boy for those life lessons.
Wright was expelled from his Ramsey, NJ high school Don Bosco Prep this past week because of the graphic tweets he had made over the past several weeks. These tweets can be found online and have caused many schools to back off despite Wright being one of the top players in the nation.
Somebody will take a shot with Wright, but who will it be?
Who Wins the Photo Finish for Josh Harvey-Clemons?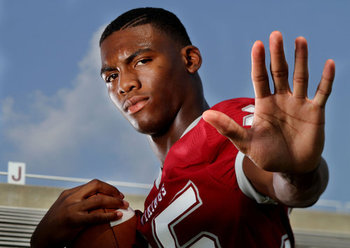 Josh Harvey-Clemons' grandfather recently stated that it would be a photo finish between Florida and Georgia for his grandson's commitment. Clemons is a 6'5", 210-pound recruit that could play linebacker, safety or wide receiver.
The 5-star athlete is likely to be a linebacker and has had an impressive high school career. Many recruiting services have him listed as the No. 1 player in the state of Georgia, but he is closer to the Florida schools than Athens.
Who will win the race at the line? I am of the persuasion that it is a fixed race and Mark Richt and company have already received a silent commitment.
Will Mike Davis Stay Committed This Time?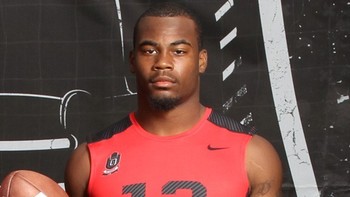 Mike Davis is one of the top 10 running backs in the 2012 class. He doesn't have blazing speed but does a phenomenal job of running behind his pads and in between the tackles.
The 5'9", 200-pound running back first committed to Florida. He would later retract his commitment and state that Georgia was his new leader. However, last week, when Georgia got a commitment from its second top-10 running back, Davis committed on the same day to South Carolina.
But is the commitment firm? Perhaps not. He had the Tennessee staff in-home three days ago. While he claims to still be committed to the Gamecocks a week later, signing day is when we will know the truth.
Will Notre Dame Land a Top-Five Recruiting Class?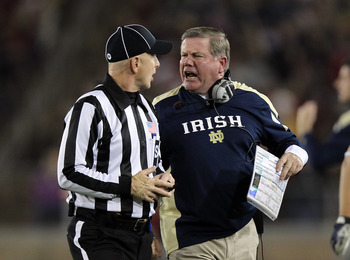 Ezra Shaw/Getty Images
Last week, No. 1 quarterback recruit Gunner Kiel was set to enroll at LSU and Notre Dame was losing traction. However, things changed quickly, as Kiel enrolled at Notre Dame and the momentum shifted back to the Fighting Irish once again.
The Irish have 17 commits at the current time but are finalists for several high-profile recruits. A strong finish on national signing day could propel the Irish to a top-five recruiting class, and coach Brian Kelly might have found the quarterback he has needed since he arrived at Notre Dame.
Will Landon Collins Be Persuaded by His Mother's Opinion?

I have been involved with recruiting for several years, and I have never seen a more awkward selection announcement than that of Landon Collins at the Under Armour All-America Game.
Collins chose to go to Alabama, where his girlfriend had already enrolled. Collins' mother, on the other hand, wanted him at LSU and let it be known. In this battle of females, Collins will have to chose between the will of his mother and the will of his girlfriend.
I have seen this battle before, and at 18 years old the boy rarely chooses his mother.
How Good Will Urban Meyer's First Recruiting Class at the Ohio State Be?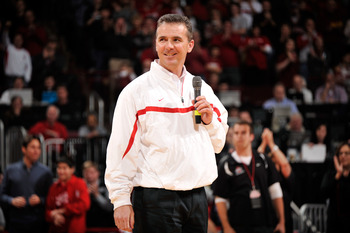 Jamie Sabau/Getty Images
Two things we knew about Urban Meyer before he became head coach of the Ohio State University—he wins football games, and he is a heck of a recruiter. Although Meyer has yet to coach his first football game for the Buckeyes, his imprint in recruiting is clear.
Despite all of the controversy that surrounded the university just prior to his arrival, the Buckeyes are putting together a top-five recruiting class, and they're not done yet. Don't be surprised if Meyer pulls a few unexpected recruits on signing day.
This recruiting class is not final, but it will serve as a solid foundation for the future success of the Buckeye program.
Who Will Stefon Diggs Finally Choose?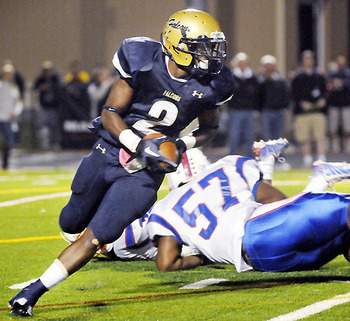 I have covered high school recruiting for the past six seasons. No recruit has puzzled me more than Stefon Diggs. Young recruits like to mislead the media to enhance the drama. However, at some point they tip their hand and you're able to make an educated guess on where they will attend.
This is not the case with Diggs. His recruiting has been more mysterious than the LSU play-calling in the BCS championship game.
He has not named a true leader and usually throws out five to 10 names when discussing schools. My blind guess would be Auburn, but I would put a one-percent certainty on it.
Will the 2012 Florida State Recruiting Be an Elite Class or an Epic Fail?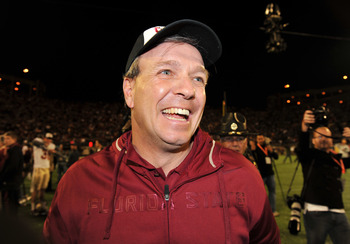 Al Messerschmidt/Getty Images
No program in college football has more to lose and gain than the Seminoles this signing day. Florida State currently has a top-10 recruiting class. However, several Seminoles-committed recruits are flirting with other schools.
At the same time, the Seminoles are in the running for several key players that have not yet announced where they will be signing. In other words, this class could be a top-five class or a complete disaster on signing day.
Jimbo Fisher and his staff did a tremendous job in early recruiting—now they must seal the deals.
Can Bill O'Brien Save the 2012 Nittany Lions' Recruiting Class?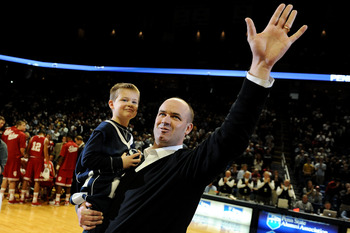 Patrick Smith/Getty Images
There will come a day that Penn State will just be looking to sign a normal recruiting class. Joe Paterno will not be the answer to every question, and football will once again be the main topic of the Penn State athletic department.
That, however, will not be this season. Regardless of your stance on the Penn State football program, you have to feel sympathetic for new Nittany Lions head coach Bill O'Brien.
O'Brien came into a situation no one would have imagined six months ago. However, here he is, and he needs to improve this recruiting class before signing day. The Penn State football program is in dire need of some positive momentum, and a strong finish to the recruiting season could be the answer.
Will Sal Sunseri Be Able to Work His Recruiting Magic in a Short Period of Time?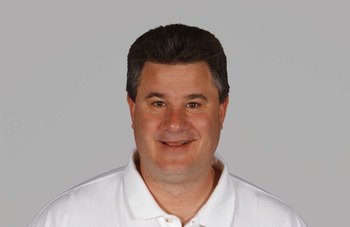 Getty Images/Getty Images
The Tennessee Volunteers decided to dip into the Alabama coaching staff and hire linebackers coach and assistant head coach Sal Sunseri as their new defensive coordinator.
Sunseri is known as not only a solid football coach but a fantastic recruiter as well. Tennessee is hopeful that he will be able to work his recruiting magic in a short period of time.
Not only will he try to bring in new recruits, but he needs to help keep several recruits who might be wary of all the recent changeover in the coaching staff. Having a charismatic coach like Derek Dooley and the 2011 247Sports recruiter of the year in Sunseri might be just what the doctor ordered.
Who Will Make the Jump on the Final Day?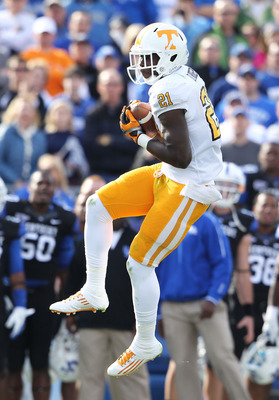 Andy Lyons/Getty Images
It happens every season and usually multiple times. In 2010 it was Da'Rick Rogers spurning a yearlong commitment to Georgia to join Derek Dooley at Tennessee.
Last season the most memorable drama came when the top-rated offensive lineman recruit in the nation, Cyrus Kouandjio, shocked everyone, including some family, by choosing Auburn. Hours later he would change his mind and hold off on signing his letter of intent. Three days later he would officially sign with Alabama.
Who will it be this season? No one knows. That is what makes it so dramatic. However, rest assure some one will do it.
This is the result of 18-year-old kids making life-altering decision with millions of people following their decision.
How Will the New SEC Signing Rules Change Signing Day?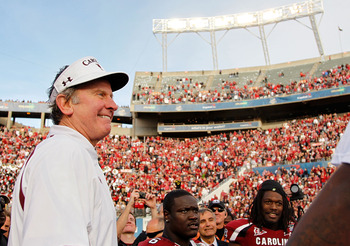 Mike Ehrmann/Getty Images
The SEC put into action a measure that it declared would stop over-signing in the SEC. The rule, however, is nothing short of laughable.
If you only have 17 scholarships open, 25 is still over-signing by eight scholarships—not to mention that teams can still back-count on prior seasons. As a result, several teams will have the option of signing 27 or more recruits.
Although the rule is largely ineffective, it does set up an interesting signing day. At the moment, Alabama and South Carolina appear to be the two teams who will have the riskiest signing day.
Who Will Win the National Recruiting Championship?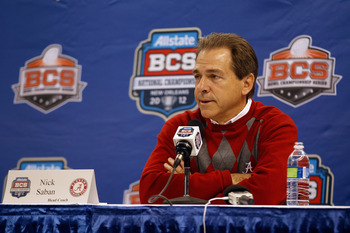 Chris Graythen/Getty Images
In the 2010 BCS National Championship Game, the Crimson Tide defeated the Texas Longhorns to win the 2009 national championship. Two calendar years later Alabama and Texas will face off again—this time for the No. 1 recruiting class.
Alabama is ranked No. 1 and Texas No. 2 by most scouting services. However, that does not mean that it is going to remain that way. This recruiting class is not over yet, and any surprise decommits or commitments could change these rankings on the final day.
Will Brady Hoke Lead Michigan to a Top-Five Recruiting Class?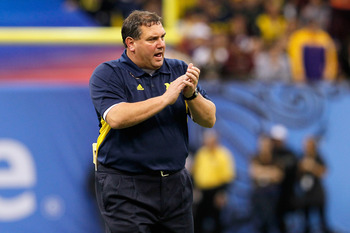 Kevin C. Cox/Getty Images
Brady Hoke was not a popular hire by many fans inside the blue and gold nation. He didn't come with the fanfare that former head coach Rich Rodriguez but has already accomplished more than him in his first season. Hoke led the Wolverines to a BCS bowl game win.
Moreover, in his first full recruiting class, Michigan could finish with a top-five recruiting class. There are many variables that should be considered, but this is the top Michigan recruiting class in several seasons.
Can LSU Rebound from a Bad January to an Exciting February?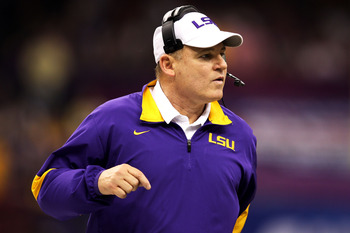 Andy Lyons/Getty Images
LSU has had a rough month since its amazing regular 2011 season. In the month of January the Tigers not only were embarrassed in the BCS national championship game, but just a few days later they watched as the No. 1 quarterback recruit in the nation backed off his commitment and enrolled at another school.
The Tigers have a solid recruiting class. However, this class could improve, and the Tigers should fight back into the top 10 nationally.
There are several solid players who will give LSU a look on signing day. Will it be enough?
Keep Reading