Arsenal vs. Manchester United: Loss Highlights Weaknesses in Attack, Not Defense
January 22, 2012

Mike Hewitt/Getty Images
Shocking news: Someone is about to make a case for Arsenal's defense. Read on at your own peril...
I'm completely amazed that fingers continue to be pointed at the Gunners' defensive players, when the fault clearly lies elsewhere. We've had all four regular full backs out injured for some time. And the experts say we are paying for our lack of cover in those positions.
Really?
How many full backs do you think we should have at the club, experts? Six? Eight? Are you paying the wages? And will you be counselling the subs when everyone's back fit?
Get real, please!
I'm not saying there are no defensive issues. Of course there are, and there should be. We're without Bacary Sagna, Carl Jenkinson, Kieran Gibbs, Andre Santos and, until today, Thomas Vermaelen.
Manchester City are without Vincent Kompany, and look how their defense is leaking goals.
Had Robin Van Persie and Tomas Rosicky not been so generous today, Manchester United's makeshift defense would have conceded three. All I'm saying is that any defense will struggle with so many players out injured, so stop airing your ignorance by saying our transfer policies mean we're defensively short.
That being said, let's now remove our blinkers for a bit and switch our attention to the other end of the field. 
Forty-nine percent, 45 percent, 47 percent. You know what that is? It's Arsenal's possession percentage in our last three Premier League games. All losses.
For a club that has averaged somewhere in the region of 65 percent throughout Arsene Wenger's tenure, that's a pretty significant dip.
The fact that we have less of the ball means two things. First and most obvious, it means fewer attacking and goal scoring opportunities. And secondly, it means more defensive work for the entire team.
It also means more chances for the opposition to attack our makeshift back four and more chances for makeshift full backs to make mistakes.
I recall watching a few Barcelona games early this season. They were in the middle of defensive-injury hell. They played a couple of games with a back three (yes, three) of Alves, Mascherano and Busquets / Abidal.
They won those games comfortably, with possession of over 75 percent in each of them.
Simple solution. Basic footballing principle. Keep the ball. Attack is the best form of defense.
So coming to the main point of this article, what's wrong with Arsenal's attack?
Two things, if you ask me. Firstly, we don't keep the ball well enough. There's no doubt that Nasri, Fabregas, Wilshere and the erstwhile avatar of Arshavin were much better at ball possession as a collective unit than Walcott, Gervinho, Ramsey and the new and not-really-improved Arshavin.
And secondly, and more importantly in my opinion, we don't have a player (or players) who can create an opening out of absolutely nothing with a brilliant pass.
If you look at all of Arsene Wenger's Arsenal teams, we've always had at least one brilliant creator. Dennis Bergkamp, Thierry Henry, Robert Pires, Cesc Fabregas. Where is that player today? And is it a coincidence that the Invincibles had three?
Aaron Ramsey is the nominated heir to Fabregas's throne, but he's not in the same class. Not yet at least.
The returning Jack Wilshere will almost certainly play further forward than he did last season, but can he have the same impact that Cesc did? Can he regularly rack up 15 and more assists per season? Maybe, but we don't know that just yet.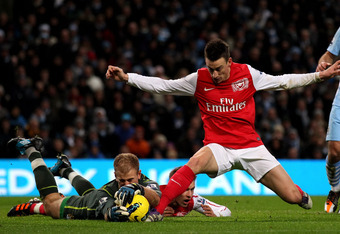 Alex Livesey/Getty Images
Can we afford to wait another season to be sure? Yes, but at the cost of this season? Probably not.
And that's the issue. Football today is all about the here and now. You should build for the future, but you must achieve for the present while you do so. One bad season, and you might disappear over the abyss, never to return. Look at Liverpool, Everton, Aston Villa and Leeds United, if you want examples.
So what does Wenger need to do?
Well, I'm the last person to recommend a panic buy, but this is not a recommendation born out of panic. We've known this for a while.
Arsenal needs a top quality attacking player. Someone who can keep the ball. Someone who can make a killer pass out of nothing. Someone who can score.  Someone whose personality can lift the club. Someone who will make the squad go "Wow!" in training.
There aren't many of those players around. And they certainly aren't cheap, to buy or pay wages to. But we have the money, we need next season's Champions League money and one such player is desperately needed at the Emirates. Mario Gotze, Wesley Sneijder, Kaka (if available) and my preferred option, Eden Hazard, would fit the bill.
Someone wisely said that every player has a price. 
And you know what happens when you pay peanuts...