7 Reasons Minnesota Vikings Fans Should Be Optimistic Heading into 2012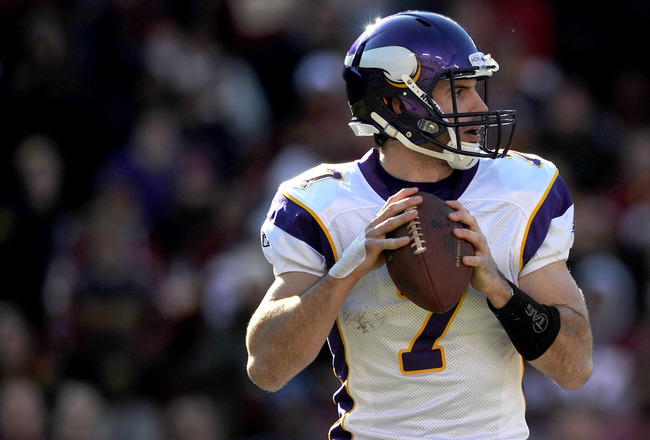 Patrick Smith/Getty Images
After finishing the 2011 season with a 3-13 record, there isn't much room for optimism for Minnesota Vikings fans. That shouldn't be the case, however, as the team transitions into 2012.
While the team didn't start off the 2011 season very strong, and probably even finished the season weaker, there were certainly stretches and glimpses of potential for this very young team.
Now that the Vikings have filled their coaching vacancies and have a new general manager, this team can truly start rebuilding in the right direction—and in my opinion, we've already seen rock-bottom.
There were such high expectations for success going into 2011, that now seem quite unrealistic in hindsight. The Vikings started a rookie QB after losing their No. 1 WR, cut their left tackle, and most importantly, were in their first season with a new head coach—so it was pretty unrealistic to expect a ton of success to begin with.
2012 will be different, though—and continuity will be the key. If this team keeps moving in the same direction, collectively they will be much more successful.
Here are seven reasons why Vikings fans should be optimistic heading into 2012.
New Faces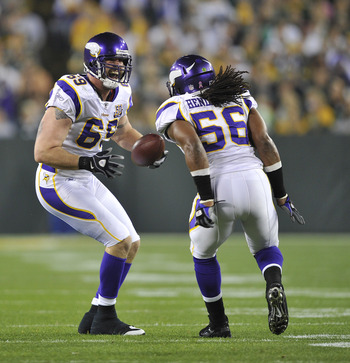 Jim Prisching/Getty Images
With how poorly the 2011 season ended up being, its hard to imagine an offseason with some key roster cuts and signings—not to mention the free agents they may lose.
Guys like Visanthe Shiancoe, Erin and E.J. Henderson and several others are free agents now that the season is over. Though both of the Henderson brothers have expressed their preference of staying in Minnesota, the NFL is a business and the two of them may have played their last snaps as Vikings.
Meanwhile, Shiancoe will likely leave for greener pastures (and paychecks), while his fellow TE Jimmy Kleinsasser has chosen to retire from professional football after 13 seasons with the Vikings. This will leave Kyle Rudolph as the only reliable TE on the roster—a problem that will surely prompt Rick Speilman to bring in some fresh faces.
With how terrible the secondary looked, the Vikings may be considering cleaning house and bringing in a bunch of new faces to round out the back-end of a newly-rebuilt defense.
In an attempt to create some cap-space to fund these new faces, veterans may be asked to take pay-cuts—or even be cut themselves.
Guys like Antoine Winfield and Kevin Williams could be on the bubble in this respect. Though both can still play at a high level, the NFL's current youth movement truly means that no one's job is safe.
Nonetheless, a team that needs roughly six or seven new starters should prompt some optimism for the simple fact that we won't be seeing the same dysfunctional product out on the field every weekend. Even if the Vikings can't bring in all of the right guys in one offseason, they should be able to move in the right direction and bring in some fresh talent.
Sources like free agency, possible trades and the NFL draft should create some great personnel-related hype for the Vikings in 2012.
It's always fun to discover a new favorite player—this should be a great opportunity to make such discoveries.
A Clean Slate for Troubled and Injured Players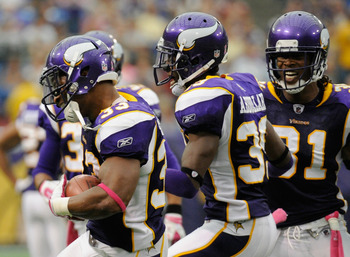 Hannah Foslien/Getty Images
The Minnesota Vikings' inactive list featured many of the players that started for the team early-on in the season. Be it by injured reserve or off-the-field issues, several key players that started at one point in the season were unable to finish the season as starters.
Injuries plagued a Vikings secondary that was already not very good. The loss of Husain Abdullah, Antoine Winfield and Chris Cook marked a turning point for a defense moving in the wrong direction.
Should these injuries subside and Cook become eligible to play once again, this secondary could be up for a turn-around of epic proportions. Regardless of any additions to this unit, a clean slate for these three players—along with CB Cedric Griffin—could be fresh and full of optimism for fans.
The same can really be said for the receiving corps. No.1 WR Michael Jenkins was placed on injured reserve in the second half of the season, leaving Ponder without many sure-handed receivers to work with.
Though I don't believe Jenkins has any business as a No. 1 receiver (an argument for another time), his return should be a sort of safety-net for Ponder. Having adequate receivers to work with should be decently exciting for fans—especially with the prospect of bringing in a true top-WR.
The slate will be wiped clean for some players going into 2012. Should they use this opportunity to make some noise in a positive way, 2012 could be an exciting season for fans.
Coaching Changes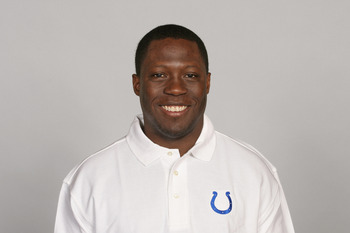 Handout/Getty Images
I'm sure plenty of you have done your due-diligence on new-Vikings Defensive Coordinator Alan Williams. Regardless of how you may feel about this hire, one thing we can all agree on is that a change certainly needed to be made.
Things just weren't working out with Fred Pagac calling the defensive plays. That's not to take away from him as a coach by any means, though. I think the fact that the Vikings have chosen to retain Pagac as a LB coach really speaks to his quality as a positional coach.
The addition of Williams as the DC, with his emphasis in DB coaching, will pair well with Leslie Frazier sharing the same specialty and reportedly getting more involved with the defense than he was in 2011. This bodes well for a defensive secondary that ranked 26th against the pass.
For those of you that are still either baffled or irritated by the firing of defensive line coach Karl Dunbar, I think the hiring of Brendan Daly to fill that role should be comforting.
Daly, if you don't remember, served as the Vikings defensive line coach from 2006-08. Daly really established the emphasis on a stout run-defense in Minnesota, and his return should bode well for a defensive line that already looks pretty solid.
Though there were only a few changes to this coaching staff, the product of these changes should have a ripple-effect on this team in a positive way. They may not be high-profile changes, but the prospect of returning to the Vikings defense of the not-so-distant-past is pretty exciting to me.
A Nucleus of Talented Impact Players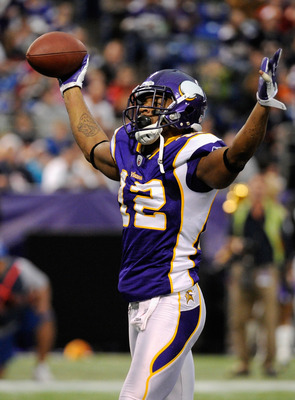 Hannah Foslien/Getty Images
Though there may not be a very large group of superstars in Viking-purple at the moment, the ones that are could be some of the best in the league.
A nucleus made up of Adrian Peterson, Percy Harvin, Jared Allen and Chad Greenway puts some of the league's best players in their respective positions in a Viking uniform. The added potential of guys like Devin Aromashodu, Toby Gerhart and Kyle Rudolph will all prove to be great targets for the guy who this team really wants to build around: QB Christian Ponder.
This team is obviously full of young talent that should continue to produce for years. Adding more and more quality players to this nucleus will not just make this team more cohesive, it will make it much more versatile and therefore dangerous as well.
Heading into 2012, fans should be optimistic about the fact that they do have a solid nucleus of playmakers to cheer for. As this team evens out on both sides of the ball, they will consequently become more and more relevant—something we can all be optimistic about.
The 2012 NFL Draft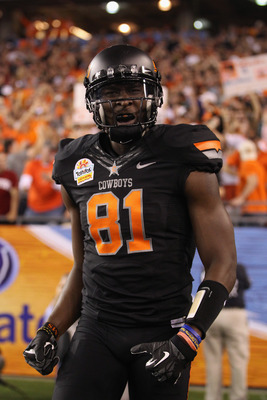 Christian Petersen/Getty Images
Whether you think the Vikings should draft Matt Kalil, Justin Blackmon, Morris Claiborne or trade down in the first round to accumulate more picks, the draft position the Vikings currently hold should be perhaps the most exciting thing about this offseason and next season.
The excitement shouldn't just be about the first round either—they should be able to find no less than three new starters in this year's draft.
I'm not going to get into my opinion of how to use the No. 3 overall pick in this article—mainly because the combine is more than a month away still and projections will change hundreds of times before the draft in April.
Whether it does end up being one of the aforementioned prospects or not, any one of them would be a major upgrade for the current roster and will be welcomed to Minnesota with open arms.
A very exciting prospect, from my vantage point, is that the Vikings may be able to acquire two additional third-rounders as compensatory picks from the loss of both Sidney Rice and Ray Edwards last offseason. If that ends up being the case, the Vikings wouldn't just be able to acquire some new starters, they'd come across some solid depth players as well.
Like I said, its too early to really explore what prospects will end up in Minnesota. The fact is, though, that the Vikings will likely see some nice opportunities to improve through this year's draft.
Young, new faces should create some optimism for Vikings fans. The prospect of acquiring several of these new players should be all that much more exciting.
A Full Offseason for Player Development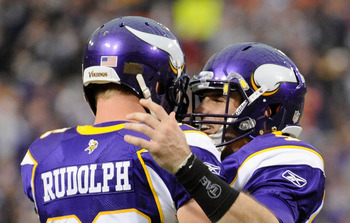 Hannah Foslien/Getty Images
Last summer's NFL lockout hindered the entire league tremendously. It kept players from practicing with their teams adequately before heading into the season. It only made dramatic injuries seem much more common than ever before, and it left rookies without enough time to truly assimilate to the NFL game.
For the Vikings, this meant that then rookies Christian Ponder and Kyle Rudolph missed out on some crucial time to develop into the starters that they were eventually expected to be. It also meant that first-year head coach Leslie Frazier didn't get much time to establish himself and his coaching philosophies in a leading role.
Given that this offseason will go back to the norms of mini-camps, OTAs and more consistent training camps, young players like Ponder, Rudolph and many other young guys can get the time that they need to develop before the 2012 season.
The experience this organization gained through a miserable 2011 season should mean a brighter future in 2012.
This team is only going to get younger in the short-term. The fact that teams like the Vikings will be able to establish themselves a little more before the season starts should create a lot of optimism for fans because, in the end, it should result in more production on the field.
No Quarterback Controversy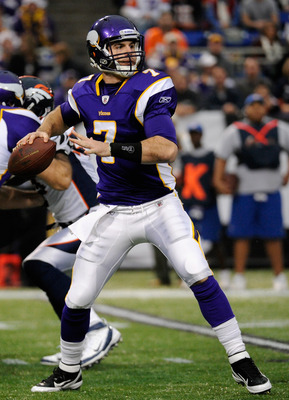 Hannah Foslien/Getty Images
The last three offseasons for the Vikings have been filled with speculation over QB controversies in Minnesota. Whether it be about Tarvaris Jackson, Brett Favre, Donovan McNabb, Joe Webb or any other, the constant questions surrounding this key position for the Vikings has hindered them in the worst way.
No longer.
The Vikings now have their starting QB and the future face of their franchise. Christian Ponder is the starting QB going into 2012 and whether you like him or not, the certainty is refreshing.
Ponder showed a lot of things in 2011—some of them good, some of them bad. Ultimately he's earned the role of the starting QB in Minnesota through his potential, leadership and perseverance.
If the Vikings can keep Ponder upright in 2012, he could show some really solid improvement and take his place amongst the solid QBs the make up this division.
With his team—and presumably the fans—behind him, Ponder could be destined for great things. I'm not going to call him "the next" anyone, but I am certainly excited to see his continued development.
Conclusion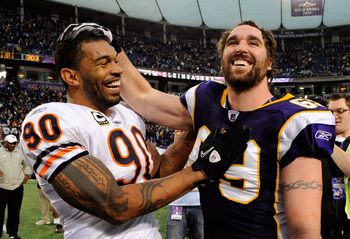 Hannah Foslien/Getty Images
There's no way to tell how the 2012 season will go at this point, but one thing should be clear: it can't get much worse than 2011.
Though it may not seem like it now, there are a lot of reasons to be optimistic to be a fan of the Minnesota Vikings.
All of the reasons that I listed should provide optimism for Vikings fans on the field, but away from football there is a development that blows these out of the water.
The Minnesota Vikings move closer every day to a proposal that will help them to build a new stadium and stay in the Twin Cities for the foreseeable future. If none of my slides were able to make you excited for 2012, ( then firstly, I apologize for being a terrible writer) but the fact that the Vikings will remain in Minnesota should be the most optimistic news of all.
Being a Vikings fan definitely sucked in 2011, but the hope for a better future is there. Vikings stock will only continue to rise as we move closer to the 2012 season. The purple will be relevant again soon enough.
Thanks for reading.
Follow me on Twitter @MCNick92
Keep Reading

Minnesota Vikings: Like this team?