Oklahoma Football Recruiting: The 10 Greatest Classes of All Time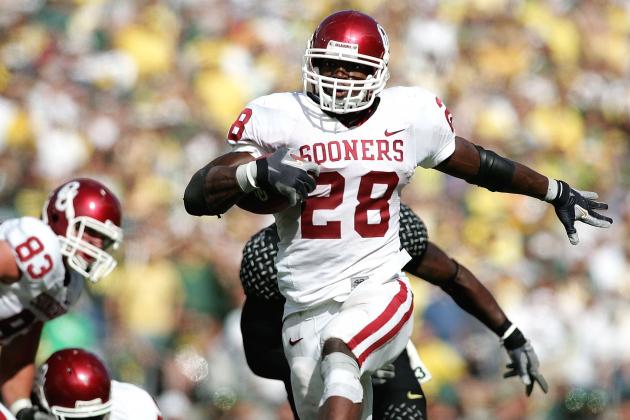 Jonathan Ferrey/Getty Images

As signing day approaches, Oklahoma Sooner fans obsessively track the top recruits, coaches, prospects and the armchair quarterback alike and are suffering from high blood pressure as they anticipate the arrival of February 1.
Let's relax for a moment and consider the amazing talent that OU has reeled in over the years. Seven national championships and 43 conference crowns don't happen by chance; talented teams are the result of the presence of talented players.
That said, here are the 10 greatest OU recruiting classes of all time, in no particular order, because each class should be appreciated in its own way for the unique players it delivered to the program.
Begin Slideshow

»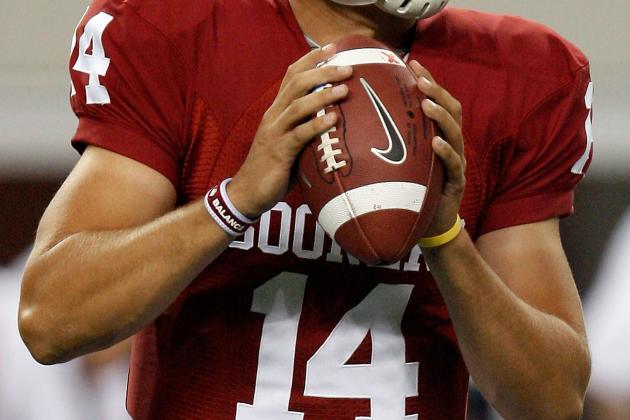 Ronald Martinez/Getty Images

This group was absolutely loaded. It included four future first-round picks in Sam Bradford, Gerald McCoy, Jermaine Gresham and Trent Williams, as well as DeMarco Murray, Dominique Franks, Jonathan Nelson, Chris Brown, Jeremy Beal and Quinton Carter.
Overall, 10 players from this class are currently in the NFL.
Bradford, who redshirted his first season, led his team to two Big 12 Championships and a national title appearance, winning the Heisman Trophy his sophomore season and tossing 50 touchdowns, the most ever for a Sooner quarterback.
Five All-Americans also came out of this group, which included players that were a huge reason for OU's success in recent seasons.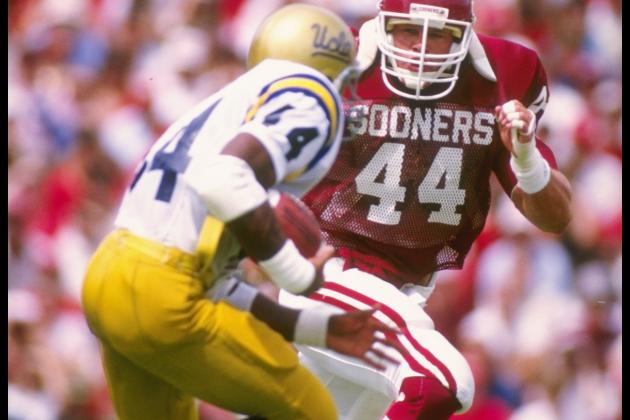 Getty Images/Getty Images

Brian Bosworth is enough to make this class memorable, but he wasn't the only future star that arrived in Norman in the fall of 1984. Troy Aikman, Keith Jackson, Mark Hutson and Rickey Dixon joined him to round out a stellar class for Barry Switzer and the Sooners.
Although Aikman would transfer to UCLA after fracturing his ankle against Miami, the Sooners won the national title in 1985 as freshman Jamelle Holieway took over for Aikman and shined directing the wishbone.
"The Boz" won the Butkus Awards the first two seasons it was awarded and garnered All-American honors in 1985 and 1986.
Hutson and Jackson also were two-time All-Americans, and Rickey Dixon was the first Sooner to win the Thorpe Award and went on to become the fifth overall pick of the 1988 NFL Draft.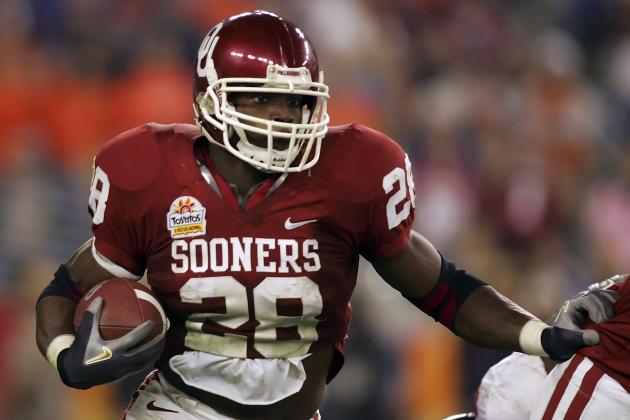 Jonathan Ferrey/Getty Images

Adrian Peterson highlighted the 2004 class, which also included current NFL players Remi Ayodele and Garrett Hartley along with defensive backs Marcus Walker and Lendy Holmes.
Peterson and quarterback Rhett Bomar were 5-star recruits and the top prospects at their respective positions as high school seniors. Although Bomar's career didn't pan out in Norman after he was accused of receiving improper benefits from a car dealership, he still made it to the NFL.
Peterson, meanwhile, almost won the Heisman Trophy his first season after setting the freshman rushing record and rushed for 4,045 yards and 41 touchdowns in less than three complete seasons, cementing himself as one of the best Sooner tailbacks of all time.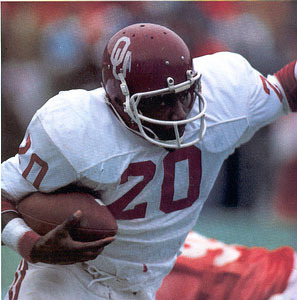 http://cdn.bleacherreport.net/images_root/slides/photos/001/002/926/BillySims_display_image_display_image.jpg?1307629321
Major contributors from many positions emerged from this group, which included future Heisman winner Billy Sims along with quarterback Thomas Lott, linebackers George Cumby and Daryl Hunt, nose guard Reggie Kinlaw and kicker Uwe Von Schamann.
The Sooners won their second consecutive national title that season, and Sims and Co. would shine under Barry Switzer as the Sooners went 52-7-1 from 1975-79.
Interestingly, the class also included offensive lineman Kent Bradford, the father of Sooner legend Sam Bradford.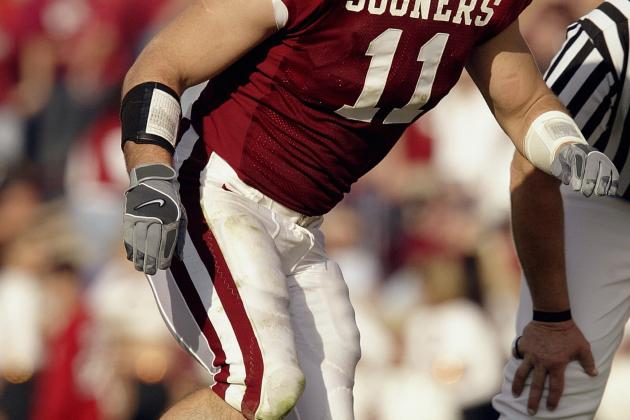 Brian Bahr/Getty Images

This class laid the foundation for OU teams that went 48-6 in four seasons. It included Teddy Lehman, who won the Butkus and Bednarik Awards, as well as Nagurski and Thorpe Award winner Derrick Strait.
Also included in this class were electrifying wideout Mark Clayton, Antonio Perkins—who set an NCAA record with three punt returns for touchdowns in a single game—Wes Sims, Renaldo Works, Dan Cody and Jimmy Wilkerson.
Stoops' miraculous turnaround in Norman wouldn't have been possible if not for the players in this recruiting class, which won an astonishing number of games as Sooners and turned in many memorable performances and highlights that will live on in Sooner lore for a long time.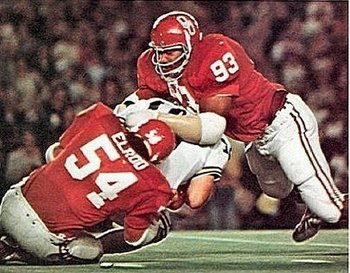 beyondusports.com
Lee Roy Selmon and Joe Washington are all that needs to be addressed to understand the importance of the 1972 class.
Selmon, one of the greatest OU players ever, won the Lombardi and Outland Awards his senior season. He was a two-time All-American, along with his brothers, who all started on the defensive line for the dominating Sooner defense in 1973. Lee Roy became the first overall pick of the 1976 NFL Draft and the first ever pick for the expansion Tampa Bay Buccaneers.
Joe Washington, the fourth overall pick of that same draft, was a two-time All-American and finished his career at OU with 4,071 rushing yards, second only to Billy Sims for the most in school history.
If that's not enough, the legendary class also included Jimbo Elrod, Billy Brooks, Horace Ivory and Tinker Owens.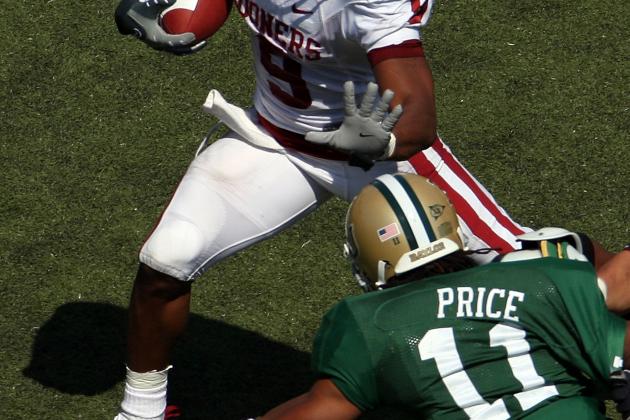 Ronald Martinez/Getty Images

Although 2005 was a relatively disappointing season for OU, it heralded a remarkable recruiting class, highlighted by Malcolm Kelly, Reggie Smith, Keenan Clayton, Ryan Reynolds, Curtis Lofton, Nic Harris, Brian Jackson, Brody Eldridge, Auston English, Allen Patrick and Juaquin Iglesias, who would leave scouts wondering why they tabbed him as only a 2-star recruit coming out of high school.
Three straight Big 12 Championships and a national championship appearance can be attributed in part to the talent of this class.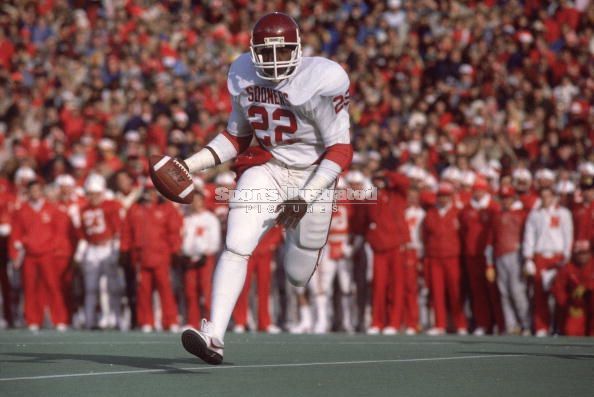 www.6magazineonline.com
If he hadn't quit the football team in 1984, Marcus Dupree would likely be considered the greatest tailback in Oklahoma history, and possibly the best in college football history.
After a second-team All-American freshman campaign in which he rushed for 1,144 yards and 13 touchdowns even though he didn't start until midway through the season, Dupree transferred from OU to Southern Mississippi after being criticized for being out of shape by coach Barry Switzer.
His unfulfilled career in Norman is one of the most poignant examples of "what might have been" in OU football history.
Besides Dupree, the 1982 recruiting class featured safety Sonny Brown, who would be named MVP in Oklahoma's Orange Bowl national championship victory over Penn State in 1986, tailback Spencer Tillman, who was captain of the 1985-86 team, as well as defensive tackle Tony Casillas, who won the Lombardi Award and twice received All-America honors.
Brett Deering/Getty Images

Ryan Broyles, Frank Alexander and Travis Lewis highlight this outstanding class. Phil Loadholt, Donald Stephenson and Sam Proctor are members as well.
Broyles is the leading receiver in OU history, while Frank Alexander was a finalist for the Hendricks Award in 2011.
Travis Lewis, meanwhile, finished his impressive Sooner career third on the list for most tackles in school history. Loadholt was a second-round draft pick.
Also members of this class are Jamell Fleming and the late Austin Box.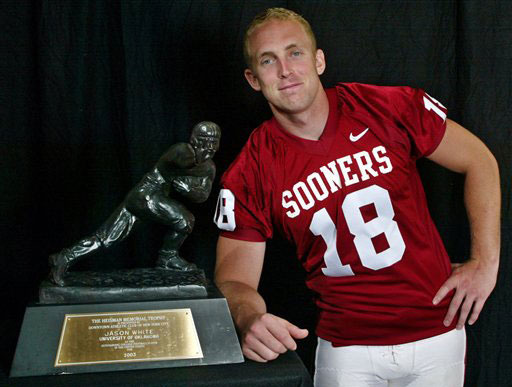 www.thelostogle.com
Bob Stoops' first recruiting class was a dandy. If not for the host of talented players it offered, Bob Stoops' first years at Oklahoma could have been substantially less fruitful.
It included future Heisman Trophy winner Jason White, Quentin Griffin, Kory Klein, Antwone Savage, the late Brandon Everage and Roy Williams.
The class included players, like Griffin and Williams, who would be integral in Oklahoma's 2000 national title run as well as the Sooners' incredible success in the early 2000's.
Other individual achievements reflect the success of this class. Griffin finished his career with the second-most all-purpose yards in Sooner history with 4,973, while Williams won the Bronko Nagurski Award, earned the moniker "Superman" with one of the best plays of all time in his diving, fumble-forcing sack of Chris Simms and was the eighth overall pick of the 2002 NFL Draft.