Yu Darvish Contract: 5 Signs Rangers' New Ace Won't Be a Bust
Kevork Djansezian/Getty Images
Over the past few years, people have grown continually skeptical about players coming over from Japan to pitch in the MLB. Some of that skepticism has been attached to Yu Darvish and there are people that think he could be a bust.
However, Darvish is different from other pitchers that have come over in the past. He has the potential to be an ace for the Texas Rangers and he should live up to these high expectations.
There are a number of reasons why Darvish will be better than the pitchers that have come to the United States before him.
Peformance in Japan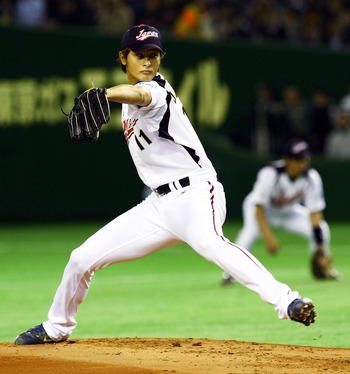 Junko Kimura/Getty Images
Because of the large posting fee that the Texas Rangers paid for Yu Darvish, he will inevitably be compared to Diasuke Matsuzaka. People seem to forget that Matsuzaka had two good years in the majors and even finished in the top five of the AL Cy Young voting.
Looking at both pitchers' stats from their time in Japan, Darvish was significantly better. Matsuzaka had a 2.95 ERA during his time in Japan. Darvish on the other hand had a 1.99 career ERA in Japan and did not have an ERA above 1.88 after his 20th birthday.
There is also the outstanding 0.89 WHIP that Darvish has put up over the past five seasons. He was also able to strikeout over a batter an inning during his last five years in Japan while also walking less than two per nine innings.
International Success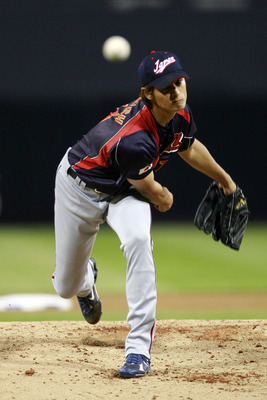 Jeff Bottari/Getty Images
Yu Darvish was the ace of the Japanese team in the 2009 World Baseball Classic. He had a strong showing in the tournament which featured some of the best players in the world.
Darvish finished the WBC with a 2-1 record and a 2.08 ERA. He also struck out 20 batters in just 13 innings. In the semi-finals Darvish pitched against the team from the United States and stuck out two while allowing one hit in one inning.
This is a very small sample size, but it is a good sign that he was able to pitch well against the best players in the world.
Scouting Report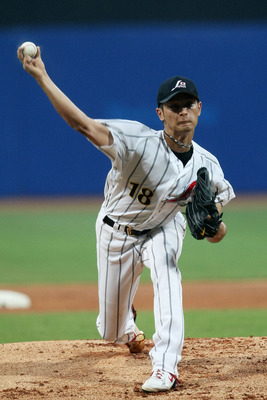 Nick Laham/Getty Images
To find out more about Yu Darvish, Jonah Keri of Grantland contacted Patrick Newman of NPB Tracker to find out the scouting report on Darvish. The report seems to indicate that Darvish should succeed in the MLB.
There are six different pitches that Darvish throws that should keep hitters off balance. He throws three different fastballs, a four-seamer, a two-seamer, and a cutter, in addition to two different sliders and a slow curve. He has also been known to mix in a forkball and a changeup that he occasionally throws.
Darvish was able to force a lot of ground balls in Japan and that will be important if he is to have success in Texas. His groundball rate was 57 percent last year.
Build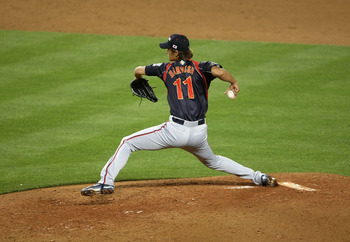 Stephen Dunn/Getty Images
Yu Darvish has a better frame than any other pitcher that has come over from Japan. Standing at 6' 5" and 220 lbs., Darvish benefits from having a such a big frame.
This allows him to get more power behind his pitches and as a result, he has a faster fastball than any other Japanese starter to come from Japan to the United States. He also has a higher release point, which makes his pitches more difficult to hit.
He Has No Problem with the Spotlight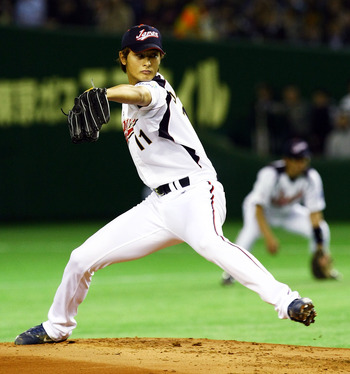 Junko Kimura/Getty Images
Yu Darvish does not mind being the center of attention. He is still able to remain humble at the same time, however, which is important. He promotes products in Japan and is comfortable being in the public eye.
He also maintains his own blog in which he shares his thoughts. It also shows some of the magazines which Darvish has been featured in. This helps show some of his comfort in dealing with the media.
Robert Whiting and Michael Westbay, two experts on Japanese baseball, also feel that Darvish will be able to handle the media in the United States.
This may not seem like an important factor at first, but if he doesn't have the media on his back following down starts it could do a lot for his confidence and his performance.
Keep Reading

Texas Rangers: Like this team?