Yoenis Cespedes vs. Jorge Soler: Why Soler Is Best for the Cubs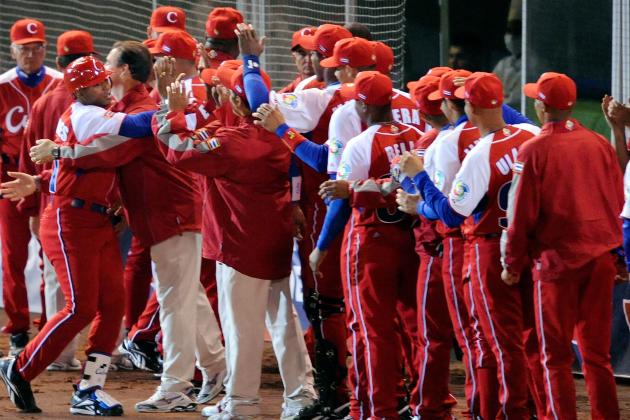 Kevork Djansezian/Getty Images

Baseball and government agencies intertwine when players of this magnitude are forced to seek US citizenship. Cuban citizens are banned from traveling and working with the United States, forcing Cuban players to seek citizenship elsewhere in order to play in the United States.
It is a loophole that allows baseball to sidestep a long-standing government policy and get some of the most talented baseball players in the world playing in the top league in the world.
Yoenis Cespedes and Jorge Soler are two of the most intriguing Cuban prospects to come out in a while.
The Cubs, among others, are pursuing both prospects, and are waiting for them to be granted free agency.
Let's take a look at each player's pros and cons, and decide who the Cubs should sign.
Begin Slideshow

»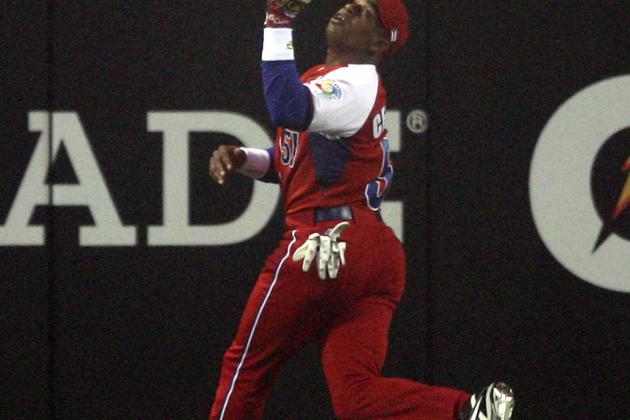 Donald Miralle/Getty Images

As Peter Gammons pointed out, Cespedes has a 37-inch vertical and a 6.35-second time in the 60-yard dash. Aside from having power that has generated interest nationwide, he has the size that projects well long-term at all three outfield positions.
He is fast enough to cover the gaps from center field, but also has the arm strength to play the corners successfully.
Most teams probably expect him to play center field, but if he can't find his swing he may be rotated around in hopes of cycling him in.
Soler, on the other hand, projects as a corner outfielder long-term. He has a big, powerful swing like Cepedes—he is just more raw.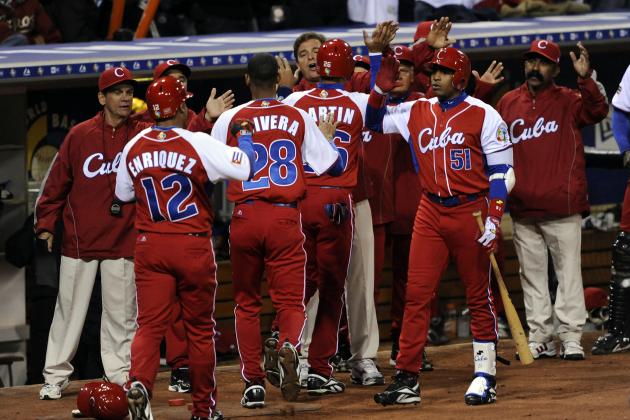 Kevork Djansezian/Getty Images

Cespedes has had success playing in the Cuban league, and has been nothing short of dominant in international play.
In Cuba's Serie Nacional, he hit .333 with a .424 OBP, .667 slugging percentage and a league record 33 home runs in 99 games in the 2010-11 season. In the 2009 World Baseball Classic he hit .458/.480/1.000/1.480 with a double, three triples and a homer in 24 at-bats for Team Cuba.
However, they often compare the Cuban league to low or high-A on a good day.
The fact that he has had success in international leagues is a good sign that he has the ability to play in the States, but would need at least 200 at-bats in the minors to determine what his short and long-term potential will be.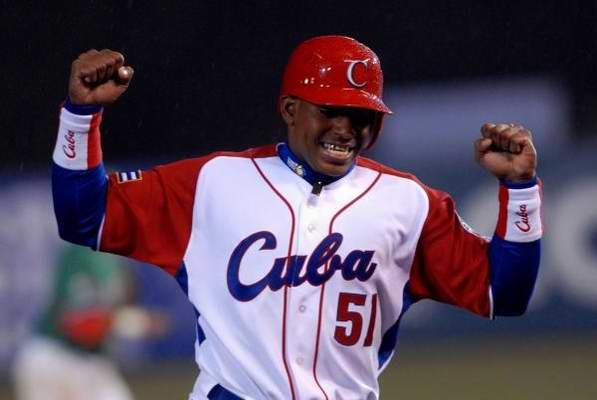 At 26 years old, Cespedes has experience and understands how to make adjustments to be successful. He has way more experience at it than Jorge Soler, but may have a harder time adjusting if he has become too comfortable playing at the Cuban level.
Cubs director of scouting Jason McLeod hoped he would get acclimated in Double-A or Triple-A before joining the team in Chicago, assuming all goes well at those levels (and he signs with the Cubs).
"I think in an ideal world, he would have minor league exposure first," McLeod said. "I think if he he signs before spring training, it would depend on how he looks in major league camp."
The difference with Soler is that he will likely begin in Single-A and spend an entire year down there getting acclimated. For someone like Soler, with not as much exposure on an international level, it will be about him adjusting to living in the States and playing a different, more advanced kind of baseball.
It may take Cespedes a year or two at most, while Soler could spend three or four years in the minors becoming a stronger ballplayer.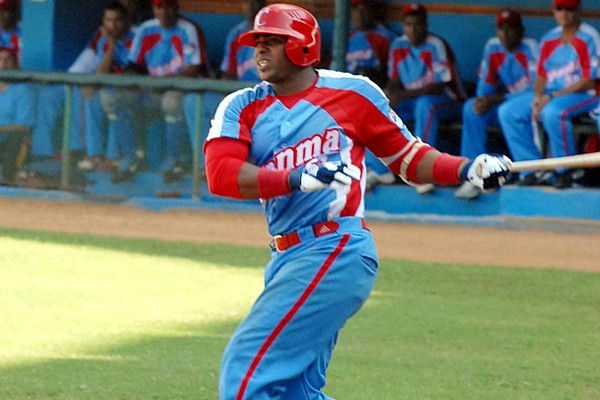 Cespedes is going to cost almost double the price of Soler.
Considering he is 26, has had success in Cuba and on the international level, and is one of the most athletic prospects to come out of Cuba in five years, he is going to command a hefty deal.
Take into account that over a dozen teams are interested in the prospect, and his first contract could net him $10-12 million annually.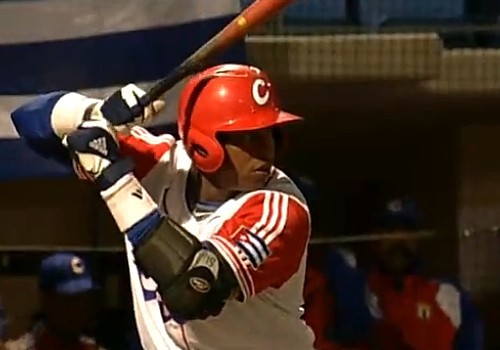 Considering the hype and attention he has received this offseason, Cespedes will almost certainly request a major league deal.
What that means is that he is guaranteed more money and will be added to the 40-man roster. Now most teams have accepted this and are willing to move past it, but it does have ramifications for some teams.
If the Cubs do sign him, they will have to cut another player for the roster to stand at 40.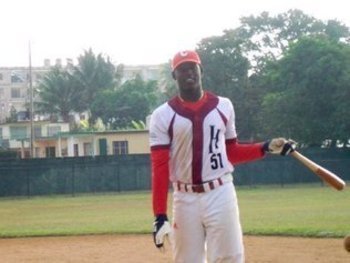 Jorge Soler is just 19 years old, and is already being touted as one of the best Cuban prospects.
There are so many positives of possessing his talent at a young age, but there are also concerns.
"He's a younger version of Cespedes," McLeod said. "He's a 19-year-old with a bigger body. A guy who probably will be more of a corner outfielder. It's more of a limited history with Soler as not as many people have seen him play. We did see him play a few games in November."
Soler is expected to sign a modest contract compared to Cespedes.
Kevork Djansezian/Getty Images

Not many people have seen Jorge Soler play.
In fact, the picture on the previous page is only one I could find of Soler. He has trained with the right people and has performed when people were watching.
There is no doubt he is an incredible talent. However, there is no proof that he can withstand a full season against talented pitchers.
But the fundamentals are there to keep people buzzing.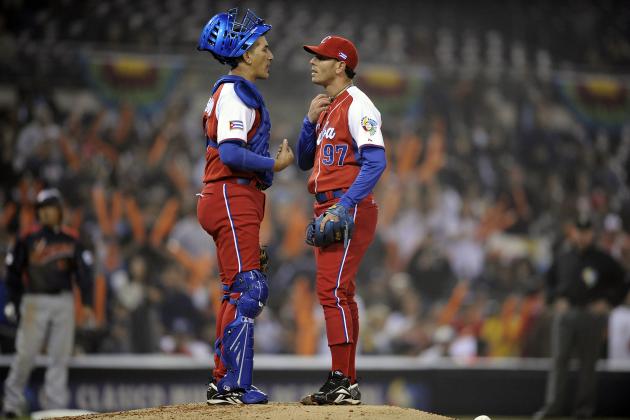 Kevork Djansezian/Getty Images

However, Soler is seeking way less money up front.
Early reports suggest that Soler is seeking around $20 million total, a steep drop from what Cespedes is seeking.
For the Cubs, it would be less of an investment and more time to mold a young prospect into the player they want him to be. He would not have as high expectations given he is only 19 years old.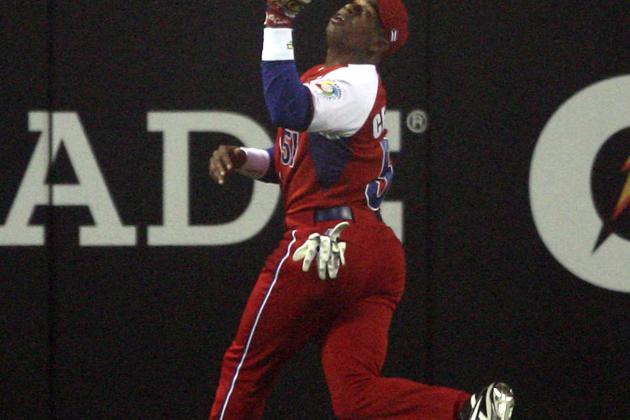 Donald Miralle/Getty Images

Despite Cespdes' overwhelming hype, if the Cubs have to decide between the two, I would go with Soler.
He is just 19 years old, and there is so much for him to learn before he is ready to reach the majors. And there is time.
Not only does Soler come at a cheaper price, but by the time his deal would be up he would be only 25 or 26. With Cepedes, if he can produce he will be a big hit, but if he can't, we'll be stuck with someone who is in the latter years of his would-be prime.
And he becomes another lofty investment for someone who does not fit with the Cubs' plans. Soler is more of the long-term move as he can work with Cubs coaches and learn how to play the game the way the Cubs expect him too.
In a perfect world, the Cubs sign both.
From the looks of it they are going after Cepedes. But if his price becomes too extravagant they may swoop in on Soler, who they have been monitoring as well.