Michigan Football Recruiting: Brady Hoke Stops Recruiting Star CB After Tweets
January 19, 2012

Kevin C. Cox/Getty Images
Twitter can be a very dangerous outlet for star athletes. Young cornerback and former Michigan Wolverine potential recruit Yuri Wright has found that out the hard way.
The Wolverines have apparently stopped recruiting him due to some very racy Tweets that include racial slurs and some very graphic sexual content, according to thebiglead.com, who cites Ace Williams of chatsports.com:
Michigan abruptly stopped recruiting Don Bosco Prep (see: awesome New Yorker piece) star Yuri Wright, Rivals' No. 85 overall, No. 3 cornerback out of New Jersey. His tweets, featuring some graphic racial and sexual content, seem like a plausible impetus for that decision.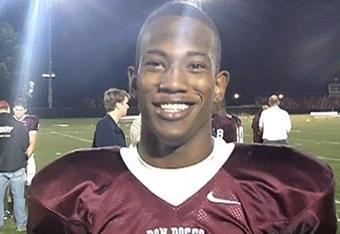 Note: Because of the explicit nature of the Tweets we have chosen to leave them out of this article. Ace Williams of chatsports.com has them chronicled here.
Some of you may be wondering why Brady Hoke and his staff would move away from such a high-level prospect, especially one that is ranked so high.
While the defense has been vastly improved under new coordinator Greg Mattison, they could undoubtedly use the services of such a talented corner, right?
While the answer to that question is undoubtedly yes, it's rather out in the open that Hoke is trying to do things "the Michigan way."
This is what fans clamored for when Michigan brought him in to replace Rich Rodriguez, so this is the kind of stuff that shouldn't be surprising.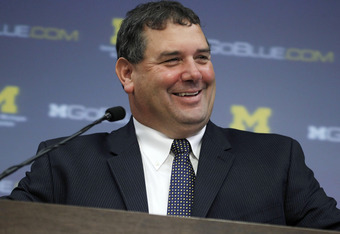 Gregory Shamus/Getty Images
Others may be wondering why something as "trivial" as Twitter can cause a team to stray away from a recruit.
Like it or not, this is the world we live in. Twitter is becoming a news source as much as it is a social platform, and you can learn a lot about a person by keeping up with their feed.
People can be fired over their Twitter accounts. As a high-profile athlete, it's something that needs to be treated with caution and respect.
Wright either doesn't care or just isn't mature enough to realize the implications yet.
Maybe he just made a mistake.
Either way, Hoke must have felt that was enough of a tip-off to stop recruiting him.
Yes, the talent is there, but Hoke worries far too much about integrity and the overall system more than anything.
That's not a bad thing. In fact, it's exactly what the Wolverines need.
Hoke is going to build this program his way, which is the Michigan way. If some talent has to be sacrificed because integrity may not be there, so be it.
Look no further than the dismissal of star wide receiver Darryl Stonum for even more validation of this.
Once he gets the foundation set, which he has already begun to do, it's only a matter of time before he can recruit players that have both the skill and the character that he is looking for.
Wright obviously didn't fit the Michigan mold, but eventually another player with his talent or better will come along.
They always do.