Peter Mueller Leads Avs Past Panthers
January 19, 2012

Doug Pensinger/Getty Images
Normally, when a player scores a goal with only 1:05 left in overtime like Ryan O'Reilly did last night, that is the big story.  However, last night was all about the reemergence of  No. 88, Peter Mueller. 
In only his seventh game since April 2010, Mueller was the undisputed best player on the ice last night.  He recorded not only his first point since 2010, but his first three.
The first period saw Florida take a 1-0 lead on Marcel Goc's power-play goal, but Mueller evened things up in the second after picking up the rebound from an Erik Johnson shot and with great patience, sniped it past Florida netminder, Jose Theodore.
The second period ended with some controversy as Florida center, Stephen Weiss—give credit where it's due—made a nice play going end-to-end.  However, the puck crossed the goal line as he slid into Avalanche goalie Jean-Sebastien Giguere and appeared to push the puck in with his hand and not his stick. 
The referees ruled this a goal however, and Toronto did not have conclusive evidence to overturn the call, much to the displeasure of Giguere and Avs head coach Joe Sacco, both of whom had words with the officials at the end of the second and beginning of the third.
That looked like it could have been the beginning of the end for the Avs as Florida netted another one just 20 seconds into the third, extending their lead to 3-1.  However, Mueller had other ideas.
Just over three minutes later, the Avs found themselves on a power play after a too many men on the ice infraction by the Panthers and Mueller blasted a one-timer past Theodore on a nice setup by O'Reilly.
Neither of Mueller's goals were garbage goals or lucky goals, they were great shots and pure goal-scorer's goals.  The Avs sure have missed that shot of his over the last year-and-a-half. 
With Mueller back, the Avs could have a very formidable power play going forward with him joining Stefan Elliott, Erik Johnson and Kyle Quincey on the points. The key will be for guys like Gabriel Landeskog, T.J. Galiardi, David Jones and Paul Stastny to be willing to get down low near the crease and create havoc in front of opposing goalies.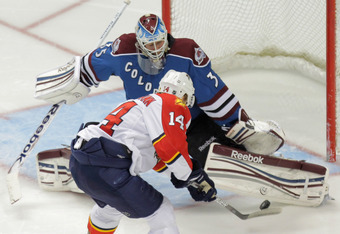 Doug Pensinger/Getty Images
With just over three minutes to go in regulation, the Avs were still trailing by one.  Stastny took a shot, got his own rebound and put it in to tie the game up, sent the game into overtime and ensured the Avs at least one point. 
Then, with just over a minute left in overtime, O'Reilly took a shot that trickled past Theodore to seal the Avs' comeback victory. 
That's why they say that any shot on goal in overtime is a good one.
Both goalies had solid games.  Jose Theodore stopped 40 of 44 Avalanche shots, but Mueller had his number and Theodore would certainly want that O'Reilly overtime winner back.
Giguere wasn't tested as much as Theo, but he made some very big saves to keep Colorado in the game and give them a chance to win.  After Florida went up by two, Giguere stepped up and played his best hockey of the game. 
He made a big save in the third after former Av Tomas Fleischmann stole the puck from defenseman Ryan Wilson and had an almost uncontested breakaway on Giguere.  Jiggy's best save of the game came in overtime after a turnover by Elliott led to a three-on-one.  Elliott will most likely be buying Giguere a nice steak dinner for bailing him out on that one.
Up next, the Avs head down to Southern California to take on the Kings and Ducks this Saturday and Sunday respectively.  My guess is that Giguere will get the nod in net on Saturday after his strong game last night, and we may see Semyon Varlamov on Sunday in Anaheim. 
After their SoCal swing, the Avs will play four consecutive divisional games.  With last night's win, the Avs leapt over Minnesota and climbed into the eighth and final playoff spot in the West, but they will certainly need to continue to win games if they are to stay in the playoff picture.