Arsenal vs Manchester United: Previewing an Important Premier League Matchup
January 21, 2012

Alex Livesey/Getty Images
Arsenal versus Manchester United is a matchup between two of England's biggest clubs. Whenever these two sides meet up, fireworks are expected.
In the last decade, skirmishes in the tunnel, Pizzagate and Arsene Wenger getting sent off after kicking a water bottle are just some of the memorable highlights that have happened between the two.
This season has been disappointing for both clubs to date. Arsenal started off their season in a disappointing fashion after both Cesc Fabregas and Samir Nasri left the Emirates for Barcelona and Manchester City, respectively.
Manchester United have stronger than usual this year, yet they find themselves second in the table because they have been inconsistent at the goalkeeper position and have lost Nemanja Vidic to an season-ending injury. Also, Manchester United were eliminated from the group stage of the Champions League.
Yet both clubs are still in their respective hunts. Arsenal are only four points out of the fourth and final Champions League berth for next season, while Manchester United are three points behind Manchester City in the title race. 
To put it simply, both sides need to win this match. Neither side wants to lose to their foe, especially with such important implications on the line.
Here are the scores for Arsenal and Manchester United from their last five Premier League matchups.
Manchester United 8, Arsenal 2 (Aug 28, 2011)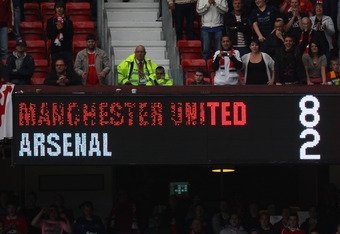 Alex Livesey/Getty Images
Arsenal 1, Manchester United 0 (May 1, 2011)
Manchester United 1, Arsenal 0 (Dec. 13, 2010)
Arsenal 1, Manchester United 3 (Jan. 31, 2010)
Manchester United 2, Arsenal 1 (Aug. 29, 2009)
In recent history, Manchester United had dominated this matchup, winning all but two of the nine matchups in all competitions since 2009. The only loss that Manchester United have against Arsenal came last May, and Manchester United's 0-0 draw with Arsenal in 2009 was the clinching point in their 18th league title.
Another reason why this is such an important match is due to the poor form that both sides have been in during their last five matches in all competitions.
Manchester United
Manchester United 3, Bolton Wanderers 0 (Jan 14; Premier League)
Manchester City 2, Manchester United 3 (Jan 8; FA Cup)
Newcastle 3, Manchester United 0 (Jan 4; Premier League)
Manchester United 2 Blackburn Rovers 3 (Dec 31; Premier League)
Manchester United 5 Wigan Athletic (Dec 26; Premier League)
Arsenal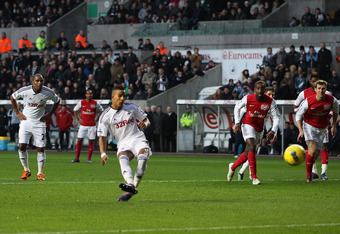 Michael Steele/Getty Images
Swansea City 3 Arsenal 2 (Jan 15; Premier League)
Arsenal 1 Leeds United 0 (Jan 9; FA Cup)
Fulham 2 Arsenal 1 (Jan 2; Premier League)
Arsenal 1 Queens Park Rangers (Dec 31; Premier League)
Arsenal 1 Wolverhampton 1 (Dec 27; Premier League)
Team News:
Arsenal
Kieran Gibbs, Bacary Sagna, Carl Jenkinson, Mikel Arteta and Jack Wilshire have been ruled out due to injury. The Gunners will also be without both Gervinho and Marouane Chamakh because they are away on African Cup of Nations duty.
Both Thomas Vermaelen and Thierry Henry are also doubts due to calf problems. The status for both players will be known for this match after a late fitness test.
Manchester United
Both Phil Jones and Chris Smalling are expected to be back after getting injured from a collision during their match against Manchester City two weeks ago. Both were out during last week's win against Bolton.
Nemanja Vidic, Fabio, Michael Owen, Darren Fletcher, Thomas Cleverley and Ashley Young will all be out for this match. Cleverley and Young have started to train lightly.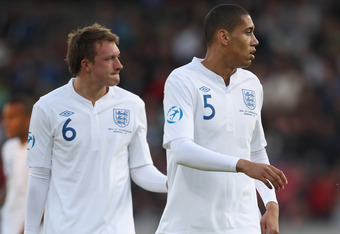 Michael Steele/Getty Images
Key Players:
Arsenal
Robin van Persie has lifted up Arsenal after a poor start to this campaign, and has been playing his best football throughout the last several months.
Fortunately for van Persie, he has avoided the injury bug recently, which has allowed the Dutch striker to net an incredible 35 goals in 2011, the second most by a Premier League player in a calendar year after Alan Shearer tallied 36 goals in 1995.
So far this season, van Persie leads the league in goals with 18 and is seventh in key passes with 48.
Manchester United
Antonio Valencia has been outstanding this season since he fell down on the depth chart following an ankle injury at the beginning of the season. Yet Valencia has recovered from that injury and has been a constant performer for Manchester United in the past several weeks.
Valencia has contributed seven assists (the third most in the league) in only 13 matches. No other player in the top 10 assist leaders has played so few matches so far in this EPL season.
Against Arsenal, Valencia will likely play against Ignasi Miquel, who is a star for the future, but has only played in one Premier League match this season and has very little experience. If Valencia keeps up his great form, he can be the biggest star of this match.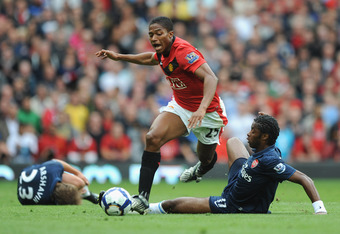 Laurence Griffiths/Getty Images
Interesting Stats:
Arsenal
Arsenal have only scored more than once in four of their last 16 Premier League games at the Emirates and netted just 20 in total over those matches.
Thierry Henry's last goal at the Emirates in the Premier League was a last-minute winner against Manchester United.
Manchester United
Wayne Rooney has scored six goals in his last six appearances against Arsenal in all competitions. Rooney also missed a penalty during this stretch.
Manchester United had 14 shots on target against Arsenal in Manchester United's 8-2 win back in August. This is the joint—most shots that Arsenal have allowed in a Premier League game in the last five years.
Prediction:
These are among the top sides in England, and this should be one of the most entertaining matches anywhere this weekend.
Arsenal have been much better since their awful loss back in August, but there are still plenty of problems that the Gunners will still face.
Besides their defensive problems at the moment, Arsenal also have dropped eight points from winning positions in their last four Premier League matches.
The Gunners have also not won any of their last 10 Premier League games with Mike Dean as the referee (five draws and five losses).
Due to this, I doubt that Arsenal will gain a positive result from this match.
Arsenal 1, Manchester United 3
Follow me on Twitter @Andrew_Jordan