Orlando Cabrera Retires: Looking Back on 3 Months No Red Sox Fan Will Forget
January 19, 2012

Ezra Shaw/Getty Images
Generally speaking, when a player who has spent 15 seasons in Major League Baseball playing for nine different teams retires a fan base which he spent only 72 games playing in front of, they wouldn't be issuing any tributes to his career. 
Of course, that's not a rule that has to be followed. 
Good thing too, because Orlando Cabrera may have had one of the more memorable brief careers wearing a Red Sox uniform. 
Orlando Cabrera was a man who was presented with a seemingly impossible challenge: He had to replace the most popular shortstop in Boston Red Sox history, a former batting champ and a former rookie of the year. 
Nomar Garciaparra was the face of the franchise from 1997 until the end of the 2003 season. Pedro Martinez was a "must-see" player but he played only once every five days. Manny Ramirez was a tough-to-read mercurial personality. David Ortiz and Johnny Damon had only recently arrived on the scene. 
The mere act of trading Nomar was one that seemed almost impossible for many Red Sox fans to envision. In the bitter chill of the offseason between the 2003 and 2004 seasons, Nomar's name did enter into major trade talks.
Those talks involved moving both Nomar and Manny and acquiring Alex Rodriguez and Magglio Ordonez in return. In that deal the Red Sox would be parting with star power but also receiving star power in return. 
On Saturday, July 31, 2004, just before the 4:00 pm trade deadline, the deal was announced.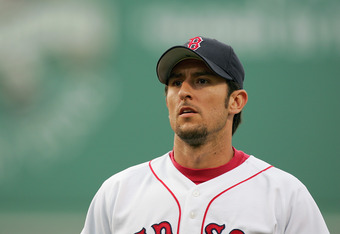 Ezra Shaw/Getty Images
It was a four-team deal that involved the Red Sox, Chicago Cubs, Minnesota Twins and Montreal Expos. The Red Sox gave up Nomar and minor-leaguer Matt Murton; in return, the Red Sox received Orlando Cabrera from the Expos and Doug Mientkiewicz from the Twins. 
While many fans understood that Nomar had to be dealt, very few felt they got fair value in return. The loss of Nomar was expected to an extent; the caliber of players they received in return were not. 
"The club has some explaining to do because it didn't get enough for him in the trade," was what Boston Globe columnist Dan Shaughnessy wrote in a column on August 4th, 2004.
In the end, the Red Sox received slick-fielding, decent-hitting first baseman Doug Mientkiewicz and a gold-glove caliber fielder with a bright personality and timely bat in Orlando Cabrera.
Cabrera would spend only the remainder of the 2004 season wearing a Red Sox uniform. He made a lasting impression, though. Cabrera homered in his very first at-bat as a member of the Red Sox. In the Divisional Series against the Los Angeles Angels he had a bases-clearing double in Game 2.
His dynamic personality was also a breath of fresh air and his defense was, without question, an upgrade.
"He is a game-changer in the field for me," was what Sox hero Curt Schilling said.
Generally speaking, a player who hit .294 with six home runs and 31 RBI wouldn't be thought of as one worth remembering. Then again, is there a shortstop since Nomar Garciaparra that Red Sox fans have fonder memories of?
The answer to that question is, in all likelihood, a resounding "no."
Some of that is due to the less-than-compelling shortstops that have played for the Red Sox since Cabrera's departure via free agency in the offseason following the Red Sox' first World Series title in 86 years.
Edgar Renteria, Julio Lugo, Alex Gonzalez and Marco Scutaro are among the many names to play shortstop since Cabrera manned the position through the end of the summer of 2004 and until the Red Sox had won their first World Series title since the Woodrow Wilson administration.
Orlando Cabrera would leave Boston for play for several more teams. He would make postseason appearances for the Angels, Chicago White Sox, Twins and Cincinnati Reds.
Even with a career that could accurately be described as that of a "journeyman," there are always going to be Red Sox fans who will only be able to picture him as a key member of that memorable 2004 team.