MMA: Rolles Gracie Set to Relaunch Career with One Fighting Championship
January 19, 2012

Doug Benc/Getty Images
Rolles Gracie has all the attributes to reach the very pinnacle of the sport of mixed martial arts. He is a third degree BJJ black belt, a decorated Judoka and holds a very respectable professional record of 5-1.
The only blemish against his name came on his UFC debut when a complete lack of cardio was brutally exposed by Joey Beltran in a performance which caused many to question his training methods.
Afterwards Gracie revealed he had broken his foot four weeks prior to the event and had been unable to train properly although he also admitted to having taken Beltran lightly, a mistake he vowed not to make again.
Since then he has posted two wins out of two in 2011, submitting both opponents in the opening round with an arm triangle choke. He is already well on his way to recovering some of the credibility which was lost during the loss to Beltran and this rehabilitation will be complete if he can submit Bob Sapp at ONE Fighting Championship 'Battle of Heroes' in Jakarta next month.
It will be his opportunity to shine fighting for the biggest promotion in Asia, but he will also have a big opponent standing opposite him on February 11th. Bob Sapp might not be in his prime but he is likely to have an incredible 100 lbs. weight advantage which Gracie will have to somehow find a way to nullify.
It is challenges like this which BJJ was made for and, if Gracie could submit Sapp, it would be a fantastic advert for the sport which his family have pioneered, as well as a serious statement of intent about his own ability and potential.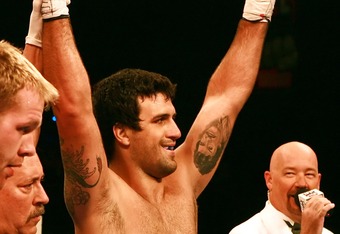 Doug Benc/Getty Images
His ground-fighting credentials are as good as anyone in the heavyweight divisions. He is the No-Gi American National Super Heavyweight Champion, the No-Gi Pan-American Champion, the three time Pan American Champion, the two time Brazilian National Champion and finished second place at the World Jiu-Jitsu Championships in 2008.
Very few MMA fighters could ever hope to reach this level of proficiency at the grappling aspect of the sport for the simple reason that they generally don't start until they are in their late teens or twenties. Gracie was learning BJJ before he was old enough to even go to school which, in terms of the ground game at least, means he will always be light years ahead of the competition.
The question is whether he can get the stand up and strength and conditioning aspects of his game up to speed. Beating Sapp, a former K-1 Champion with enormous power who packs a mean punch, would be a fantastic way for Gracie to answer it.
The name Gracie is one which still carries a great deal of prestige in the world of MMA and there is a real willingness for the current generation of Gracies to succeed. ONE FC have signed the cream of the crop in Igor, Gregor and Rolles and a show which travels to major cities all across Asia and is watched all over the world will give them the perfect platform to follow in the footsteps of Royce, Rickson and Renzo by reaching the pinnacle of the sport.
Gregor Gracie made his ONE FC debut back in September and posted a decision win over a tough Korean, extending his record to 6-1. At the age of just 25 many feel that he is the most exciting prospect in the family at present, but Rolles might just alter that perception if he can get past Sapp at the BritAma Arena in Jakarta next month and look good in the process.
The ONE FC heavyweight division is only just starting to take shape but Gracie will feel he has an excellent chance of becoming the inaugural champion. If he could win a belt on such a high profile and prestigious show it would be the perfect answer to the critics who claim that the sport of MMA has evolved so fast that its founding family are being left behind.