WWE News: Evan Bourne Sees Your 30-Day Suspension, and Raises You 60
January 19, 2012

Evan Bourne has been marking his proverbial territory in the WWE doghouse these days, pissing on the floor with yet another substance abuse violation—his second in just over a month.  With the elusive 60-day suspension as a result of a second wellness violation, Bourne joins the unfriendly ranks of Jeff Hardy, Chris Masters, Chavo Guerrero, and William Regal as multiple offenders of WWE's somewhat ambiguous and often scrutinized health and wellness policy. 
Bourne's first offense was reportedly for a synthetic form of marijuana.  Prior to his suspension, the talented yet underutilized performer had already developed a bit of a reputation as a complainer who wasn't shy about committing the cardinal WWE sin of voicing one's real-life frustrations through social media. 
Following his original suspension, stories floated around the dirt sheet media suggesting backstage heat between Bourne and WWE day-to-day head honcho Triple H.  While the stories may or may not have been valid, Bourne's pattern of booking have been far from favorable as the embattled high-flyer's win-loss record is worse than Tim Tebow's in December. 
Bourne most recently laid on his back for a pair of ugly losses to Primo and Epico—first losing the tag team titles during a live event, then suffering the deciding pinfall during the rematch the following night on RAW.  Make no mistake, the link between Bourne's losing streak and his growing problems backstage are no coincidence.
It's currently unclear what exactly triggered the second wellness violation for Bourne, but those suggesting that Bourne get help or that he is struggling with demons had best slow their role. 
Marijuana, should this be the substance abuse culprit with Bourne yet again, isn't exactly Oxycontin, as its addictive and/or fatal qualities pale in comparison to some of the more serious substances that conspire to compromise a wrestler's career.  And while all wellness violations should be taken seriously, those related to this new synthetic marijuana is far less life-threatening and conducive to red flags than some of the heavier stuff. 
It is unsure how harmful or deadly this new fake marijuana craze is to pro wrestlers, but chances are the WWE is simply taking safety precautions in adding it to the banned substance list as opposed to issuing the $1,000 fine to those found to have partaken in real marijuana.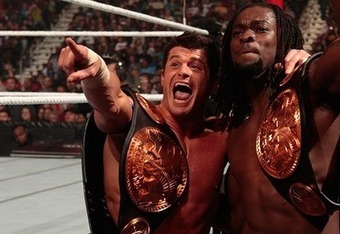 Rob Van Dam and MVP are some of pro wrestling's favorite potheads, and there seem to be no real battles with big, green pot demons in either case. 
With so little time removed since Bourne's last violation, Bourne's most recent offense reeks of not giving a crap, leading some to believe that perhaps he failed a recent drug test on purpose as a means of getting fired by the WWE, thereby releasing him from one of their, at-times, suffocating contracts. 
This was the case, according to former WWE star Carlito, who was released from the company following his first violation of WWE's wellness policy and subsequent refusal to go to rehab. 
If this is indeed the situation with Bourne, it would point to a disturbing trend of WWE wrestlers desperate to escape the fed after years of a dangerous mix of physical pain and frustration. 
As if the WWE needed more real-life problems pertaining to substance abuse, this developing trend would simply compound the sea of problems that have followed professional wrestling seemingly to no end. 
Bourne's future with the WWE now looks to be about as bright as his tag team partner's dreadlocks.  An imminent departure may be on the horizon, but this is certainly a chapter in a developing story that has not yet been written.  Should Bourne soldier on with the WWE, expect him to be on the front line and in perfect position to take a frenetic line of fire. 
Watch Big Nasty's latest entry on B/R video, and follow Big Nasty on Twitter @ThisIsNasty.