2012 MLB Free Agents: Signing Prince Fielder Not Crucial for Rangers
January 19, 2012

Christian Petersen/Getty Images
The Texas Rangers secured a big puzzle piece on Wednesday, signing Japanese ace Yu Darvish to a six-year contract.
With Darvish locked up, the Rangers have effectively found a replacement for C.J. Wilson, who signed with the Los Angeles Angels in December. The Rangers will thus head into the regular season with a strong rotation.
We already knew they were going to head into the season with a strong lineup, but the question everyone is asking is whether or not they'll make it any stronger by signing free agent slugger Prince Fielder.
Apparently, that's probably not going to happen.
According to T.R. Sullivan of MLB.com, Rangers general manager Jon Daniels had this to say about signing Fielder off-camera on Wednesday:
"I'm intimately aware of our budget and it's very unlikely."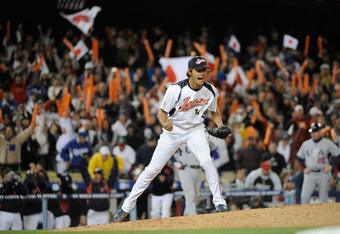 Kevork Djansezian/Getty Images
That's not much of a surprise. Richard Durrett of ESPNDallas.com has the final numbers on what it took to land Darvish, and he has cost the Rangers roughly $112 million: $51.7 million for his posting fee and $60 million for his contract.
It's not clear exactly what kind of numbers Fielder is looking for, but we can take it for granted that he's looking for a monster deal similar to the 10-year, $254 million deal Albert Pujols signed with the Angels.
The Rangers are rich, but whether or not they're that rich varies depending on who you ask.
Last week, ESPN's Jim Bowden tweeted that the Rangers can afford to sign both Darvish and Fielder "if they choose." However, Durrett noted in a blog post that it is "doubtful" the Rangers will sign both of them.
And now we have Daniels say it's "unlikely."
It's certainly possible that the Rangers will sign Fielder. They would merely have to talk him down to a deal of their liking. That won't be easy seeing as how Scott Boras is Fielder's agent, but it may not be impossible seeing as how spring training is fast approaching and Fielder is going to need a job if he wants to get paid.
But one thing we know for a fact is that the Rangers don't need to sign Fielder. Having him would be awesome, but it's not like the Rangers are hurting for offense.
In 2011, the Rangers finished third in the majors in runs scored, second in home runs, fifth in on-base percentage and second in slugging percentage. There are no easy outs in their lineup, and Ron Washington has some solid players on his bench to work with.
If the Rangers were to sign Fielder, it would be the rich getting richer. If the Rangers don't sign him, they'll still be plenty rich.
Because of that, you can rest assured Daniels isn't feeling any pressure to break the bank to get Fielder.