Television's 15 Best Pro Wrestling-Themed Episodes of Fictional Shows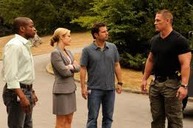 Pro wrestlers, at the source, are actors who can do their own stunts. It is because of this that many of them try to branch out in their acting careers. Wrestling won't last forever, so many wrestlers attempt to create acting careers as a future for themselves. Some are more successful than others, but there are many special guest star appearances to speak of. Some are more popular shows than others, but all are on television and wrestling-related.
Here are 15 of the better wrestling episodes of TV shows, including some shows that were centered around pro wrestling.
Begin Slideshow

»
Never heard of Learning the Ropes? That puts you in the majority. Unless you have scowered Wrestlecrap for everything they know about, let me explain Learning the Ropes to you.
The show was a Canadian sitcom that ran from late 1988 until 1989. The premise of the show was that a teacher at a private school also had a night job as a professional wrestler to help pay bills. Robert Randall, the main character, was played by Lyle Alzado, a retired NFL player. When featured in the ring as The Masked Maniac, Steve "Dr. Death" Williams was used for the in-ring action. Williams was not the only pro wrestler in the show by far.
The show was a device used by the NWA to help promotion of the brand. Many superstars of the time, including Ric Flair and The Road Warriors, would appear on episodes. The show only lasted for one season of 26 episodes and has not been released on DVD. However, clips still reside somewhere on the Internet.
The uber popular Tosh.0 has a feature on each episode to help out a legendary viral star. Referred to as a Web Redemption, the show hunts down those made famous by their mistakes in hopes of righting their wrongs and helping them to achieve redemption. The best part is that they take a heck of a lot less time than NXT does in issuing that redemption.
In a February 2011 episode called "Crying Wrestling Fan", Tosh and the crew hunt down David Willis, who was infamous for crying at a Wrestling Fanfest in Spartanburg, South Carolina. The main quote from the viral video was Willis crying out "It's still real to me, dammit!"
Dressed as The Ultimate Warrior for a time, Tosh helps Willis live his dream of being in a real wrestling promotion. Appearances from such legends as Koko B. Ware, Ted DiBiase Sr. and Sgt. Slaughter make this unforgettable to watch.
Zeke and Luther is a show on Disney XD about two friends who love to skateboard. In this episode, they tell one of their amateur friends to quit their job and skate full-time. Doing that causes their favorite wrestler to quit. Luther dons the outfit to fight in a big match and sees Mysterio for this short clip. It isn't a fantastic clip or even that good of an episode, but it does have a lot about wrestling involved.
Fear Factor has recently returned to television, but had some great moments during its original run. Six WWE performers at the time took part in a celebrity edition of the unusual game show. Three superstars (Test, Matt Hardy and Jeff Hardy) joined three Divas (Jacqueline, Mighty Molly and Lita) for some great stuntman-like action. Surely, this wouldn't be hard for men and women who are practically already stunt people, but it wasn't that easy. In the end, Matt Hardy won the show and money for The American Cancer Society.
Speaking of game shows, nothing quite beats Family Feud. The show has featured wrestlers for years in WWE and even featured TNA stars for a stint. In this WWE version of Family Feud, it was five men against five women. For the men, it was Jonathan Coachman, Batista, Ric Flair, Mr. Kennedy and Booker T. For the women, it was Michelle McCool, Layla, Sharmell, Candice Michelle and Maria. Of those ten stars, only Booker T and Layla are still affiliated with the company.
In 2000, The Rock hosted Saturday Night Live. The episode helped launch Dwayne Johnson into movie stardom, while also helping to promote the WWE to masses of people. Also appearing on the show that night were Triple H, Mick Foley and Big Show, who would all be a part of a WrestleMania main event later that year.
Nikki was a show on The WB that didn't last too long. It starred the gorgeous Nikki Cox as the wife of a man trying to make it in professional wrestling in Las Vegas. Specifically in this episode, Kevin Nash made a special appearance. In the episode, Nash's character leaves mid-way through the match to steal Nikki and take her away. Worried that something bad will happen, Nikki is reassured when Nash's character reveals himself to be gay. Nash would appear again on the show, but the sitcom didn't make enough of a splash to stick around.
The A-Team was a very popular show in the 1980s. Hulk Hogan defined wrestling in the 1980s. Combining the two seemed too good of an idea. Alongside Mr. T, who had fought at the original WrestleMania, Hulk Hogan appeared as himself on the show. Appearing with Hulkamania merchandise, Mr. T gets involved in a great car chase with amazing jumps built in.
Leave it to John Cena to appear on Hannah Montana in a way like this. He beats up a character from the show and shows an unusual amount of anger, even for Cena. All the while, Cena's words are straight out of a Reading is Fundamental commercial. A Five-Knuckle Shuffle wakes the guy up and has him hitting the books.
This edition of Deal of No Deal wasn't your average wrestling appearance on a game show. There was an actual storyline that was built in this episode. Rich Achberger, also known as WWE Sign Guy, was a contestant on the game show in 2007. After opening a big amount and losing that number from the board, Randy Orton and Edge, going by Rated RKO at the time, were heckling from the crowd. Just then, John Cena's music played and Cena appeared, along with Bobby Lashley.
The two pairs represented the faces and heels that Achberger is used to cheering for, except that they were cheering for or against him. In the end, Achberger took a deal for $106,000.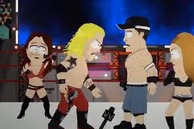 From the South Park episode "Wrestling Is Awesome".
South Park's episodes, outside of their own website, are hard to come by. Because of this, I could only show a picture from the episode. Titled "Wrestling Is Awesome", this episode from season 13 literally mentions Edge and John Cena by name at what is supposed to be a WWE live event. From seeing it, the boys want to be wrestlers. After not liking their school's amateur wrestling team, they put on their own wrestling promotion in the backyard, which grows incredibly popular.
The episode makes fun of the soap opera aspect of wrestling and has little to do with the actual moves done in the ring. It also mocks the emotions that wrestling fans go through when watching their favorite superstars and getting emotionally invested.
Boy Meets World was a popular show during ABC's TGIF lineup in the 1990s. Pro Wrestler Vader appeared multiple times on the show as Frankie's father. In this classic episode of the program, Vader is trying to connect with his son, but Cory and Shawn need to help young Frankie during Vader's number one contender's match against Jake "The Snake" Roberts. Balancing this match and his girlfriend's sweet 16 party, Cory attempts the classic sitcom arc of being in two places at once.
This episode shows Vader's acting chops, as well as an actual match between Vader and Roberts. It also shows Brother Love for a few seconds.
This episode of That 70's Show has Eric and his father connecting at a wrestling show taking place in the 1970s. At the show, the two get into the face of a wrestler, who is portrayed by Ken Shamrock. They then enter the locker room area to get an autograph by Rocky Johnson, The Rock's father. Rocky Johnson in this episode is played by The Rock. There are mentions made by Johnson about how his son will become an electrifying superstar, which Red could care less about.
Wrestling was a central point for Al Bundy on the sitcom Married... With Children. Bundy, in another episode, wrestled a large female wrestler for a lot of money. In this episode, however, Al's son tries to join the guy's social club. His initiation has him trying to take a picture with King Kong Bundy. Right as he is about to take a picture with him, Bud gets booked in the match with Bundy. Bundy manhandles the little guy. As the match goes on, the women seem especially interested in the action. Don't hold your breath, guys. This isn't exactly how women react to wrestling matches, at least not most of them.
MADtv featured a bunch of pro wrestlers over the years, but this may be the best mention of the show's history. Making fun of Jesse Ventura's win in Minnesota's governor election. Will Sasso does a pretty good impression of "The Body". Ventura then brings out his lieutenant governor, Bret Hart. Hart is there to intimidate reporters asking about the difficult issues.
At one point, he seems to be too rough with one of the cast members as the MADtv crew tries to cool everyone's emotions, Hart attacks Sasso and rips a short shoot promo. This actually led to Sasso getting an on-screen role in a storyline with Hart. Sasso would later do a "Stone Cold" Steve Austin impression and get an appearance on an episode of Smackdown as well.
I had to include another clip from Nikki, which guest stars the late Randy Savage. Savage portrays a wrestler who seems to be held together with duct tape and elbow grease. It's a funny look at how some of the old wrestlers have to be at this point in their careers. I just wanted to leave you with this one because I found it to be interesting.