5 Coaches the Cincinnati Bengals Should Court If Mike Zimmer Leaves the Team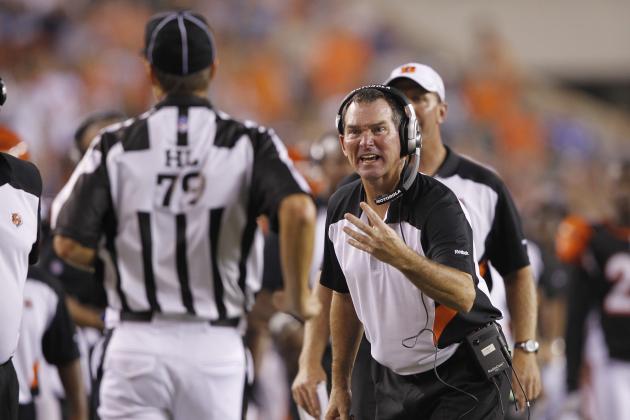 Joe Robbins/Getty Images

The relationship between the Cincinnati Bengals and defensive coordinator Mike Zimmer has all the earmarks of coming to a close. Zimmer has not received any offers to become a head coach, but he has been courting other teams.
He flirted with the Miami Dolphins, and who can blame him? The Dolphins have a motivated running back in Reggie Bush, two solid wide receivers in Brandon Marshall and Davone Bess and decent defensive pieces like Karlos Dansby and Vontae Davis that he can mold to his own liking.
Zimmer is still having a casual relationship with the Tampa Bay Buccaneers after interviewing for their vacant head coaching gig, and now the Colts are on the market and ready to mingle with head coaching candidates.
Even if Zimmer is not hired as a head coach, with all of the coaching regime changes in the NFL, Zimmer could be considered for defensive coordinator positions around the league.
But there are two sides to every relationship. If Zimmer leaves, what's next for the Bengals? Where do they go after their greatest coaching love affair since Sam Wyche? Match.com?
If Zimmer leaves the Bengals to take a head coaching job, the team will not have much time to weep, wallow in their heartbreak and watch The Notebook; the clock is ticking and the team cannot afford to let all the good ones get taken.
Here are five coaches the Bengals could hire as defensive coordinator if Zimmer leaves the team.
Begin Slideshow

»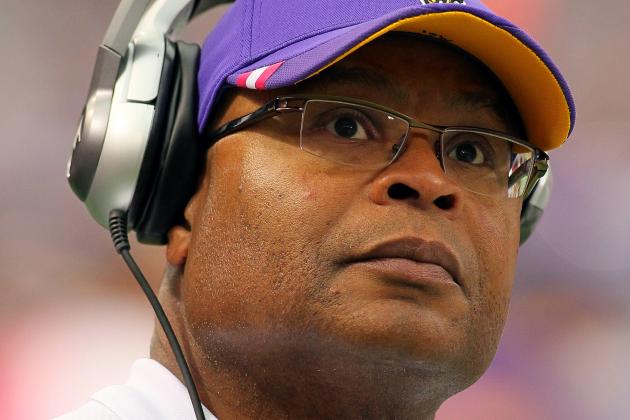 Adam Bettcher/Getty Images

The Bengals may choose to do what a lot of people do after a long relationship and choose a defensive coordinator that embodies the opposite of the man in the previous position. Mike Singletary is the bizarro Mike Zimmer. Singletary would stand at a press conference from Tuesday to kickoff if anyone would listen; Zimmer's lack of public persona borders on reclusion.
Like most rebound guys, Singletary has his baggage. He failed in a short stint with the San Francisco 49ers, the same group Jim Harbaugh has playing in the NFC championship on Sunday. Plus, the fact that Minnesota has not promoted him to defensive coordinator has to make the Bengals skittish.
Like most rebound guys, Singletary is not a long-term solution; he is a pastime and not the best choice for the long-term well-being of the franchise.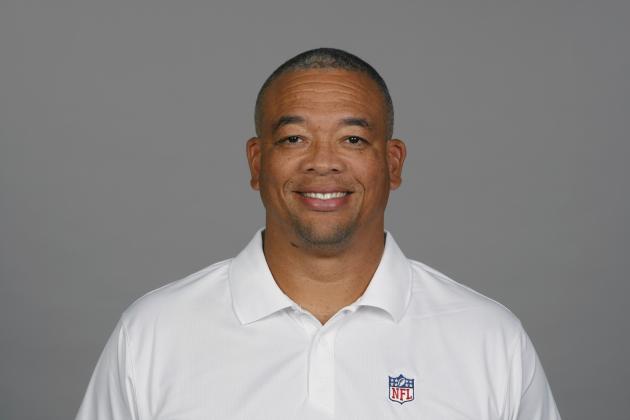 Handout/Getty Images

Sometimes when looking for someone to fill a void, people look to those they already know. This makes a certain amount of sense as the two people already have shared experiences and similar interests. A platonic friend is a safe choice, and people desire comfort when confronted with the unknown.
If the Bengals want to play it safe, they can do much worse than defensive line coach Jay Hayes.
Hayes has coached the Bengals defensive line, their strongest group, for nine seasons. Clearly, the man knows defense. The Bengals could choose to reward his loyalty and his job performance by promoting him to defensive coordinator.
This internal move would be safe, easy, but not necessarily fruitful. The Bengals know Hayes, and he knows them. However, Hayes has never proven if he can architect an entire defense.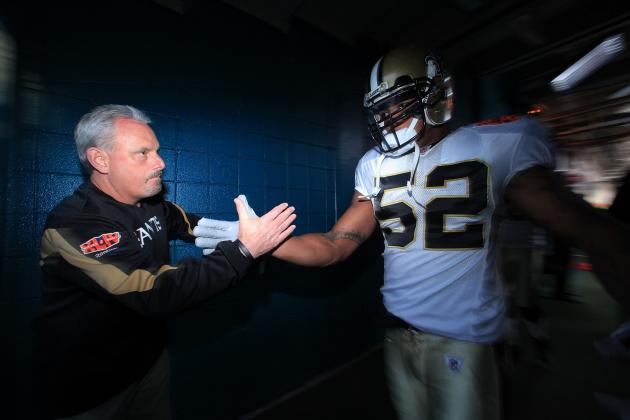 Donald Miralle/Getty Images

The Bengals may choose a defensive coordinator that covers their weaknesses just as some people court those whose strengths cover their flaws. The back seven of the Bengals defense has plenty of weaknesses. The linebackers over-pursue opposing ball carriers, and the secondary looked like they could not tackle a falling leaf against the Houston Texans.
The best man to correct these mistakes may be the New Orleans Saints assistant head coach/linebackers coach Joe Vitt.
Vitt helped install Gregg Williams blitz heavy defense in New Orleans and developed Jonathan Vilma into a Pro Bowler. Vitt might have the same success with Rey Maualuga, Thomas Howard and the rest of the Bengals young linebacking corps.
While Vitt has been coaching in New Orleans since 2006, he is a relative unknown in Cincinnati. His expertise would strengthen a Bengals weak spot, but he might not carry the cache a team on the rise is looking for.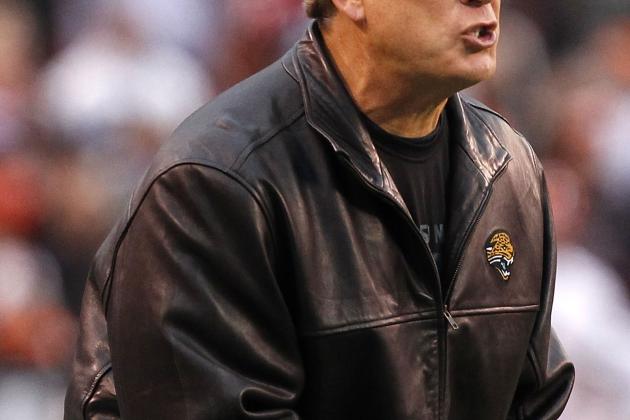 Matt Sullivan/Getty Images

The divorce between Jack Del Rio and the Jacksonville Jaguars was ugly and public. The Jags let go of veteran quarterback David Garrard in the 11th hour and 59th minute of the preseason, and Blaine Gabbert did not develop over the course of the season. The team finished 5-11 and once the team was sold, it was no secret that Del Rio was a dead man walking.
Despite the unpleasant split between Del Rio and the Jaguars, let's not be blinded by the present. Del Rio would be a good hire for the Bengals. He has been a defensive coach dating back to 1999 when he was a member of the Ravens staff and guided Jacksonville to two playoff appearances in his time there.
Rumor has it that Del Rio is looking at homes and schools in New Orleans in anticipation of his joining the Saints coaching ranks. Perhaps the Bengals are too late to the Del Rio party, but perhaps if they can make him the right offer, he would be enticed to come to Cincinnati.
The only question is if Cincinnati is big enough for Del Rio and Marvin Lewis. If the team struggles, how quickly would fans clamor for Del Rio to take the reins? Perhaps this would happen anyway with Mike Zimmer, but Del Rio's head coaching experience would make him an even more attractive candidate to replace Marvin Lewis if the team's performance regresses.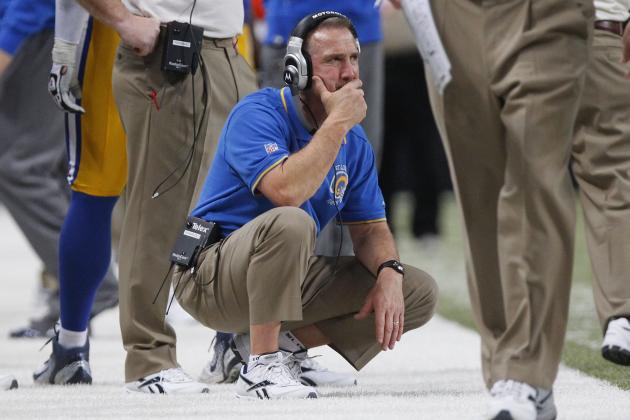 Whitney Curtis/Getty Images

Steve Spagnuolo has everything the Bengals want. He owns the defensive minds Bengals players and fans used to gaze at longingly as they listened to cheesy pop songs and fantasized in slow motion about a future they never thought was within reach.
He has proven he can coach every level of the defense. His resume includes a stint as a defensive line coach for the WLAF Barcelona Dragons, and several years coaching linebackers and defensive backs in college and the pros.
Spags spent years in the black and blue NFC East, first with the Eagles and more recently with the New York Giants. During his time with the G-Men, he authored a dominating Super Bowl champion defense.
He is the dream candidate to man the Bengals defense.
Spagnuolo just left a small market and may desire a situation with more limelight than Cincinnati can offer. He met with the Saints this week, and while New Orleans is not a big market either, their success and national respect give them a big market feel.
The Bengals may not be willing to pay for Spagnuolo's pedigree. He is this season's hot candidate, much like Josh McDaniels was a couple seasons ago. He can name his price.
Bengals owner Mike Brown has been reticent to pay top dollar for quality assistants in the past, but he did just lock offensive coordinator Jay Gruden into a lucrative deal, so maybe he would do the same for a defensive coordinator with mounds of playoff experience and a Super Bowl ring.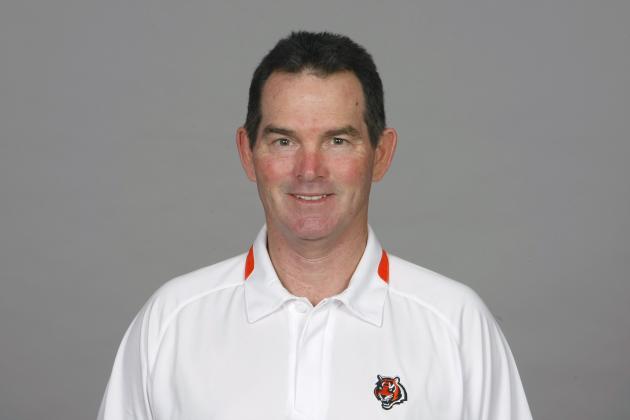 Handout/Getty Images

Options are important in coaching hires and relationships, and the Bengals are Zimmer's best option. The locker room respects him, he has Marvin Lewis' ear and the city is enamored with him. He knows his personnel, he knows the AFC North and he is building a defensive juggernaut.
The relationship between Mike Zimmer and the Bengals will last one more season, so bust out your red markers and start drawing hearts around his head shot. Besides, if the team enjoys one more year of defensive excellence, it will be nearly impossible for another team not to hire him as their head man.
For now, the romance continues.