No Sir, I Don't Like It: Why Ryan Getzlaf May Not Be Leafs' Best Playoff Remedy
January 19, 2012

Jeff Gross/Getty Images
Nowhere in this article are you going to find an argument against signing current Anaheim Ducks, franchise player, Ryan Getzlaf based on his accolades, or criticisms thereof, earned through his play. Ryan Getzlaf is a great player, and any general manager in the NHL would be foolish to not at least invest a little interest in what it would take to acquire him.
It's highly plausible that Ryan Getzlaf will make any team better. Still, I'm not convinced that the Toronto Maple Leafs need Getzlaf (or Eric Staal, Rick Nash, Zach Parise, etc.) to be a competitive, play-off calibre team.
Yet.
Acquiring Getzlaf, or a player like him, is going to be pricey. He's a legitimate, first-line center, so that's expected. His contract ($5.7M over six seasons) even makes sense for Toronto GM Brian Burke, who rightly shies away from long-term, big money deals. But, still, there are more pressing concerns.
The Leafs have the skill to be a playoff team, still there is imbalance.
A young roster has its benefits: mainly speed and offensive production, as it takes NHL players less time to reach their offensive potential. The Maple Leafs' fan blog, pensionplanpuppets.com, had a stellar, statistical breakdown of this not long ago.  But after several failed attempts at trying to figure out which snarky title leads to the exact article, I gave up and irresponsibly pass the onus onto you.
(penionsionplanpuppets.com -- Have at it!)
The cons, though, are considerable. Defensemen take longer than offensively-oriented players to develop. Case in point, the Leafs defense is quite ordinary in performance despite names like Dion Phaneuf, Luke Schenn, John-Michael Liles, Mike Komisarek and Cody Franson. Why?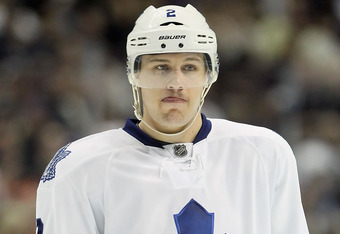 Jeff Gross/Getty Images
Because of names like the previously mentioned Luke Schenn and Cody Franson, as well as Keith Aulie, Jake Gardiner, and Carl Gunnarsson. 
While scorers will typically peak between the ages of 23 to 28, defensemen start playing their best hockey, on average, around 26 years-old.
Average age of a Toronto Leafs defenseman: 25 years-old. 
This isn't necessarily a bad thing. A young defense corps that grows together will have better chemistry when they do eventually ripen.  But, as far is things go now, they play like a defenseman would play at age 25 according to the Age 26 Rule. The overall game is improving, but there are still some major lapses in poise and hockey sense. The ability is there, it just hasn't all come together at this point in time.
That said, the Maple Leafs should have quite the formidable defense in a few years. Sure, they probably won't be the best players at their respective positions, but they should not be pushovers of any sort, to nearly any degree. It should be a solid blueline is what I'm saying.
But what about now? This article has Ryan Getzlaf in the title, and a pretty ballsy proclamation about him as well. 
The meat of this article lies in how the Maple Leafs can ebb the development curve of their young, albeit loaded with upside, defense while still remaining a competitive, playoff caliber team without taking on huge contracts or selling the farm -- which would be necessary to acquire players of Ryan Getzlaf's ability, or the man himself.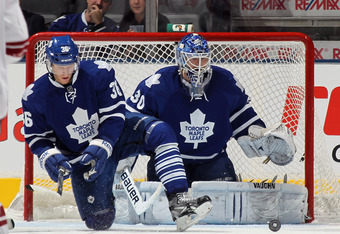 Bruce Bennett/Getty Images
Also, how many more trade scenarios involving Luke Schenn do we really want to read? 
Brian Burke laid out his formula for team-building when he got to Toronto. He used the same formula as the basis for the makeup of the 2010 US Olympic team (men's...ahem). I know that they were completely embarrassed in the tourney, and ended up in last place, but hear me out. 
It all starts in net, and moves on from there into bottom-six forwards (who grind, fight, and kill penalties), and top-six forwards (who score, and pass, and score). If Leafs fans, who are noted for having notoriously short memories, can remember Burke's first summer as the GM, which areas did he address first? 
He flew to Sweden to schmooze pre-funky heart Jonas Gustavsson, then the best goalie not in the NHL. Then, he hit free-agency for guys like Mike Komisarek and Francois Beauchemin. He signed Colton Orr, as well, to address some of his bottom-six needs.
These haven't all been homeruns, but Burke stuck to his plan. Subsequent deals and signings have given us other bottom six guys like Mike Brown, Colby Armstrong, Matt Lombardi, as well as top-line guys like Tim Connolly, Phil Kessel, Joffrey Lupul, Tyler Bozak, and Clarke MacArthur. Let's not leave out the defencemen like Dion Phaneuf, Cody Franson, John-Michael Liles, and Keith Aulie.
(I'm listing them where they play, not where Cox, DiManno, or Hornby think that they should.)
Most of these players have performed admirably. Burke has aggressively pursued an agenda intended to improve the Leafs, irrespective of results, except for one, major theme in his plot to make the Leafs badasses: pugnacity.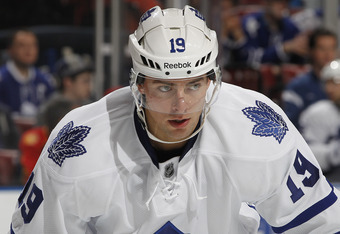 Joel Auerbach/Getty Images
Quickly, yes, if you are an NHL forward who seeks to pepper our goalies with snow, or crowd the crease after the whistle, you will likely get a sweaty glove to the face, courtesy of Schenn, Komisarek, or Phaneuf. But, if you're Zack Smith of the Ottawa Senators, and you're taking shots at Phil Kessel in the other two zones, like, say, when the teams last played, you're going to get away with it.
Toronto is lacking some major muscle among their forwards. Colby Armstrong was signed as a free agent in 2010 to address this, and when he has played he largely has.
When he has played.
No knock against the guy. He's never dealt with injuries like he has in Toronto. All, seemingly, from small, freak occurrences. Nonetheless, without him in the lineup, the forwards lose considerable grit and their only open-ice threat in regard to body-checking.
I am the same, exact size as Mike Brown, yet considerably less intimidating, and considerably less in every aspect of toughness when it comes to talking about Mike Brown. Mike Brown provides muscle in the same way Wolverine of X-Men fame does: intense ferocity in a small package. He's a solid player as well.
Jay Rosehill is also notable, but he's not a lock in the lineup. That makes him less notable. Colton Orr is playing with the Marlies. Still, while these two dudes provide toughness with aplomb, they aren't as highly skilled, or as consistent, as a Colby Armstrong -- which leads us to the main point.
The Maple Leafs should be looking to add another Colby Armstrong-type player to the lineup. It's not for lack of trying that Brian Burke hasn't done this, as he was interested in Max Talbot and Brooks Laich over the summer when they were going to hit the free agent market.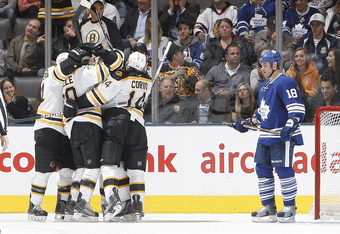 Abelimages/Getty Images
Talbot was snagged by the Philadelphia Flyers, and Laich was re-signed by the Washington Capitals before July 1st. Damn!
This is why I would support Burke looking at a guy like Ryan Malone over Ryan Getzlaf at this point in time. Not Ryan Malone in specific, but someone like him, or a Cal Clutterbuck, or a Mike Rupp, or a Brandon Dubinsky. Big, physical forwards who while they can bring offense to the table, offer a bigger helping of "kick ass" to boot. Or, in the case of a Mike Rupp-type, while the toughness is there, offensive contribution is replaced with veteran experience.
All things that the Leafs will need to sustain a presence in the playoffs. Yes, Ryan Getzlaf does bring all of this to the table, but let's continue to consider players that fans, as well as the Toronto brass, will be comfortable with paying to sit in the box with bloody knuckles.
Not to overlook the contributions of current Toronto grinders like Joey Crabb or Darryl Boyce, but when are they going to fight? When are they going to smash someone at center-ice? Do they really create space out there for more offensively-tuned teammates?
The answers to those questions do not invoke much confidence.
Why should the Leafs look to get tougher though? They had tougher teams in recent years who amounted to squat.
Because they were missing a bunch of other pieces as well, which they currently have now. Like two, top forward lines that are threatening every time they're on the ice. Plus, it would probably cost less in cap space and prospects.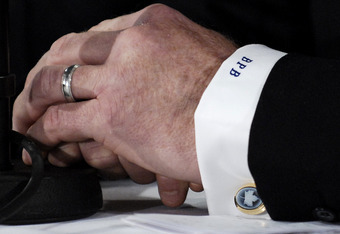 Brad White/Getty Images
Further still, go to NHL.com and see for yourself which teams in the Eastern Conference have the most points. Okay, I'll spoil the surprise, it's the New York Rangers, Boston Bruins, Philadelphia Flyers, Ottawa Senators, and even the Pittsburgh Penguins are hanging in there. 
What do they have in common? They hit. They fight. They are big, physical teams. 
The only explanation I have for Toronto's most recent loss to Ottawa, is that the Sens came to the ACC, beat up the Leafs, and stole the win from them. Yes, Mike Brown fought Zenon Konopka. Dion Phanuef fought Nick Foligno, and Rosehill even challenged him, but the Senators also boast players like Matt Carkner, Chris Neil, Zack Smith, and Jesse Winchester. They can all bring it (when they want, as in Winchester's case).
Also, during the recent slide that the Leafs are currently in, Phil Kessel has been on the receiving end of some of the biggest hits against him all season. Note that Kessel, and Lupul were on a season-worst, three-game scoreless streak during the same time the opposition seemed to ratchet up the physicality against the Blue and White.
It's readily apparent here that the Maple Leafs need to add a player, or two, that can not only respond in kind to these teams, but can take the physical game to the opposition. So, for all of his deserved compliments, Ryan Getzlaf, or a player like him, might not necessarily be the best move for Brian Burke to make right now.
A Getzlaf-type player should be the cherry on top of a Maple Leafs team more suited to handle the physical rigors of not only playoff hockey, because they are a competent enough team on paper to make the post-season, but regular season match-ups against Eastern Conference teams that are bulking up, and reaping the benefits of doing so against smaller, less pugnacious teams.